Miggy, V-Mart power up to back Scherzer
Righty gives up three runs in six; Tigers explode with six-run second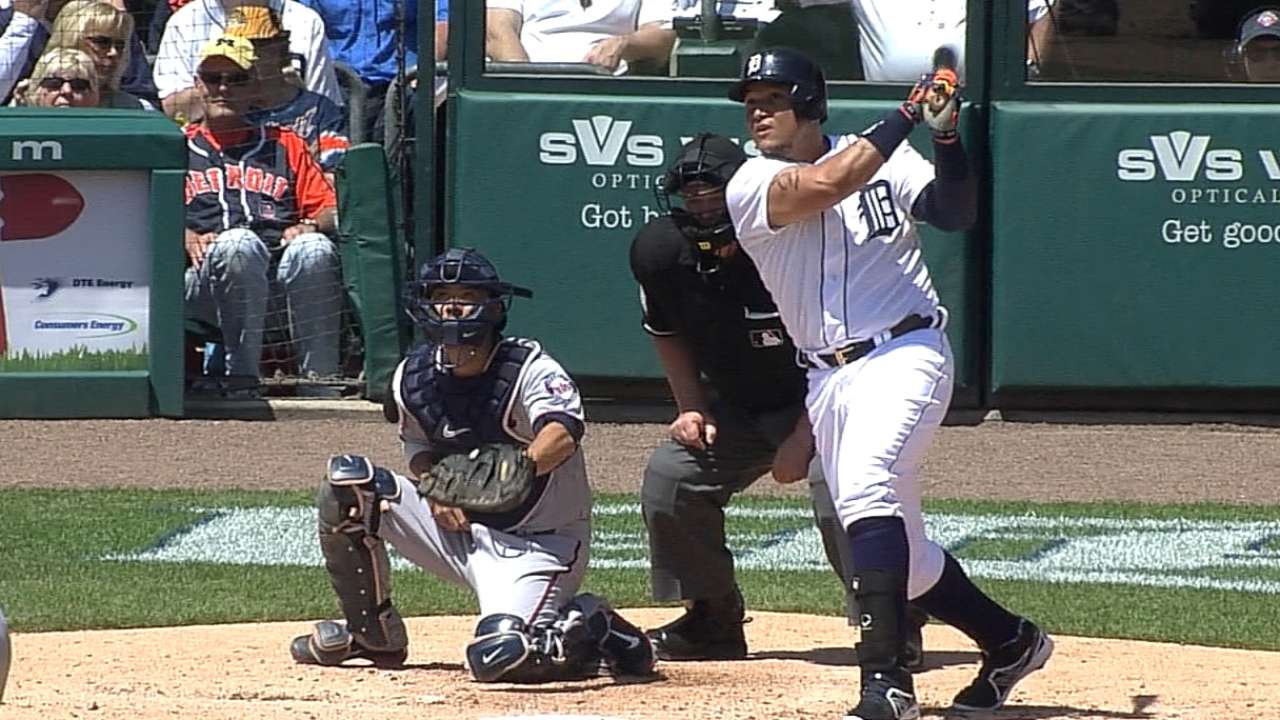 DETROIT -- On Jim Leyland Day at Comerica Park, it's fitting that the Tigers lived on the three-run homer.
With the former manager in attendance as the guest of honor, Detroit's offense looked revitalized Saturday afternoon in a 9-3 win over Minnesota. And resembling those Leyland-managed clubs, teams that thrived on the long ball, the Tigers blasted a pair of three-run shots.
"Leyland always played for the three-run bomb," Detroit starter Max Scherzer said, "so we hit two of them."
Aided by Miguel Cabrera's three-run home run off Kyle Gibson, the first homer he had allowed this season, the American League's top offense chased the Twins' starter from the game with a six-run second inning.
Cabrera's homer placed him in a tie with Gil Hodges for 73rd on the all-time home run list with 370. He has three home runs and nine RBIs in his past five games.
Cleanup hitter Victor Martinez, Cabrera's partner-in-crime, launched a three-run blast of his own in the seventh inning to put the game out of reach. It was Martinez's eighth home run of the season.
The support was plenty for Scherzer to pick up his fourth consecutive win over Minnesota, and fifth win on the season, tying Rick Porcello for the team lead.
The Tigers' lineup began showing signs of life in the ninth inning of Friday night's game, when a late rally fell short after Phil Hughes dominated for seven innings. Saturday afternoon, those signs of life turned into a hit parade, as Detroit batted around in the second.
With three Tigers runs already on the board, Torii Hunter hit a routine grounder to shortstop Danny Santana, whose throw to second for an attempted force wasn't in time. Second baseman Brian Dozier then threw home to try and catch Alex Avila, but the toss was well wide of home plate, and the runners advanced. Cabrera, the next batter, brought Andrew Romine and Hunter home with his homer.
"They made the mistake of not ending that inning," Scherzer said. "When he comes up, he's going to make you pay."
Dozier countered in the top of the third with a three-run homer of his own -- his ninth of the season. Like Kurt Suzuki in the first inning, Dozier skied one to left. But left fielder Don Kelly, who likely robbed Suzuki of a blast with a leaping grab, could only watch Dozier's sail over the fence.
Scherzer settled in after Dozier's homer, allowing only two more hits the rest of the afternoon for a total of five in six innings. Though he struggled to command the strike zone at times, he still easily outpitched Gibson, his fellow former University of Missouri standout. It didn't hurt that the Twins stranded four men in scoring position against Scherzer.
"We put some good at-bats together against him, but you can't spot a Cy Young Award winner six runs," Dozier said. "We had a lot of opportunities to score some runs, but he got nasty with runners in scoring position."
Detroit manager Brad Ausmus said Scherzer never quite figured out his mechanics, which caused him to have a hard time placing the ball.
"He just couldn't consistently get his release point to put the ball where he wanted to in the strike zone," Ausmus said.
Still, Scherzer struck out six, including the last two batters he faced, to secure his seventh quality start in eight outings this season.
Al Alburquerque, Joba Chamberlain and Phil Coke each pitched a scoreless inning in relief.
After allowing the leadoff man in the ninth to reach via a single, Coke got the next batter, Dozier, to ground into a double play. With the six-run cushion, Ausmus seized the opportunity to give Coke an inning of work, which lowered his ERA to 8.31.
"Right now, we just want him to go out there and get outs and feel confident that he can get outs," Ausmus said. "Once he starts doing that again, I think he'll be more comfortable in tighter games, tighter situations. … You hope that this is where the ball starts rolling."
The Tigers set up Sunday's matinee to be the rubber match.
"It's very special," Cabrera said of winning with Leyland in attendance. "We've got to win the series tomorrow."
Matt Slovin is an associate reporter for MLB.com. This story was not subject to the approval of Major League Baseball or its clubs.