McAllister can't maintain quality start streak
Raburn tallies only hit against Bedard, drives in Indians' only run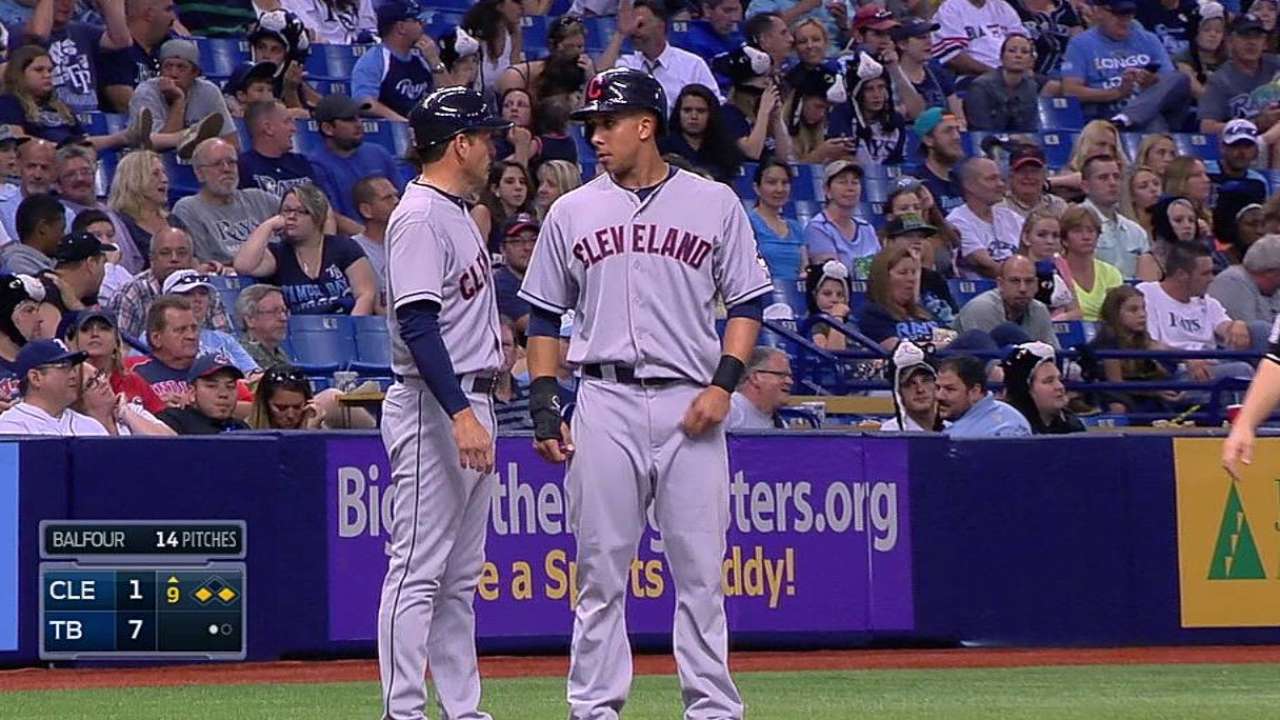 ST. PETERSBURG -- The Indians were baseball's best team against left-handed pitching last season. On Saturday night at Tropicana Field, Rays lefty Erik Bedard showed just how much things can change in only one year.
Bedard baffled Cleveland's lineup over six innings and Indians starter Zach McAllister could not get through five, creating a combination to result in a 7-1 loss for the Tribe. The defeat ended the Indians' modest four-game winning streak and snapped a run of seven straight quality starts from their starting rotation.
The Indians took this one on the chin, but thy also took it in stride.
"I wouldn't call one like this frustrating," Tribe right fielder David Murphy said. "The ones that are frustrating are the games that you just beat yourself. Even if we got a little bit going with the offense tonight, we still may not have won.
"They had a good offensive showing tonight. They put up seven runs. I think the key right now for us is, when we play pretty well, we need to win those games."
Cleveland dropped to 4-9 this year against southpaw starters, turning in an early showing that is in direct contrast to how the club fared last season.
In 2013, the Indians ranked first in the Majors in average (.271), on-base percentage (.341) and OPS (.766) against lefties, posting a 36-20 record against left-handed starters throughout their Wild Card-clinching campaign. Heading into Saturday's meeting with Bedard, the Tribe ranked last in baseball with a .212 average against lefties and 29th overall with a .615 OPS.
Indians manager Terry Francona pointed to the fact that players such as Carlos Santana and Ryan Raburn, among others, have yet to get much going against lefties. Santana has hit .146 with a .593 OPS against left-handers this season, compared to .299 with an .864 OPS in '13. Raburn has slumped as well, hitting .175 (.486 OPS) against lefties this year after hitting .308 (1.020 OPS) against them a year ago.
Two more culprits to this point against southpaws have been first baseman Nick Swisher (.156 this year compared to .295 last season) and catcher Yan Gomes (.216 in '14 compared to .327 in '13).
"When we get going, I think we will be fine," Francona said. "I don't want to blame [guys like Santana and Raburn], but a lot of times last year with a lefty, they were hitting fourth or fifth with of an OPS of probably 1.000. Ray is starting to show signs that he's starting to swing it. We've got to get Carlos going."
Cleveland's only breakthrough against Bedard came in the second inning, when Raburn pulled a pitch into left field for a one-out double. The Indians went 0-for-5 against Bedard before that hit and then went 0-for-14 against him after Raburn reached. The 35-year-old veteran finished the night with four strikeouts and three walks within his 101 pitches.
Raburn later added a run-scoring sacrifice fly against Rays closer Grant Balfour in the ninth.
The Indians' best chance against Bedard came in the fourth inning, when the left-hander issued back-to-back walks to Swisher and Michael Brantley to start things off. Bedard followed that brief setback with a strikeout of Santana before inducing consecutive flyouts off the bats of Raburn and Asdrubal Cabrera to escape the jam.
"He mixed and matched," Francona said of Bedard, "even to the point, not just with speeds, but almost in his delivery. He'd slide step for effect with the hitters, not so much the runners. He'd quicken up his delivery. He just really mixed and matched angles, speeds, everything."
It marked the first time in Bedard's 11-year career (230 games) that he spun at least six shutout innings with no more than one hit allowed. The lefty also collected his first win in eight years against the Indians, who last were defeated by Bedard on July 8, 2006.
"He's got that little turn in his delivery, so he hides the ball a little bit," Murphy said. "When he throws the ball on his glove side, he's got a little natural cut to it. He's always had a pretty good curveball. He's added a changeup over the years. He's been around a long time. He knows how to pitch."
The Rays, meanwhile, fared well against McAllister.
The big right-hander breezed through the first two innings before surrendering an RBI single to David DeJesus in the third, giving Tampa Bay a 1-0 lead. In the fourth, the Rays tacked on two more runs -- one via a sacrifice fly from Matt Joyce and the other courtesy of an RBI single by Yunel Escobar.
Tampa Bay chased McAllister from the contest with another two-run burst in the fifth. With one out, Ben Zobrist delivered a base hit before crossing the plate on a double from Evan Longoria. McAllister then yielded a run-scoring single to James Loney, putting Cleveland in a 5-0 hole and convincing Francona to turn to his bullpen.
"I felt good overall," McAllister said. "I just left some balls in the middle and fell behind a few guys, and they were able to put some pretty good swings on it and get some guys on base. And then they did what they do, be agrgressive on the basepaths and kind of cause some havoc."
Over the previous seven games, the Indians' rotation had turned in a 1.69 ERA with 54 strikeouts in 48 innings, notching a quality start in each outing. McAllister could not keep that streak alive after being charged with five runs on eight hits in only 4 1/3 innings of work.
"Until we get to that point where we're playing extremely, extremely well," Murphy said. "And everybody's hitting on all cylinders and we're just reeling off wins, we need to do the little things well and close out our chances when we do have chances to win."
Jordan Bastian is a reporter for MLB.com. Read his blog, Major League Bastian, and follow him on Twitter @MLBastian. This story was not subject to the approval of Major League Baseball or its clubs.