Bedard dominates as Rays overpower Indians
Veteran lefty tosses one-hitter over six innings; Loney drives in a pair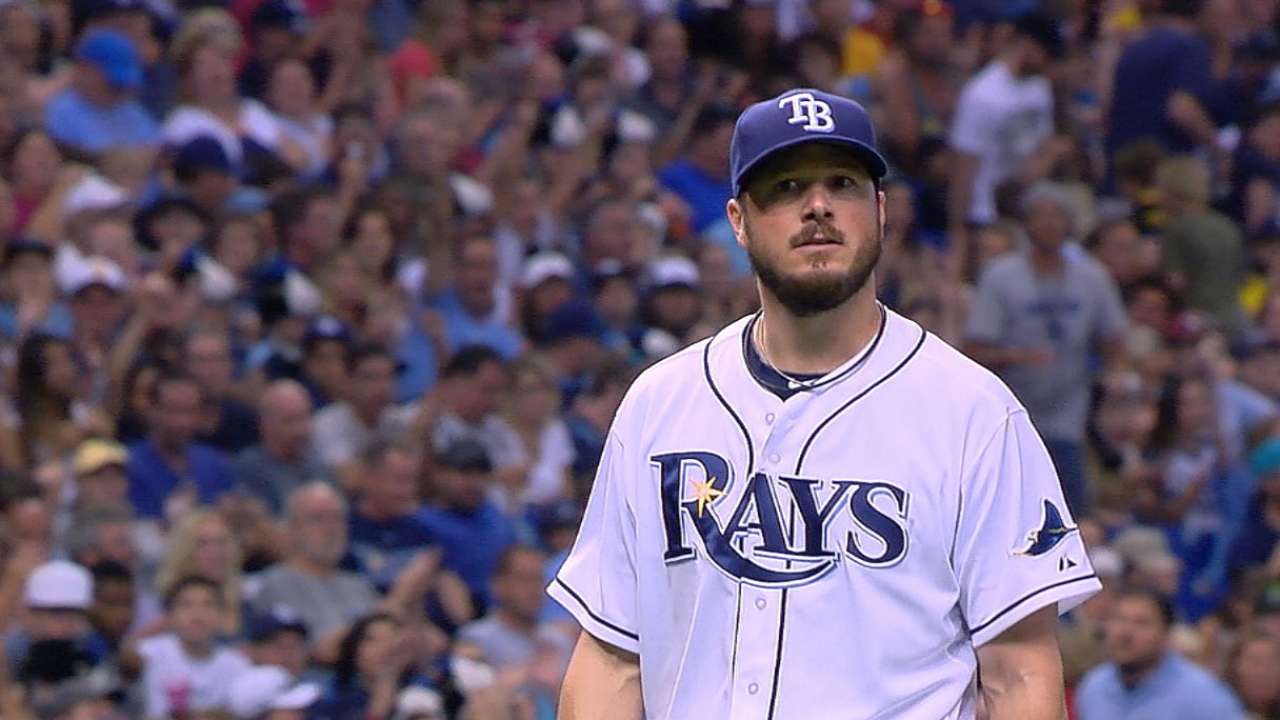 ST. PETERSBURG -- Veteran left-hander Erik Bedard held the Indians scoreless on one hit over the first six innings Saturday night as the Rays, who had been struggling offensively, snapped their four-game losing streak with a resounding 7-1 win.
"I can't say I expected a one-hitter, but I expected him to go deep in the game," said manager Joe Maddon. "He pitched really, really well. One hit, six innings, not bad. He's definitely showing signs of improvement.
"He has the weapons. He has the know-how. He's pretty much a strike-thrower."
The Indians' lone hit off Bedard came in the second inning when Ryan Raburn doubled with one away. Bedard also walked three and struck out four before 29,212 at Tropicana Field.
"It always comes down to throwing strikes," Bedard said. "Me and Hanny [catcher Ryan Hanigan] were on the same page. It helps a lot when you and your catcher are on the same page and you don't have to shake him off."
The Rays' starting pitchers have now allowed three runs or less in eight consecutive starts, after doing so only three times in their previous nine games.
"He mixed and matched, even to the point, not just with speed but with delivery," said Indians manager Terry Francona. "He mixed and matched angles, speeds. There were a lot of lazy fly balls -- kind of exactly what he wants you to do."
Relievers Juan Carlos Oviedo and Grant Balfour finished up for the Rays. Oviedo retired the Indians in order in the seventh and eighth innings, but Balfour, who hadn't pitched since last Sunday, loaded the bases before getting anybody out and yielded a run in the ninth, spoiling the shutout.
"Oviedo was outstanding," Maddon said. "He permitted everybody else to sit down tonight. He could really be in some thicker moments as we move this thing forward."
As for Balfour, Maddon said, "We needed to get him some work. He wanted to go out there and do it."
Designated hitter David DeJesus, batting in the leadoff spot for the second straight day, put the Rays on the board in the third inning with a two-out single to right off starter Zach McAllister, scoring Desmond Jennings, who had singled and stole second. The base hit was DeJesus' fifth in two games and his 18th in his last 16 games.
"He's swinging the bat well," Maddon said. "He's seeing the ball very good. He's doing a really nice job. It's been going on for a couple of weeks now."
Cleveland threatened in the second, when Raburn legged out a double with one away, and again in the fourth, when Nick Swisher and Michael Brantley walked to begin the inning. But each time, Bedard escaped unscathed.
Tampa Bay upped its advantage to 2-0 in the bottom of the fourth when James Loney singled, Wil Myers doubled over left fielder Mike Aviles' head and Matt Joyce lofted a sacrifice fly. Joyce leads the Major Leagues with seven sacrifice flies.
After Jennings walked, Yunel Escobar lined a single to right to give the Rays, who had squandered 14 leads in their last 14 games, a three-run cushion.
Evan Longoria's double to deep right-center field drove in Ben Zobrist and Loney's single down the right-field line made it 5-0 in the fifth, ending McAllister's efforts for the evening.
"[Loney] doesn't surprise me, he's just so steady, consistent," Maddon said. "He's never in a hurry. He's never in trouble. He comes out and lays the same game pretty much every night."
In his last two starts against the Yankees and Indians, Bedard has allowed just one run on seven hits while striking out seven over 12 innings.
It marks the first time he has won consecutive decisions as a starter since June 14-26, 2013.
"I just wanted to get in the groove of things and get the ball over," Bedard said.
Saturday's game marked just the eighth time in their last 25 games that the Rays' starters have gone six innings or more.
Loney singled home Zobrist and Joyce delivered another sacrifice fly in the seventh to make it 7-0 for the Rays, who had managed to score just 10 runs in their previous four games, all losses.
"It was kind of a fun night to watch our offense," Maddon said.
The win was the Rays' first at home since April 22, ending a six-game losing streak.
Jim Hawkins is a contributor to MLB.com. This story was not subject to the approval of Major League Baseball or its clubs.