Unable to cash in, Giants can't hold off Dodgers
Cain starts strong in return, but finds trouble; club strands 12 on base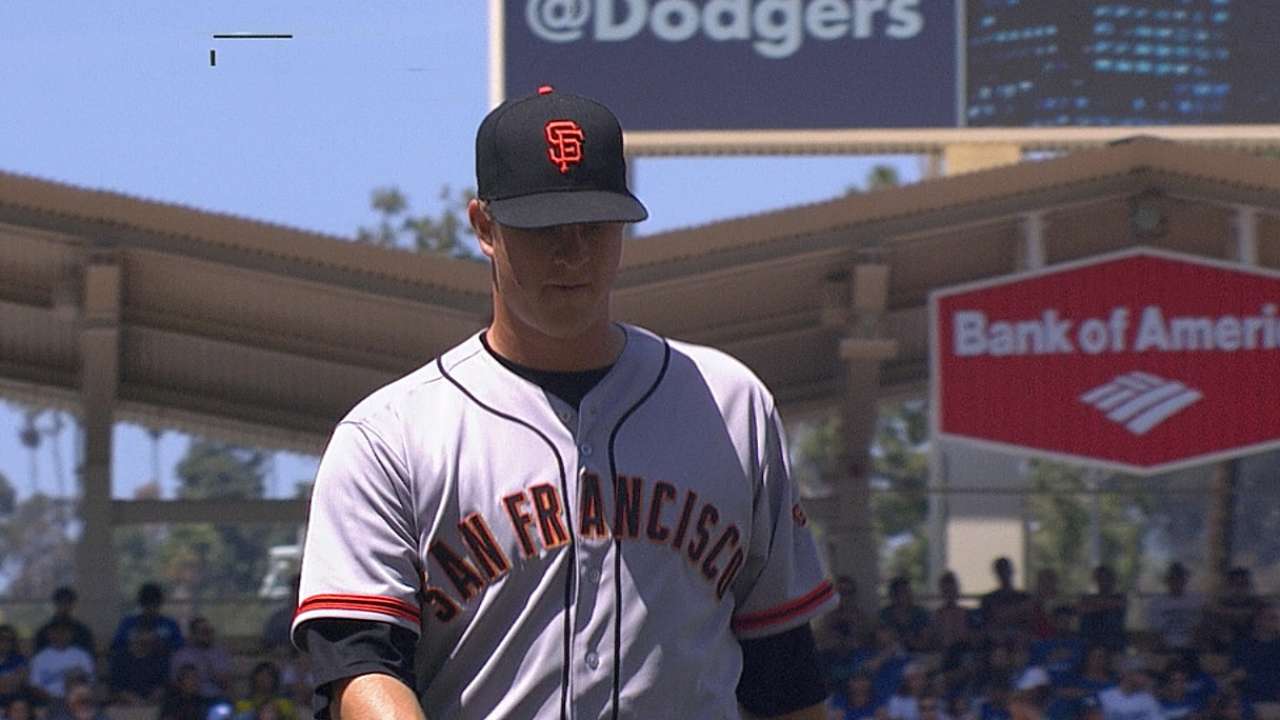 LOS ANGELES -- In the wake of Brandon Belt's sustaining a broken left thumb, maybe the Giants should have felt lucky to survive Saturday without encountering further physical misery.
Matt Cain's right index finger remained whole. Hector Sanchez survived a wicked foul tip that would have knocked most humans into the backstop. It's often said that if you have your health, you have everything. So from that perspective, dropping a 6-2 decision to the Los Angeles Dodgers wasn't a disaster.
But certain aspects of this loss will be recalled as ominous if they mushroom into trends.
The Giants resumed their futility with runners in scoring position. They went 2-for-11 in those situations while marooning 12 men. That included leaving the bases loaded in the first and eighth innings. San Francisco's former closer, Brian Wilson, pitched himself into trouble in the eighth but escaped by coaxing Hunter Pence's foul popup.
After winning the series' first two games, the Giants knew they would face a challenge in confronting Zack Greinke. The Dodgers right-hander indeed triumphed, striking out eight while yielding both Giants runs in seven innings. But he also stranded five runners in scoring position, reflecting the Giants' promising yet wasted offensive effort.
"We had too many missed opportunities," Giants manager Bruce Bochy said. "We had them on the ropes several times. ... That was the difference in the game."
The Giants' bullpen has enabled them to avoid knockout punches all season. San Francisco's relievers entered Saturday with a Major League-best 1.75 ERA. But Jeremy Affeldt (0-1), who was unscored upon in 10 previous appearances, was charged with a pair of seventh-inning runs before Juan Gutierrez coughed up two more runs in the eighth.
Bochy spoke forgivingly of his relievers. "They got nicked up a little," he said. "They've been so good and solid all year."
Cain looked particularly solid despite not having pitched since April 23, six days before he cut his finger and was forced to miss two starts. He blanked Los Angeles on two hits through five innings and owned a 2-0 lead.
Then came the sixth inning, when, as Cain said, "It kind of got out of hand."
Cain sandwiched walks to Dee Gordon and Hanley Ramirez around Yasiel Puig's bloop single, loading the bases and prompting Bochy to summon Affeldt. After inducing Adrian Gonzalez's run-scoring, double-play grounder, Affeldt yielded Matt Kemp's RBI single.
Those play-by-play details obscure what really happened. During Puig's at-bat, he fouled off a pitch that caromed off Sanchez's catcher's mask and left him with a left jaw so sore that he needed postgame treatment. Sanchez insisted that he didn't sustain a concussion.
"I don't think it's a concussion," he said. "I remember my name. ... Gregor Blanco."
Sanchez also said that his head was fully clear later in the sixth, when he traced Ramirez's foul popup. Though Sanchez had moved to the netting that protects patrons in the field-level seats, he appeared to have a makeable play. But the ball squirted from his grasp.
Another play that wasn't occurred in the seventh, when Gordon bounced a go-ahead RBI double past third baseman Pablo Sandoval. Had Sandoval not been situated closer to home plate than usual to discourage Gordon from bunting, he would have handled the ball easily.
Minding first base until Michael Morse assumes his role as the Giants' primary first baseman, Buster Posey served as the initial replacement for Belt, who's expected to miss at least six weeks after being hit on his thumb by a Paul Maholm pitch Friday night. Posey went 3-for-4 with an RBI, providing a reminder of how the Giants can best cope with losing Belt.
"That's the sad part about the game. Guys are going to get hurt; guys are going to miss time," Cain said. "You have to push past it pretty quick. It stinks to do it that way, but ... I think Belt will be back as quickly as he can. For the time being, we'll work things out."
Chris Haft is a reporter for MLB.com. Read his blog, Haft-Baked Ideas, and follow him on Twitter at @sfgiantsbeat. This story was not subject to the approval of Major League Baseball or its clubs.