Gordon fuels rally as Dodgers surprise Giants
Speedster steals thrice, drives in decisive run; Greinke digs deep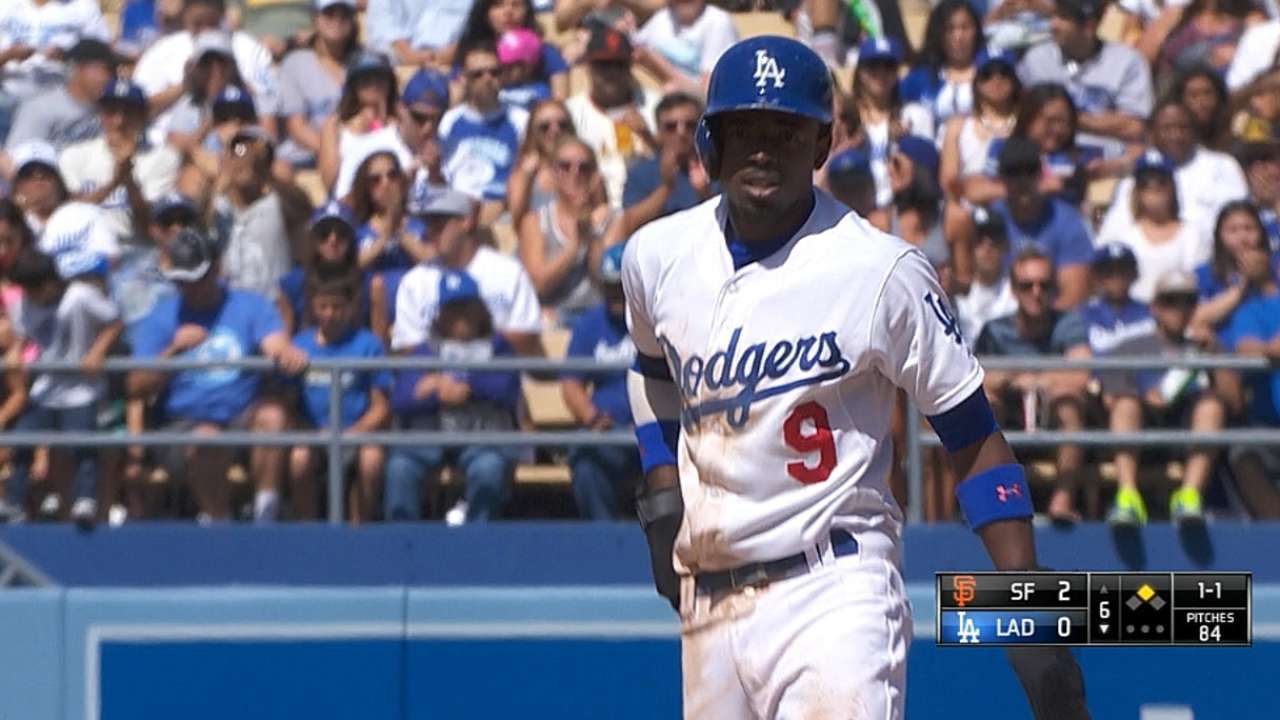 LOS ANGELES -- With Maury Wills, Davey Lopes and Steve Sax in the house for Old-Timers' Day on Saturday, the Dodgers' newest version of a leadoff hitter and catalyst showed why he won the job in a 6-2 comeback win over the Giants.
Dee Gordon stole three bases, scored two runs and had two hits, including a tiebreaking RBI double in the seventh inning. Gordon has an MLB-leading 24 steals, joining Scott Podsednik, Kenny Lofton and Vince Coleman as the only players to record 24 steals in the first 35 games.
And with Cy Young Award winners Sandy Koufax, Fernando Valenzuela, Orel Hershiser, Eric Gagne and Clayton Kershaw watching, fellow Cy Young Award winner Zack Greinke dug down for seven innings and reared back to touch 96 mph in a key at-bat. With Matt Kemp homering and Drew Butera driving in another run, the Dodgers spotted the Giants a pair of runs and scored six times unanswered to snap the losing streak at three.
"We needed a win for some energy," said manager Don Mattingly. "Down 2-0, it felt like we were down 10, honestly. Getting runs back were like a shot in the arm. Dee created energy all over the place. Obviously, we were going in the wrong direction. These are like a two-game swing."
Greinke is now 6-1, with five wins following losses, and he's 10-1 against the National League West since coming to the Dodgers. He also hasn't been throwing nearly as hard as he did in his 2009 Cy Young year. His fastball usually lives in the 91-93 mph range, but he struck out Pablo Sandoval to escape a first-inning bases-loaded jam with a 96-mph heater, hit 94 several times and was consistently at 93.
"I didn't know I've still got 96 in me," said Greinke. "It's been so long, I didn't know I had it. I just threw the fastball as hard as I could and hoped it would work out. I threw so many slow pitches, maybe it got his timing off."
Greinke struck out eight and made 112 pitches after having his previous start cut short by a long rain delay.
"He didn't give in too much," said Giants left fielder Michael Morse. "He moved the ball in the zone and out of the zone. He pitched like Zack Greinke."
The only Giants runs scored in the second inning, when the first three batters reached base. Opposing starter Matt Cain (activated from the disabled list for the game) was the third, on a bunt down the third-base line that Greinke said was the result of his overzealousness and unfamiliarity with Chone Figgins at third base, filling in for the injured Juan Uribe.
"It was a perfect bunt," said Greinke, who fielded the ball as Figgins came in, leaving third base uncovered. "A lot of communication is needed, and it's the first time for me with him at third. Definitely my fault. Butera was yelling, 'One [first base],' but in the back of my mind, I thought I could get him at third. But a bunt that hard, the third baseman's job is to come in. I think it was a mistake on both parts."
In recent weeks, down two runs was pretty much game over for the Dodgers' offense, but not this game. Gordon started a two-run sixth with a walk and steal. He slapped his tiebreaking RBI double past drawn-in third baseman Sandoval in the two-run seventh, then scored on Yasiel Puig's ground-rule double. Puig earlier extended his hitting streak to 10 games.
"As long as Dee keeps bunting, it puts pressure on the defense and puts the chopper in play; it puts everything in play," said Mattingly. "In a sense, they're saying they want to make him hit the ball, and he was able to come through.
Kemp, who hit a game-tying single in the sixth, slugged his fifth homer in the eighth, carrying the opposite way, and Carl Crawford created the final run with a hit and steal and scored on Butera's sacrifice fly.
"I don't think anyone thinks we can't beat the Giants, but the No. 1 thing today was winning a game we were losing for a long time," said Greinke. "It's a little bigger because it's the Giants, but the most important thing was coming from behind."
Kemp, meanwhile, is finally coming around offensively after spending April shaking off the rust from two years of injuries. He's batting .464 (13-for-28) with two doubles and a homer over the last eight games, raising his average from .205 to .270.
"I told myself coming into this series that I've got to drive in runs with runners in scoring position, and I did it today," said Kemp. "These guys have kind of beat us up this year. We've got to play better and learn how to win close games."
Ken Gurnick is a reporter for MLB.com. This story was not subject to the approval of Major League Baseball or its clubs.