Sarah's Take: Giants can overcome loss of Belt
First baseman was coming into his own offensively before breaking thumb Friday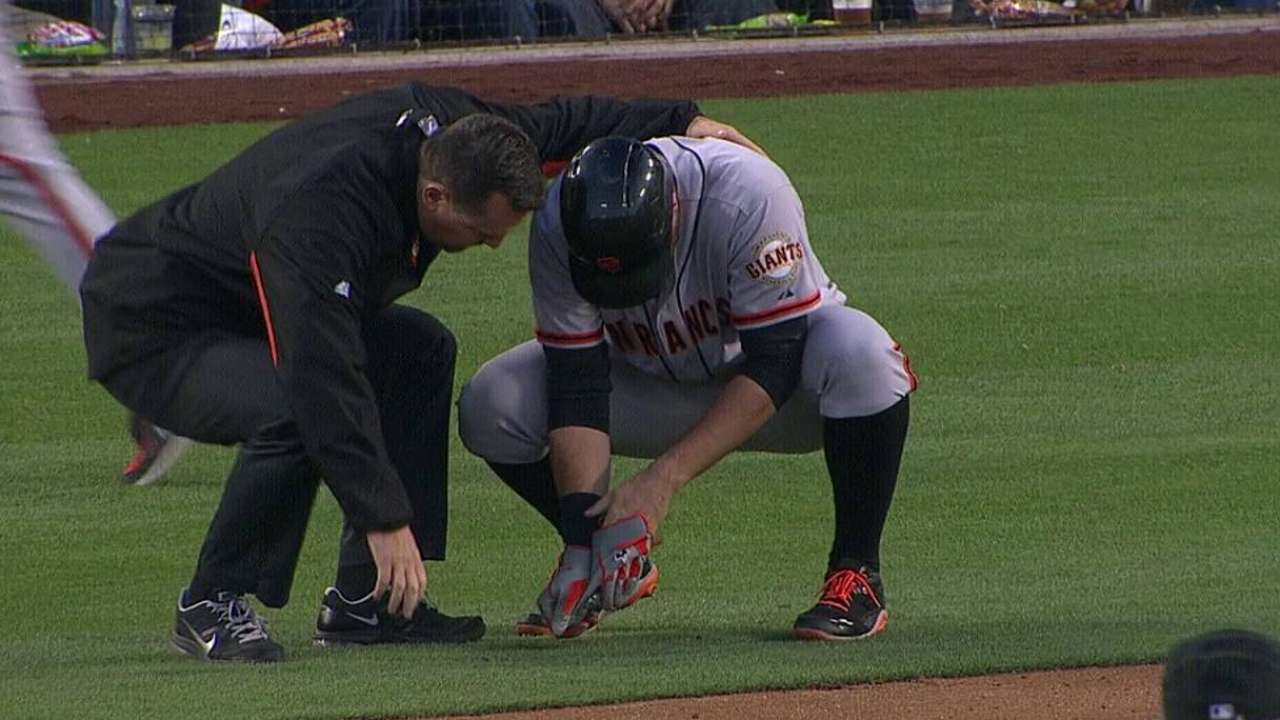 The National League West-leading San Francisco Giants suffered a crushing blow Friday night. Brandon Belt, their talented young first baseman, suffered a broken thumb when Dodgers pitcher Paul Maholm struck him with a pitch. Although the Giants won the game behind a brilliant pitching performance by Madison Bumgarner, the loss of Belt could ruin their fantastic start to the season.
Before Spring Training, few pundits thought San Francisco would compete for the top spot in the NL West. Oh yes, the Giants appeared to be a good team and probably would have better than a break-even record at the end of the season. On paper, however, both the D-backs and Dodgers appeared to be more complete teams.
Once again, baseball proves it can't be predicted.
Early in Spring Training, the Giants suffered a crushing blow to their offense. Marco Scutaro, the 38-year-old second baseman who has been an integral part of their offensive production since being obtained from the Rockies in July 2012, injured his back. No one knows when or if Scutaro will return, though he's participating in baseball activities at the San Francisco's Arizona training facility.
Right now, Brandon Hicks, a Minor League journeyman, plays second base for the Giants on most nights. Trying to prove that he belongs in the Majors, Hicks has played a good defensive second base, and he has been helped by the incredible play from shortstop Brandon Crawford. Hicks has shown power, hitting two homers the past two games at Dodger Stadium. But his batting average is under .200.
The new maturity of Belt as a hitter had helped San Francisco to compensate for the loss of Scutaro. The 26-year-old Belt debuted in the Majors in 2011 and experienced early offensive success, including an Opening Day home run against Clayton Kershaw. When he began to struggle and couldn't make the necessary adjustments at the plate, his offensive production suffered.
Last August, Belt finally recognized that his refusal to accept coaching and his inability to make adjustments on his own were damaging the team's performance. As soon as he accepted coaching, he became a different and more productive hitter. This season, Belt has hit .264 with nine home runs. He has been crucial for the Giants' early success. Manager Bruce Bochy estimates Belt will miss at least six weeks with the thumb injury.
Belt's injury will make it more difficult for the Giants to maintain their lead in the NL West, but they can do it. Every team suffers injuries, and how they handle them determines the World Series champions. San Francisco can't allow unfortunate injuries to ruin its chances of going to the playoffs.
The free-agent signing of Michael Morse will help the team survive offensively until Belt returns. Last season, the Giants had almost no production from their left fielders. Giving up a little defensive skill for more offense has made the lineup more dynamic and harder to pitch to, as Morse gives them another power threat.
Pablo Sandoval hasn't broken out of a season-long slump. Entering a contract year, Sandoval lost 30 pounds in the offseason because his conditioning program had concerned the Giants. A notorious bad-ball hitter, Sandoval has curtailed his aggressiveness in attempts to get more walks, but so far it hasn't helped. Hitters can't change their style of hitting and remain successful. San Francisco needs to have the same old lovable "Panda" to help compensate for the loss of Belt.
This season, the Giants have a healthy Angel Pagan to set the table for their power hitters. Last season, Pagan suffered a severe hamstring injury that required surgery and caused him to miss 91 games. Without him, the team had a one-dimensional offense. Now, he causes havoc at the top of the order.
Their starting rotation has also improved from the previous season. Although Matt Cain has missed two starts after accidentally cutting his finger, he was scheduled to return Saturday. Having a healthy Ryan Vogelsong has made a huge difference. Tim Hudson, a free-agent signing in the offseason, has pitched magnificently. San Francisco's bullpen has been excellent, enabling the team to win many one-run games.
Belt's injury will have an impact on the Giants, but they can maintain their lead. Every team has ups and downs during the season, and it will be interesting to see how San Francisco handles having a weaker offense.
Sarah D. Morris can be reached at sdmorris27@outlook.com. This story was not subject to the approval of Major League Baseball or its clubs.