Jaso walks off A's after late rally vs. Soriano, Nats
Catcher's RBI double in 10th comes after Oakland ties it in ninth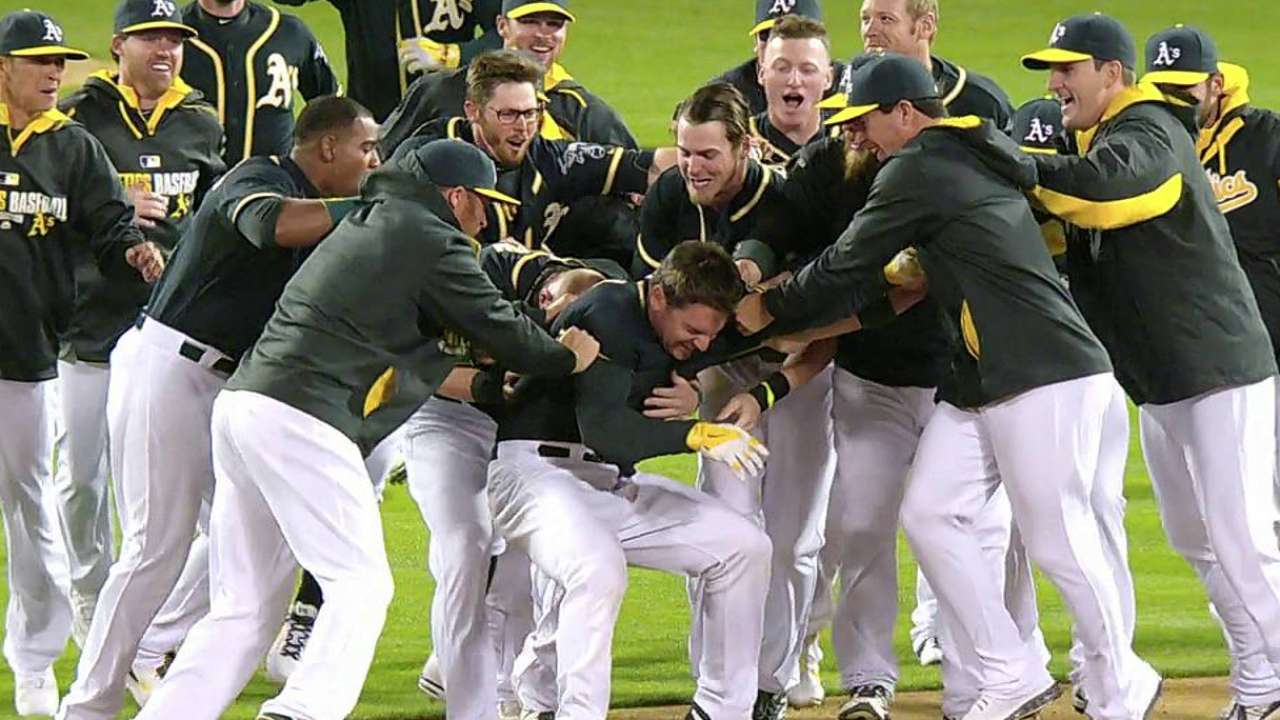 OAKLAND -- John Jaso made a quick adjustment before his final at-bat, opening his stance so he could get a better look at the fastball.
Even after a night in which he had hit a home run and later singled to spark the tying rally, Jaso was looking for an edge. It worked out perfectly.
Jaso knocked in the winning run with a double that hit high off the right-field wall, scoring pinch-runner Nick Punto from first base with two outs in the 10th inning, giving the Athletics a dramatic, 4-3 victory over the Nationals before a sellout crowd of 36,067 on fireworks night.
"The last few years, this has been a walk-off kind of team," said Jaso, his shirt still dripping with whipped cream after getting a celebratory pie to the face. "I opened my stance, because I knew the last guy I faced would be throwing harder. I didn't want to cut myself off. I wanted to hit the fastball."
Before driving in the winning run against Drew Storen, he singled against Nationals closer Rafael Soriano to start the ninth-inning rally. Soriano entered the game on a streak of 19 straight saves dating to last August.
"I played with him in Tampa Bay," Jaso said. "I've always known he's been good."
"Going into the ninth with a two-run lead and a guy that hasn't given up a run and it doesn't happen for you, it's disappointing," Washington manager Matt Williams said.
Jed Lowrie's double scored Jaso, and Josh Donaldson followed with an RBI single as Soriano allowed his first runs of the season.
"When you get down to those situations, it just becomes a grind," A's manager Bob Melvin said. "You know you have to give your best at-bat. Adrenaline takes over, and it's all about competing."
Storen, a former closer for the Nationals, said he made a mistake on the pitch to Jaso.
"Just left it up, right over the heart of the plate, and he's a good hitter and not going to miss it," he said. "Just need to locate it better. He hopped on that first pitch. I need to make a better pitch."
Before the late-inning heroics, Washington starter Tanner Roark had his way with the A's. He allowed two hits, including Jaso's solo home run in the bottom of the third, over 7 2/3 innings.
"Sometimes certain guys come up key in games when you don't get many hits," Melvin said. "He did most of the damage."
A's starter Sonny Gray was nearly as effective as Roark. He allowed four of his six hits, and all three runs, in the third inning. By limiting the damage, Gray produced his eighth quality start of the season and gave the A's the chance for the comeback.
Gray walked two and struck out three over seven innings in his first start since being named American League Pitcher of the Month for April.
"I was getting behind in the count a little, and they were jumping on the fastball," Gray said. "Other than the home run, I don't think those were awful pitches. They just put good swings on it, and hit it hard."
Sean Doolittle (1-2) pitched two scoreless innings to earn credit for the victory. He struck out three and extended his walk-free streak to 31 innings, dating to last season.
Gray struck out Nate McClouth to start the third, but Danny Espinosa followed with his fifth home run of the season. Zach Walters and Denard Span followed with singles, and both runners scored on Kevin Frandsen's double.
After Jaso's homer, Roark retired 13 consecutive hitters before Josh Reddick singled to open the eighth. Reddick eventually reached third, with two outs.
Tyler Clippard took over for Roark and got pinch-hitter Derek Norris to pop up to the shortstop, setting up the dramatic ninth.
Alberto Callaspo singled to start the winning rally. Two outs later, Punto was still on first base. Jaso made sure he wasn't there very long.
"It's strange how a pitcher can get on a roll and everything you hit goes right at people," Jaso said. "When a guy gets into a groove like that, you want to get into the bullpen, just to change the momentum."
Rick Eymer is a contributor to MLB.com. This story was not subject to the approval of Major League Baseball or its clubs.