Quad injury lands LaRoche on 15-day DL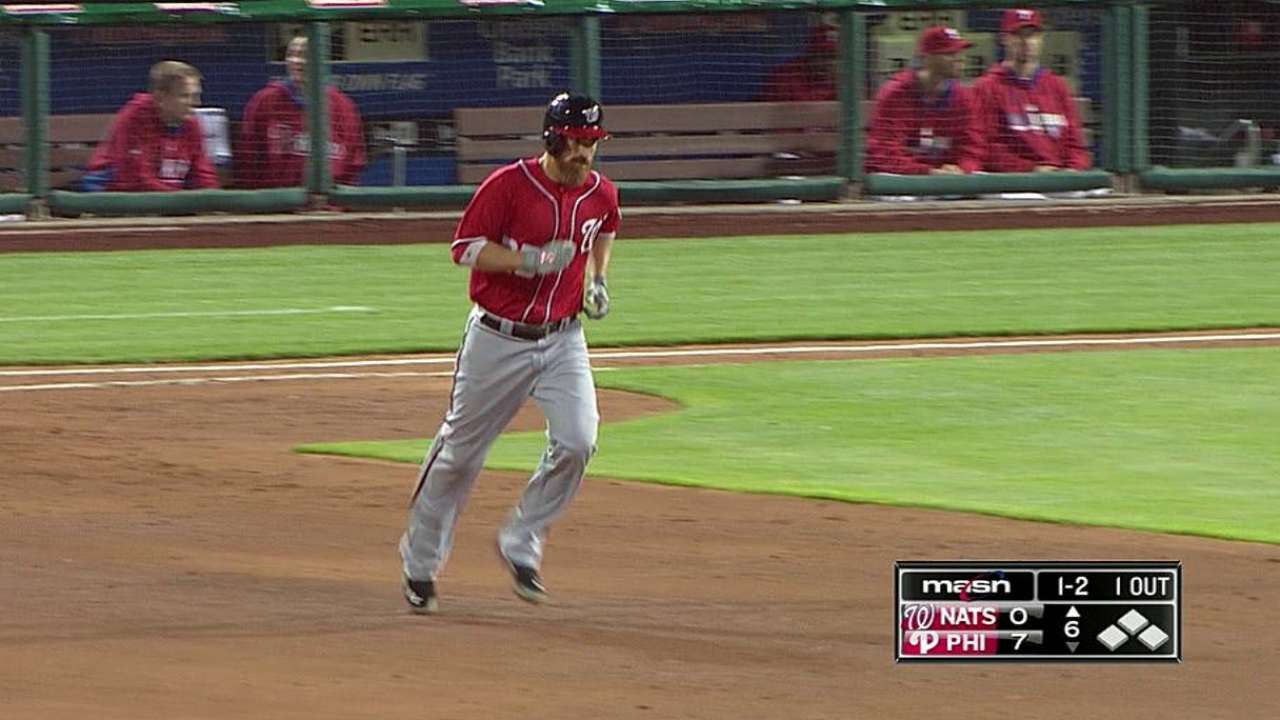 OAKLAND -- Shortly after Saturday night's deflating 4-3 loss in 10 innings against the A's, the Nationals announced more bad news.
Manager Matt Williams said first baseman Adam LaRoche, the team's top all-around hitter so far this season, will be placed on the 15-day disabled list to rest his strained right quadriceps.
The move became official Sunday, and the team recalled first baseman/outfielder Tyler Moore from Triple-A Syracuse. Moore returns after spending 18 games with the Nationals earlier this season.
LaRoche was originally slated to play first base on Saturday but was removed from Friday's contest as designated hitter after feeling it flare up.
An MRI on Saturday confirmed the bad news for the Nationals, with Williams terming it a high quad/hip flexor strain.
"Don't want to do it," Williams said of placing LaRoche on the DL, "but for the long-term health of Adam and our team, it's probably important to do that right now and make sure we can calm it down as much as possible. Nobody is going to feel sorry for us; we've got to play."
LaRoche is batting .319/.421/.504 with five homers and 21 RBIs in 32 contests. Now he heads to the DL to join other sluggers Bryce Harper and Ryan Zimmerman, who are both dealing with thumb issues that require lengthy recoveries.
"It [stinks] not being able to go out there every night and battle with the guys," LaRoche said. "The one thing I do feel good about is that I gave it every opportunity to try and go out and play through it, and see if this thing would go away. The last couple days have proven that it's just not going happen."
LaRoche said he will probably stay with the team as it wraps up the road trip in Arizona, but that he's looking forward to resting it for five or six days with no activity.
"We gave it probably 10 days of hurting pretty good," LaRoche said. "Any time I'd go to make a move, it wouldn't make it any better. Going to take two weeks and try to get right, rather than risk [missing] six or eight weeks."
Alex Espinoza is a contributor to MLB.com. This story was not subject to the approval of Major League Baseball or its clubs.