Roark's effort wasted as Soriano blows save vs. A's
Starter allows one run over 7 2/3 innings; closer allows two runs in ninth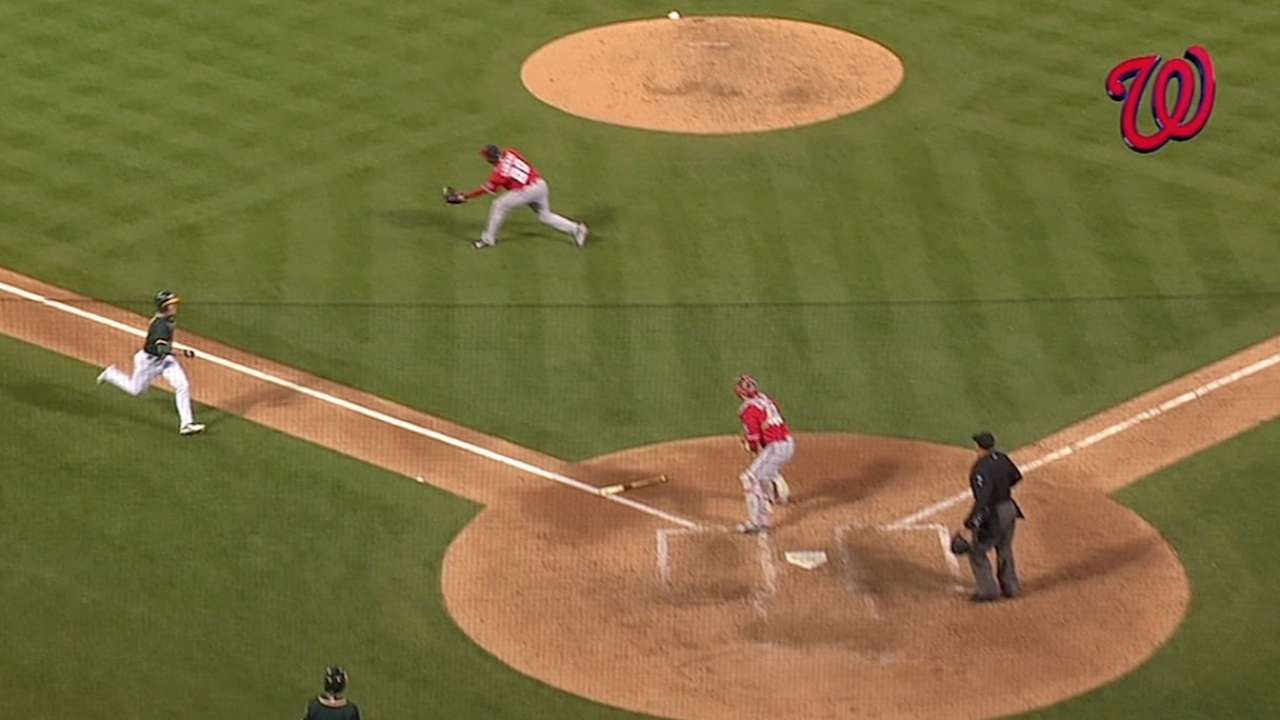 OAKLAND -- It's already being called the anti-Derek Jeter play.
During the 2001 playoffs against the A's in Oakland, the Yankees' shortstop made a memorable relay from halfway down the first-base line to nab Jeremy Giambi at the plate in a key situation and help the Bronx Bombers win.
On Saturday, Nationals closer Rafael Soriano did quite the opposite. He inexplicably cut off a throw down the third-base line and allowed the A's to complete a two-run, ninth-inning comeback before Oakland claimed a 4-3, walk-off win in 10 innings on John Jaso's RBI double.
With the score at 3-2 in the ninth and Jed Lowrie on second base, A's third baseman Josh Donaldson laced one into left field. Zach Walters, making his first career start in left, threw a strike toward home plate as Lowrie rounded third, but Soriano cut it off.
Washington manager Matt Williams said he thought the ball might have had a chance to nab Lowrie before he scored the game-tying run.
"I don't know why he cut that ball off," Williams said. "One, he should be backing up the plate in case the ball goes by. I don't know what he's doing there. I don't know why he cut it."
Soriano was also very blunt when describing his fielding snafu.
"I think that was a big mistake, too," Soriano said. "I think that we had a play on that throw, and then I asked [catcher Wilson] Ramos and he said, 'Yeah, there would be a play.' I [messed] it up twice."
So much for Soriano's perfect start to the season.
Soriano had entered with a 25-inning scoreless streak, and had converted 19 straight saves dating back to last season, but Oakland strung together a game-tying salvo in the ninth. Jaso led off the ninth with a single before Lowrie doubled to right-center to make it 3-2 in favor of the Nationals, setting the stage for Donaldson's game-tying at-bat.
"Bad day. That's all I can say," Soriano said. "Very bad day, and I can't be perfect every time, and it happened tonight."
Jaso capped off his stellar evening by drilling a double off the right-field wall in the 10th against Drew Storen to score Nick Punto from first. The A's catcher, who also hit a homer off Washington starter Tanner Roark in the third, lifted one high to right field, and it bounced off the wall above a leaping Nate McLouth to cap off the bullpen implosion by the Nationals.
"Just left it up, right over the heart of the plate, and he's a good hitter and not going to miss it," Storen said. "Just need to locate it better. He hopped on that first pitch, need to make a better pitch."
It was quite the night for Jaso, who went 3-for-5 with a couple of extra-base hits and two RBIs.
"He owns the town tonight," A's starter Sonny Gray said of Jaso. "We needed him to come up big, and he delivered."
The late comeback by Oakland erased a strong bounce-back start from Roark, who held the A's hitless until Jaso's solo shot cut his team's deficit to 3-1. Otherwise, Roark was able to keep Oakland off-balance with solid control and a devastating curveball that he was able to locate all night.
The second-year righty rebounded from his previous start, when the Phillies knocked him around for seven runs in four innings after he had thrown his first career shutout the outing before that start. Roark (2-1, 3.65 ERA) retired 13 straight after Jaso's homer, allowing two hits and walking none while striking out five in 7 2/3 innings of work.
"Me and [Ramos] were on the same page," Roark said. "So when you get that rhythm and that tempo going and you don't have to shake anything off, that's perfect."
The Nationals have to be encouraged by Roark's development as the team's fifth starter in the rotation behind Stephen Strasburg, Jordan Zimmermann, Gio Gonzalez and Doug Fister, who made his team debut on Friday night in Oakland.
Gray, the reigning American League Pitcher of the Month, ran into some trouble in the third after facing the minimum seven batters to start the game. The Nationals used four straight hits against the talented young righty to put together a three-run lead.
Danny Espinosa started off the scoring by depositing one into the right-field bleachers for a solo shot. Then Walters -- making his first career start in the outfield -- and Denard Span recorded back-to-back singles. Kevin Frandsen would drive them both home with a double to the left-field gap that rolled to the wall, making the score 3-0 in favor of the Nationals.
Gray finished seven innings, giving up three earned runs on six hits, while walking two and striking out three.
"We need to do that every day," Williams said of the rally against Gray. "We need to put together stuff like that. Had our chance going into the last inning. We'll take that every day."
The Nationals received some insult to injury on Saturday night as they also learned that first baseman Adam LaRoche (strained right quad) will need to be placed on the 15-day disabled list.
Alex Espinoza is a contributor to MLB.com. This story was not subject to the approval of Major League Baseball or its clubs.