Despite scoreless start, Samardzija remains winless
Righty whiffs seven over six, gets no support as Braves blank Cubs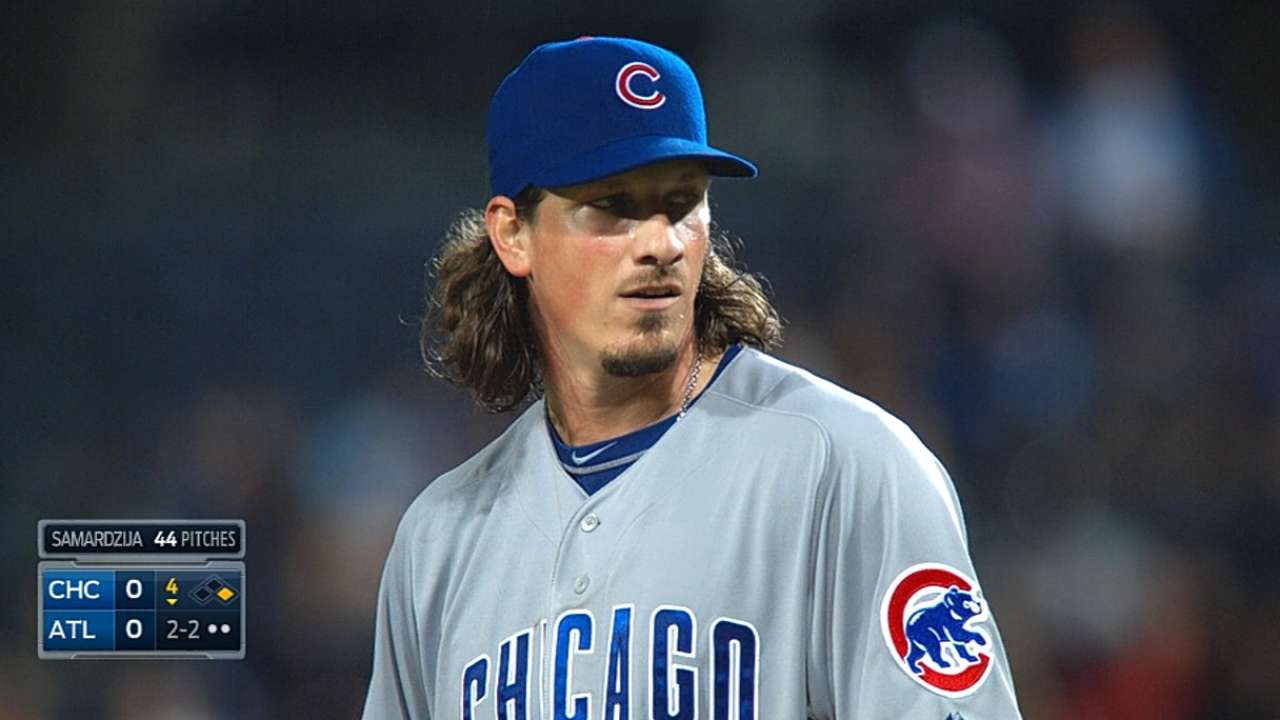 ATLANTA -- When former Notre Dame two-sport star Jeff Samardzija stepped up to the plate for the first time Saturday night, the organist at Turner Field played a rendition of "Hail to the Victors," the University of Michigan fight song.
The college tune might as well be an homage to every team Samardzija has faced since Aug. 24, 2013, as he was unable to earn a win for the 14th consecutive start. The Braves defeated the Cubs, 2-0, to drop Chicago to 2-12 in Samardzija's last 14 starts.
"I understand the situation, I understand how things go," Samardzija said. "Baseball's a funny sport, so it's just one of those things where you learn from it and it usually comes around in the end and it all evens out.
"So just keep pitching, keep doing your work. You see these guys working hard and doing their job, too. So keep going and it should be great."
Cubs manager Rick Renteria added: "I'm glad he's doing what he's doing. He's going out there every single day and actually showing you that he's not thinking about anything other than giving you a really good performance. My solace is in the fact that this guy is being the ultimate professional."
Reliever Brian Schlitter took the loss, surrendering two runs on three hits in the seventh. Pinch-hitter Ryan Doumit put the Braves ahead for good with a run-scoring double, and Tyler Pastornicky padded the advantage with a suicide squeeze.
The seventh spoiled another strong showing from the Cubs' ace.
Samardzija gave up only two hits and struck out seven in six scoreless innings. He threw only 69 pitches plus two simulated innings in the bullpen during a rain delay lasting one hour, seven minutes before the top of the third.
Addtionally, Renteria said before the game that the club would be mindful of Samardzija's pitch count after he threw 126 on Monday, but said that "the majority" of his decision to pull the right-hander was because of the rain delay.
"That's one thing as a pitcher you understand is rain delays," Samardzija said. "They're unfortunate. You're just hoping that they're short enough so you can get back out there and somewhat continue your game before another one.
"I threw about two innings with my running shoes on down in the bullpen, so I knew I had thrown a lot of pitches. So, I felt good. I could've went back out, but we agreed that there was a long rain delay."
Renteria added: "Keeping him ready in between, he's still throwing. Those guys are still throwing in here, so there are still pitches being tossed. They're still accumulating an odd number of pitches throughout the evening, and that was just the right thing to do."
Regardless of pitch count, it was the seventh quality start in eight turns for Samardzija, who owns a 1.45 ERA that ranks second in the Majors only to Reds starter Johnny Cueto (1.43).
Samardzija, who owns a 3.18 ERA and has made 10 quality starts during his 14-start winless streak, was pleased that his cutter was in top form for the first time in 2014.
"I've been kind of chasing it the whole season, so I haven't really had it," Samardzija said. "It was more just kind of a show pitch. But tonight, [catcher Welington Castillo] kept calling it, so I figured something must be up with it and it was pretty good."
Samardzija, who entered Saturday earning an average of only 1.88 runs of support per start, didn't get anything from the offense. But that's not to say Chicago did not have ample opportunity to score against Braves starter Ervin Santana and the bullpen.
The Cubs eclipsed the four-hit mark for just the second time in their past six games and put runners on base in six different innings, but they still suffered their third shutout in Samardzija's eight starts this season.
"His teammates are just as frustrated with themselves not being able to do things for him," Renteria said. "It doesn't go unnoticed, and they know. And sometimes, they try to put on more pressure the more it goes on and the more people talk about it."
Santana shut Chicago down in seven scoreless innings, fanning seven. Had the rain continued just a little longer, however, the Cubs might have been spared the Atlanta right-hander's fifth quality start in six turns.
"Santana was terrific, better than terrific, really, when you throw in an hour-plus rain delay," Braves manager Fredi Gonzalez said. "We were about 5-10 minutes from shutting him down. It was that long. He did a terrific job."
Perhaps the wildest rally-killer came during the fourth. Following a leadoff single from Ryan Kalish, Anthony Rizzo seemingly put the Cubs in business with a single of his own. However, he took too wide of a turn around first and got caught in a rundown.
Several throws later, Rizzo was retired on a 9-6-3-4-6-3-6-7 putout. Luis Valbuena drew a two-out walk later in the inning, but Kalish did not budge once he reached third as Starlin Castro flied out and Castillo struck out.
"Rizzy hit the ball into left-center field and kind of caught into no-man's land a little bit," Renteria said. "But we still had a runner on third base, infield's back. Situationally, we just need to put the ball in play, and we didn't."
Joe Morgan is an associate reporter for MLB.com. This story was not subject to the approval of Major League Baseball or its clubs.