Braves aid Santana's gem with late runs, blank Cubs
Righty fans seven over seven; Doumit, Pastornicky produce RBIs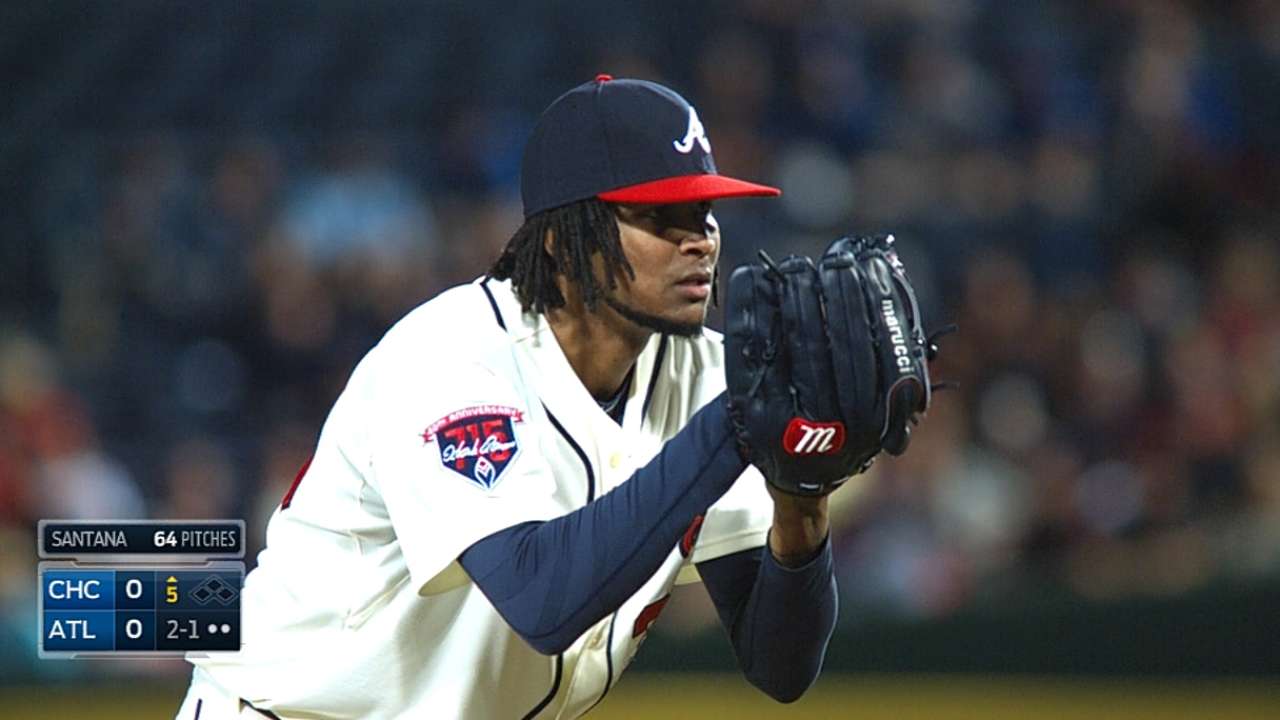 ATLANTA -- Ervin Santana and Jeff Samardzija were not willing to allow a lengthy rain delay deny them their latest opportunity to prove why they have been two of baseball's most impressive pitchers this year. In appreciation, the Braves rewarded Santana's determination by playing some effective small ball once Samardzija exited.
After the Santana-Samardzija pitching matchup lived up to expectations on Saturday night at Turner Field, the Braves produced a sacrifice bunt and a squeeze bunt to construct a two-run seventh inning that proved decisive in a 2-0 win over the Cubs.
"It's a little out of character for us," B.J. Upton said. "But at the same time, it's nice to know we can do it that way, too."
After recording just two hits through six innings against the hard-luck Samardzija, the Braves took advantage of right-handed reliever Brian Schlitter in the seventh. Chris Johnson delivered a leadoff single and advanced to second base on Upton's sacrifice bunt. Andrelton Simmons followed with a single that put runners at the corners and set the stage for Ryan Doumit to send a pinch-hit opposite-field double off the left-field wall.
"It's nice to contribute coming off the bench in a big situation like that," said Doumit, who entered the game 3-for-16 as a pinch-hitter. "It's nice to pull your own weight around here."
After Doumit produced his first extra-base hit in his 37th plate appearance of the season, Tyler Pastornicky took advantage of his fourth start of the season by executing a suicide squeeze bunt that left Schlitter with no play as Simmons crossed the plate with an insurance run.
"When you're not scoring runs, every little run that you can scratch is big," said Braves manager Fredi Gonzalez, who has seen his team total seven runs in the three victories it has notched in a four-game span.
The Braves have won 15 of the 19 games in which they have homered. But during the first two games of this series, they have notched two of the five wins they have in the 14 games they have not gone deep.
Consequently, they are not dealing with the same sting that steadily worsened as they lost eight of their previous nine games entering this weekend's three-game set. They have started to escape their recent woes with the satisfaction they are still on top of the National League East standings.
"I don't think we've clicked on all cylinders yet," Doumit said. "From an offensive standpoint, defensive standpoint and pitching standpoint, we haven't all clicked together yet. I think we're starting to show that we can. Once we do, it's really going to be scary."
Even as they have struggled recently, the Braves have been able to continue relying on a rotation that has benefited greatly from the March addition of Santana, who limited the Cubs to five hits in a scoreless outing that consisted of 21 outs and the approximate three extra innings he threw during a one-hour, seven-minute rain delay.
"Santana was terrific, better than terrific, really, when you throw in an hour-plus rain delay," Gonzalez said. "We were about 5-10 minutes from shutting him down. It was that long. He did a terrific job."
Santana proved he was not bothered by the bruised right thumb that had forced him to miss his previous turn in the rotation. The 31-year-old hurler injured his thumb during a fourth-inning at-bat against the Reds on April 26.
He surrendered four runs in the two innings that followed that night against the Reds and three more runs during his six-inning effort against the Marlins on May 1. He has allowed just two runs in the other 32 innings he has pitched in this year.
"It was tough because of the rain," Santana said. "But at the same time, I was ready for any decision that they made. I was waiting for a long time. But they made the right decision."
Like Santana, Samardzija stayed loose during the rain delay and returned when play resumed at the start of the third inning. But his impressive outing led to an all-too-familiar result. Despite a stellar 1.45 ERA through eight starts this season, the Cubs right-hander remains winless in his past 14 starts dating back to last year.
The Cubs have been blanked in three of the games started by Samardzija this year. They have scored two runs or fewer while he has been the pitcher of record in six of his first eight outings.
"I understand the situation, I understand how things go," Samardzija said. "Baseball's a funny sport, so it's just one of those things where you learn from it and it usually comes around in the end and it all evens out."
Santana induced a double play in the first inning and pitched around Starlin Castro's second-inning leadoff double. He found more good fortune when the second of the two singles the Cubs notched to begin the fourth led to a lengthy threat-thwarting rundown.
Anthony Rizzo singled to right-center field and then took off toward second before Jason Heyward's throw to third was cut off by shortstop Simmons. Simmons ran toward Rizzo to begin the 9-6-3-4-6-3-6-7 rundown that concluded when Justin Upton ran in from left field to take the brunt of the blow as he tagged the big Cubs first baseman in front of second.
Upton remained in the game after appearing to tweak his back on the tag. But he was forced to exit with a lower back contusion when Samardzija hit him in the left rib cage with a 94-mph pitch in the sixth.
"We executed on a lot of stuff all night, other than that rundown," Gonzalez said. "I hope nobody was watching that rundown. But at the end of the day, we got an out."
Mark Bowman is a reporter for MLB.com. This story was not subject to the approval of Major League Baseball or its clubs.