Fernandez roughed up; Marlins' win streak ends
First time ace allows two HRs in a start; Ozuna delivers lone Miami run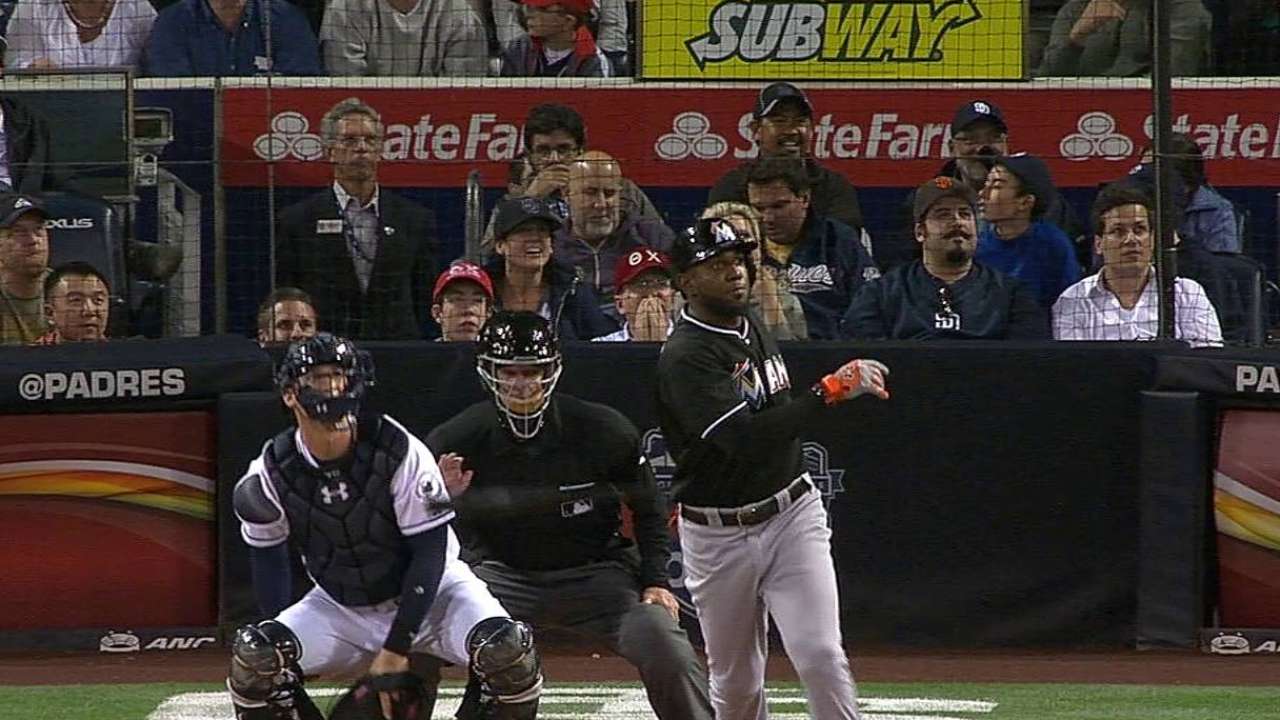 SAN DIEGO -- At home, Jose Fernandez has been nearly invincible. The road has been a bit bumpy for the 21-year-old Marlins ace.
On Friday night, the Padres pounced on Fernandez and never let up. Jedd Gyorko belted a grand slam and delivered two homers off the ace, and San Diego coasted to a 10-1 win over Miami at Petco Park.
"It just wasn't his night," Marlins manager Mike Redmond said. "You could tell from the first inning on, he was up in the zone. They hit some balls hard off him."
The Marlins' season-high five-game winning streak came to an abrupt halt. It was the club's longest stretch since running off seven straight from May 1-7, 2012.
"That's the sad part," Fernandez said. "We've been playing at such a high level. Going out there and giving up so many runs, obviously, I don't feel good about it. I didn't help the team's call today."
After taking the first of four at San Diego on Thursday night, the Marlins were looking to grab a grip on the series with Fernandez going. But the right-hander's command was off. While his fastball was more in the 93-mph range than the high 90s, his issues were mainly related to pitch location.
Fernandez gave up two homers in a game for the first time in his career. And both were hit by Gyorko, who avenged his error in the 11th inning on Thursday night with a career-best six RBIs.
Fernandez struck out five, including a stretch of four straight K's. After giving up a two-run homer to Gyorko in the second inning, the Miami ace seemed to settle in the third, fourth and fifth. But in the sixth, the Padres poured it on Fernandez, who faced four batters, with all of them scoring. The big blow was Gyorko's grand slam on a 2-0 fastball.
"We hit some balls right on the barrel. Our intent was to be aggressive. I think we had a plan of attacking him before he could attack us," Padres manager Bud Black said.
Gyorko entered the game in a 9-for-70 rut. Until Friday, the Padres hadn't scored more than six runs all season.
From the first inning, it was clear Fernandez wasn't right. Perhaps one reason is something he ate before the game.
Like always, Fernandez had a pregame steak, but the meal didn't agree with him, although he didn't use it as an excuse.
"The food that I ate was a little bad or something, but I was fine," he said. "I think the way I was throwing the ball the first couple of innings, I had some mistakes that I made. Sometimes you've got to pay for it. They played better, deserved to win, and we'll go back at it tomorrow."
Fernandez allowed six runs, with five earned, in five-plus innings. His career high is six earned runs in four-plus innings on April 11 at Philadelphia. Fernandez is 4-8 with a 3.93 ERA lifetime on the road, compared to a 12-0 mark with a 1.09 ERA at home.
"You've got to learn how to win on the road, too," Redmond said. "That's part of the process. Part of learning to pitch in the big leagues process is learning how to win on the road, and bringing that same focus and energy that you have at home."
The home and road splits have Fernandez baffled as well.
"I don't know. I wish I did," the 21-year-old said. "I have to figure that out. I'm not going pitch at home all the time. I've got to keep working hard and keep getting better with everything. My only goal is to give my team a chance to win every time I'm out there. I didn't do that today."
The loss came a night after the Marlins capitalized on Gyorko's error that allowed Derek Dietrich to reach in the 11th inning. The next batter, Giancarlo Stanton, blasted a two-run homer.
With Fernandez off, Tyson Ross was on for the Padres, allowing one run on four hits while striking out eight in seven innings.
Marcell Ozuna's homer into the upper balcony of the Western Metal Supply Co. building in the seventh inning was the lone run allowed by Ross.
"We really didn't get anything offensively going either," Redmond said. "We didn't help him there either."
Ross received a scare in the first inning when he was struck above his right ankle by a comebacker off the bat of Casey McGehee, which went for an infield single.
After a few warmup pitches, Ross remained in the game, and he got out of a mini-jam, stranding runners on first and second.
In the third inning, Fernandez yielded a two-out triple off the top of the wall in right field to Seth Smith. On the play, Stanton made a leaping attempt, and the ball bounced off the top of the fence and back into play.
Padres manager Bud Black asked if the umpires would review if the ball cleared the wall for a home run. The crew chief review lasted one minute and 39 seconds, and the ruling was that the play stands.
During their five-game winning streak, the Marlins allowed just eight runs. But the Padres matched the most runs Miami has given up all season.
"We hadn't had a game like that for a long time," Redmond said. "We'll turn the page, move on and go get them tomorrow."
Joe Frisaro is a reporter for MLB.com. He writes a blog, called The Fish Pond. Follow him on Twitter @JoeFrisaro. This story was not subject to the approval of Major League Baseball or its clubs.