Brewers can't rally after Yanks' four-run fourth
Milwaukee impressed with Tanaka, who limits Crew to just two runs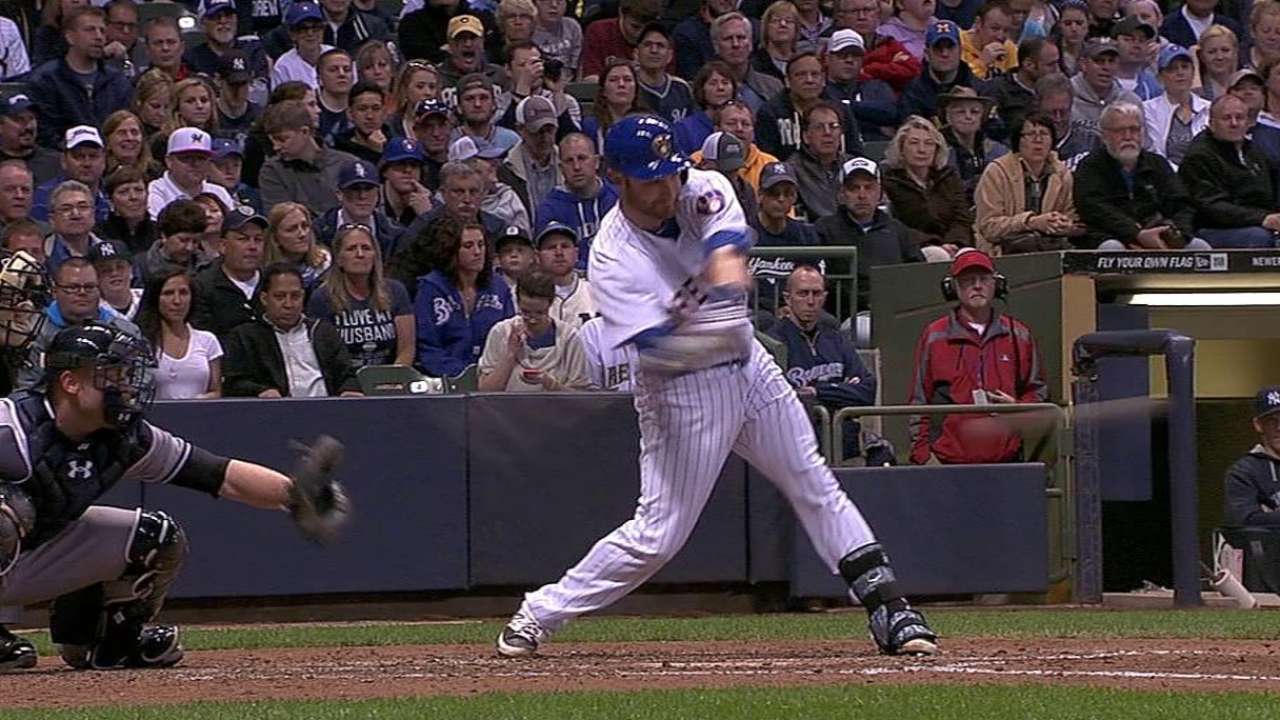 MILWAUKEE -- The home team had its chances against Masahiro Tanaka, more than Tanaka typically allows. But as has been all too typical of late, the Brewers' bats couldn't deliver.
Tanaka's unbeaten streak reached 41 regular-season starts in Japan and the U.S. while Milwaukee continued another May slide, falling, 5-3, to the Yankees on Friday at Miller Park.
After charging through April with Major League Baseball's best record, the Brewers have lost seven of their last nine games. Last May, it was pitching problems that produced a 6-22 record in the second month. Now, it's an offense that has scored three or fewer runs six times in the Brewers' first eight May games.
What is it about turning the page on the calendar that seems to cause so much trouble around here?
"I don't know," said Friday's losing pitcher, Yovani Gallardo, who was done-in by a four-run Yankees rally in the fourth inning. "It's been tough. It's been a little rough the last few games. We just have to stay motivated. We can't give up.
"Obviously, the guys are going to turn around and hit. They put three runs on the board today, and obviously for myself, giving up four doesn't help."
That hits were hard to come by was not a surprise against Tanaka, a right-hander with a nasty split-fingered fastball who improved to 5-0 this season and has not been charged with a loss in the regular season since August 2012, when he was working for the Rakuten Golden Eagles. In his Milwaukee debut, Tanaka allowed only two singles over his first five innings before finally finding some trouble.
The Brewers' bats came alive beginning in the sixth, when Carlos Gomez and Scooter Gennett started the inning with consecutive doubles to put Milwaukee on the scoreboard, and Jonathan Lucroy followed with a single that halved the deficit. Up next was slumping cleanup hitter Aramis Ramirez, who had singled two innings earlier for his fourth hit in 50 at-bats. He battled Tanaka for 10 pitches before grounding into a double play, and Tanaka retired Mark Reynolds, who played for the Yankees in 2013, to end the inning.
"He's a competitor," said Yankees catcher Brian McCann. "He made that 3-2 pitch to Aramis to get that double play. He kind of stopped the bleeding, I guess. To only give up two runs right there with back-to-back doubles, it's pretty huge."
Tanaka was in trouble again with one out in the seventh, when Jean Segura chopped an infield hit to the opposing shortstop, Derek Jeter, and moved to third on Logan Schafer's single. That hit chased Tanaka from the game in favor of right-handed reliever Adam Warren, who escaped thanks to another double play, this time of the strike 'em out, throw 'em out variety with pinch-hitter Lyle Overbay waving at a slider and Schafer out trying to steal second base.
Tanaka was charged with two runs on seven hits in 6 1/3 innings, with one walk and seven strikeouts. Warren pitched through the eighth inning and Yankees closer David Robertson worked around a Reynolds solo home run in the ninth for a save.
"I'm just happy I was able to get through tonight," Tanaka said through a translator.
Add Brewers hitters to the list of Major Leaguers talking about Tanaka's splitter.
"You can't see any rotation, and that's what makes him good," said Ramirez. "You can't really pick it up. You think it's a fastball, and you have to respect his fastball because it's 92, 93 [mph]. He's going to be a good pitcher. ... What I saw tonight, he's going to be good for a while."
"He was really impressive," Lucroy said. "It's hard to tell the difference between his fastball and his split-finger because he threw it with the same arm speed and it had the same rotation, and then [the splitter] just dove when it got to you. It's a very difficult pitch to pick up on. He was pretty good tonight, all the way to the end."
While Tanaka cruised in the early innings, Gallardo saw his pitch count climb. He needed only 11 pitches for a perfect first inning, then threw 103 more pitches for 4 2/3 more innings and was pulled from the game with two outs in the sixth.
He lost after allowing four runs on five hits and three walks in 5 2/3 innings, with seven strikeouts.
"I really thought Yo threw the ball well," manager Ron Roenicke said. "This was as good stuff as I've seen from him for a while. Fastball was outstanding. It's just too bad the results weren't better."
"Honestly," Gallardo echoed, "that's the best I've felt since the year started. My fastball was there, I had a sharp slider and a good curveball. In that fourth inning, I just fell behind."
So did the Brewers, as all of the Yankees' runs against Gallardo scored in a 30-pitch fourth inning, with third baseman Yangervis Solarte's three-run home run representing the big blow. Brian Roberts added an RBI double two batters later for insurance.
The homer came on a cutter "that just backed up on me," Gallardo said.
The Yankees have won the past five meetings between these teams, dating all the way back to New York's last visit to Miller Park in 2005.
"I can only speak for myself, but we've got to pick it up," Ramirez said. "These guys are giving us a chance to win -- I'm talking about the pitchers. We have to score some runs for them."
Adam McCalvy is a reporter for MLB.com. Read his blog, Brew Beat, and follow him on Twitter at @AdamMcCalvy. This story was not subject to the approval of Major League Baseball or its clubs.