Yanks' big fourth helps push Tanaka to 5-0
Righty limits Brewers to two runs; Solarte hits three-run homer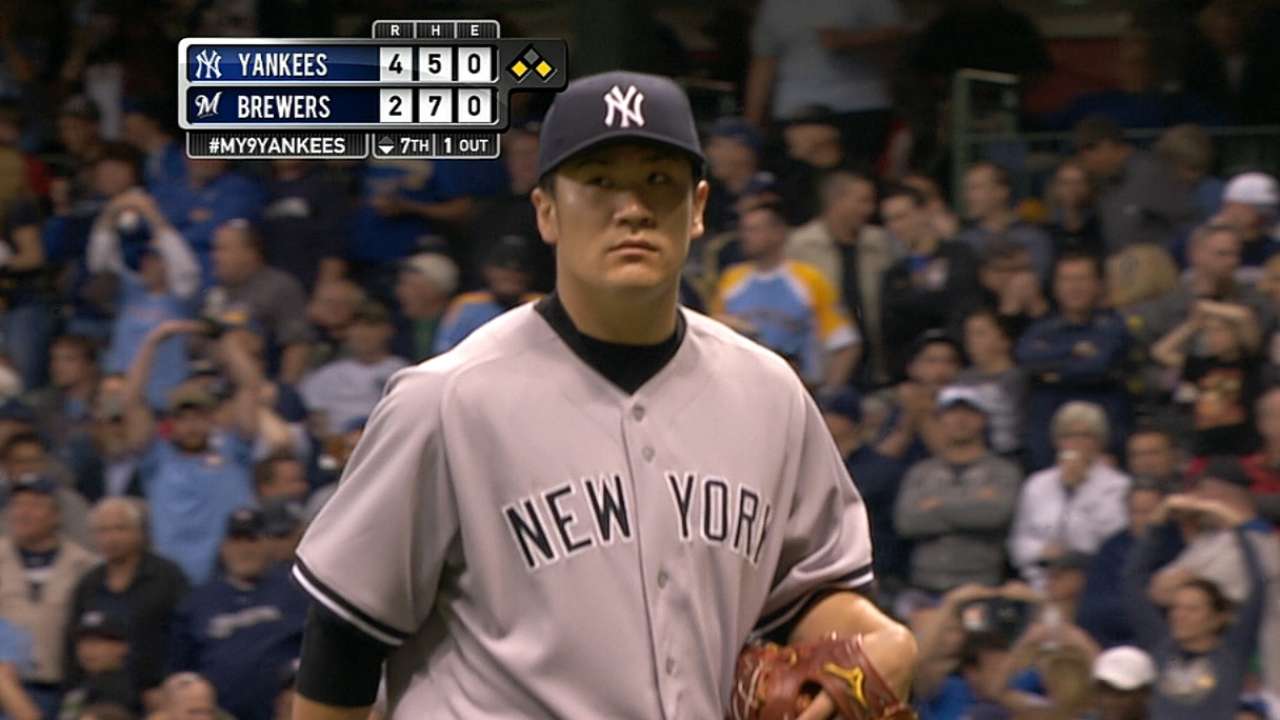 MILWAUKEE -- One of the qualities that has impressed the Yankees most through Masahiro Tanaka's first tour of the big leagues is an ability to power deep into games, even if his pitches aren't working exactly as intended. He may bend, but he never seems to break.
Tanaka gives his team a chance to win every time out, and so far, the Yankees are making the most of it. Tanaka's undefeated streak continued on Friday with a 5-3 victory over the Brewers at Miller Park, marking his fifth win in seven Major League starts.
"The most important thing is that we got a win tonight," Tanaka said through an interpreter. "As far as my pitching goes, I was missing some spots, I wasn't at my best. But I'll work on it and make some adjustments in my next outing."
The Brewers might be surprised to hear that assessment. They thought Tanaka looked plenty formidable, especially through the first five frames, when he limited one of the National League's top clubs to a pair of singles and a walk.
Milwaukee finally broke through with a pair of sixth-inning runs, but Tanaka clamped the damage there, scattering seven hits over 6 1/3 innings while striking out seven.
"That's how he's been pitching. He's pitched like that pretty much every time out," Derek Jeter said. "Milwaukee's a good team. They've been playing extremely well so far this year, but he mixes his pitches up and he's a handful to deal with."
"That's a pretty good pitcher," Brewers slugger Aramis Ramirez said. "What I saw tonight, he's going to be good for a while."
Yangervis Solarte's three-run home run, the second home run of his big league career, highlighted the attack against starter Yovani Gallardo as the Yankees came away winners in their first game in Milwaukee since 2005.
Adam Warren pitched 1 2/3 innings of scoreless relief and closer David Robertson struck out three in the ninth around Mark Reynolds' solo home run to lock down his sixth save in as many opportunities.
"Gallardo was extremely tough on us the first time through the lineup," manager Joe Girardi said. "Once our guys saw him a little bit, they got some base hits on him. They were able to get four runs, but the big hit was Solarte's."
Solarte's fourth-inning blast cleared the right-field wall, coming with Carlos Beltran and Brian McCann on the basepaths. Brian Roberts added a run-scoring double later in the inning.
"I just keep going," said Solarte, who leads the Yankees with 18 RBIs. "I want to just help the team. Everybody was good today. I love this, I'm getting a lot of experience right now. I need to learn from everybody."
That was enough support for Tanaka, who -- including his performance in Nippon Professional Baseball -- has not lost in his last 41 starts, compiling a 33-0 record that dates back to Aug. 19, 2012. He also struck out in each of his first three big league at-bats.
Tanaka held Milwaukee to a pair of hits over the first five innings, but the Brewers opened the sixth with three straight hits, as Carlos Gomez doubled and scored on Scooter Gennett's double, setting up Jonathan Lucroy's run-scoring single.
"It might have looked like I was kind of cruising at the beginning, but I don't think I was really pitching the way I wanted to at the beginning," Tanaka said. "I think I was kind of getting lucky as well."
Lucroy's at-bat included an unusual interruption as a young male fan wearing a Ryan Braun jersey jumped out of the seats behind the third-base dugout, running to Jeter's shortstop position with his arms outstretched and asked Jeter for a hug.
"I said, 'You're going to get in trouble, man,'" Jeter said. "And then he repeated that he wanted a hug, and I said, 'Look out.' That's pretty much what happened."
Tanaka said that he "didn't think too much" about the delay. Ramirez then battled Tanaka in a 10-pitch at-bat before grounding into a double play, and Tanaka escaped the inning on a strikeout.
"He kind of stopped the bleeding," catcher McCann said. "To only give up two runs right there with back-to-back doubles, it's pretty huge."
Tanaka allowed a pair of one-out hits in the seventh, but reliever Warren came on and ended the inning on a strike 'em out, throw 'em out double play, preserving Tanaka's line.
"That's a huge part of the game because Gomez was on deck; a very dangerous hitter, as we saw tonight," Girardi said. "He just missed hitting a home run his last at-bat."
New York added an insurance run in the eighth, an inning started by a Beltran double. Pinch-runner Ichiro Suzuki stole third and scored on a groundout, helping to keep Tanaka's incredible streak alive.
"It doesn't really matter what team I'm facing," Tanaka said. "All I'm trying to do is face hitters and get as many outs as possible when I get out there on the mound. I'm just happy I was able to get through tonight."
Bryan Hoch is a reporter for MLB.com. Follow him on Twitter @bryanhoch and read his MLBlog, Bombers Beat. This story was not subject to the approval of Major League Baseball or its clubs.