Homer latest example of Stanton's progression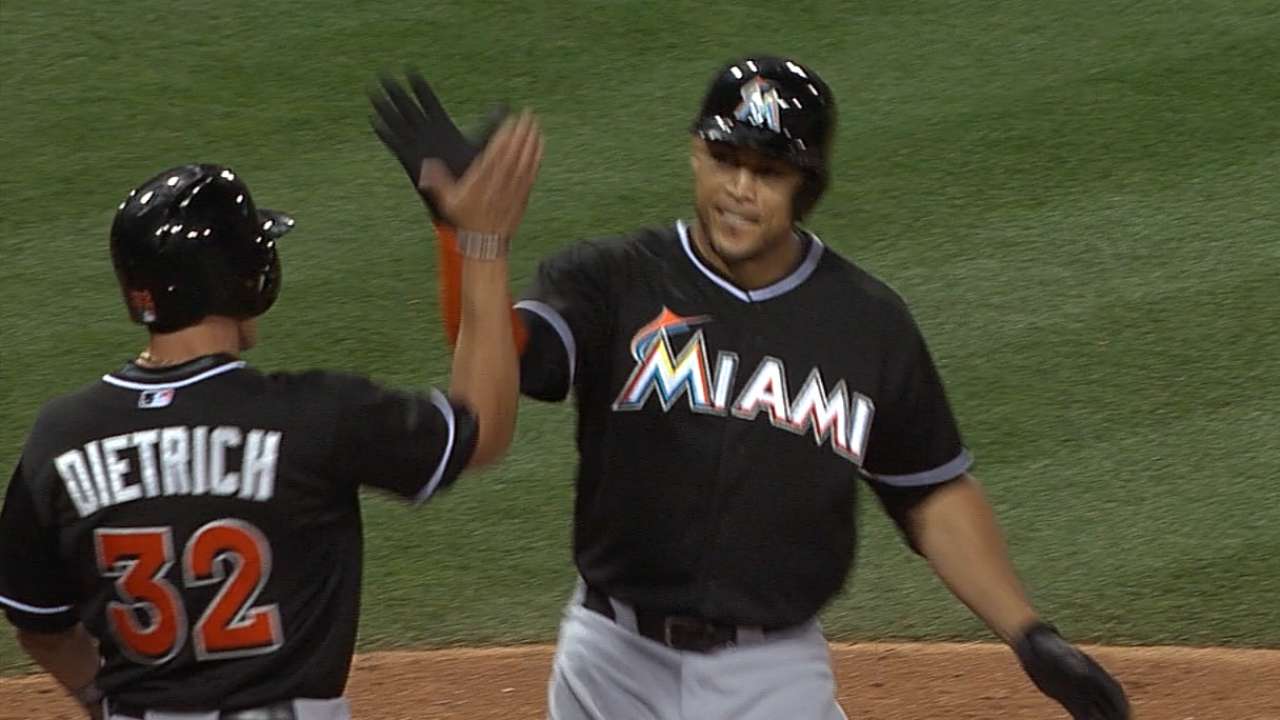 SAN DIEGO -- When it comes to hitting a baseball far, Giancarlo Stanton has always been in a class of his own.
Now the Marlins' slugger is developing an approach that is making him one of the most dangerous overall hitters in the game.
Stanton's game-winning, two-run home run in the 11th inning on Thursday night at San Diego is the latest example.
In the decisive at-bat, Padres reliever Dale Thayer had made Stanton look bad with a fastball to make the count 0-2.
It's not like Stanton completely set up Thayer for the next pitch, but the 24-year-old had a pretty good idea he would see another fastball. When he did, he took an easy swing, the ball blistered to center over the fence and the Marlins were on their way to a 3-1 win.
Stanton, normally stoic on the field, couldn't help but smile after connecting.
"That's the last thing I expected ... the way the game was, and that at-bat," Stanton said. "He pitched me the way I was acting in that at-bat. It was more of I knew what was coming. I didn't try to do too much with it. I didn't expect to do that."
Stanton leads the National League with 11 homers. His 40 RBIs pace the big leagues. Keep in mind, the slugger drove in just 62 runs in an injury-plagued 2013.
Now he's emerging as an all-around player, and he's moving up the charts in Marlins' history. Stanton has 128 career homers, which is one behind Derrek Lee for fifth place overall. Since Stanton broke into the big leagues on June 8, 2010, only Jose Bautista and Miguel Cabrera have hit more home runs in that time frame. Both have 143.
"I don't know if there is a limit," Miami manager Mike Redmond said on Stanton's potential. "I think he's still getting better and still improving. That's probably scary, right? His power is unbelievable. He's still learning his approach and the pitches he can hit and the pitches he can't hit. He's still a young guy. He's still really young."
Surrounded by more veterans, Stanton is able to relax and do his part without feeling he has to do too much.
"He's been great this year," Redmond said. "He's moving around, having fun. You can tell, he's smiling, he's happy. He's just a totally different guy this year from last year.
"I think last year was unfair to him. He felt like he had to do it all. That's not fair for any player. I think this year, we brought some help around him. Good guys who have won. I think that's made him enjoy this a lot more."
Joe Frisaro is a reporter for MLB.com. He writes a blog, called The Fish Pond. Follow him on Twitter Share This