Feldman's solid return not enough in opener vs. O's
Bullpen tagged for two runs after righty's sharp six-inning outing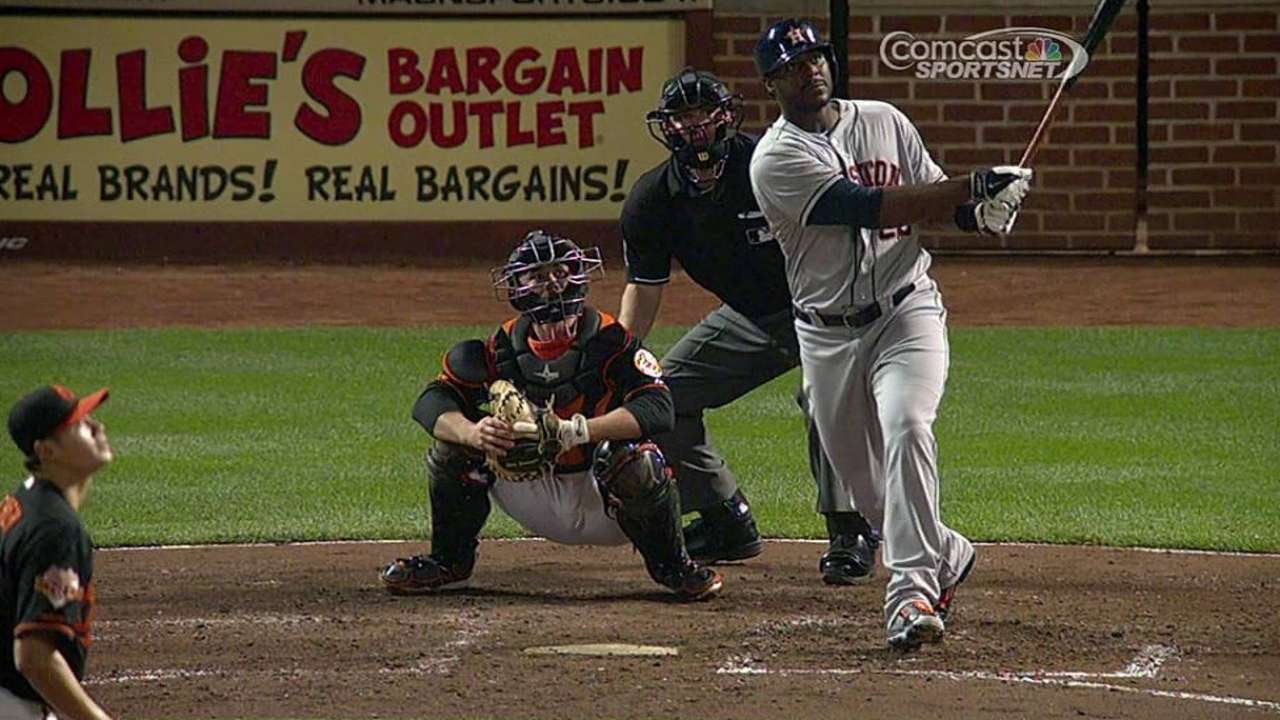 BALTIMORE -- Scott Feldman, sitting only a few lockers over from relief pitcher Jerome Williams, went over and patted his teammate on the back Friday night and offered him some words of encouragement while replaying some pitch sequences.
There were a couple of pitches Feldman wanted to have back, particularly the homer he served up to Manny Machado in the third inning, while Williams was lamenting giving up a leadoff double to J.J. Hardy in the seventh that sparked an Orioles rally.
After Feldman made a promising return from the disabled list by allowing two runs and five hits in six innings, Williams gave up a pair of runs in the seventh that enabled the Orioles to beat the Astros, 4-3, in the series opener at Oriole Park at Camden Yards.
"He kept the team in the hunt for a win," Williams said. "It falls back on me. I felt like I let the team down, and hopefully tomorrow I can get back out there and try to do my best."
Feldman, pitching for the first time since April 17, exhibited great control by throwing 60 of his 88 pitches for strikes and not walking any batters while showing improved velocity.
"I definitely felt like I could throw all my pitches and not just have to rely so much on my offspeed stuff," he said. "I felt like I had a little bit better fastball. I felt like I was throwing more free and easy and stuff. It was a good feeling in that regard. It would have been a nice one to win, but they got the best of us tonight."
Astros starters have posted a 2.97 ERA on the first five games on their seven-game road trip, but are sitting at 1-4 after dropping the opener to the Orioles.
"He did a good job," said Astros manager Bo Porter, who went to the mound with two outs in the sixth and was talked into letting Feldman finish the inning. "You look at the fact he actually, for five innings, wasn't in any stress. They kind of got to him in the sixth and he wanted it and I allowed him the opportunity to get it done, and he got it done."
Williams was called upon in the seventh inning of a tied game and promptly gave up a leadoff double to Hardy. He was at third with two outs when Jonathan Schoop -- the No. 9 hitter -- hit an RBI single to center. Nick Markakis followed with an RBI double to push the lead to 4-2.
"It was just a bad pitch, to me," Williams said. "I thought I could get that sinker in to J.J., and that didn't work. He hit the ball for a double, and I kind of battled, getting those two ground balls, and I left a cutter up, and he hit it up the middle."
The Astros were 0-for-6 with runners in scoring position. They had runners at first and third and no outs to start the ninth and managed just one run when Chris Carter hit into a double play. And the inability to put down a bunt in the sixth is what bothered Porter.
With runners at first and second and no outs, Jonathan Villar couldn't get down a sacrifice bunt, popping one up in the air and taking another pitch for a strike at the knees. He wound up lining out. Dexter Fowler then hit into a fielder's choice, and Jesus Guzman grounded out.
"Whenever you get opportunities to put runs on the board, you want to do everything you can to execute," Porter said. "We had first and second with an opportunity to bunt him over to second and third and allow the other team to make a decision -- 'Do you bring the infield in? Do you play the infield back?' It changes the whole dynamic with three, four, five [in the batting order] coming behind you with an opportunity to push at least one or two runs. We didn't execute there."
Feldman allowed a pair of solo homers in the third inning. Steve Pearce led off the inning with a homer to left-center, and two outs later Machado homered to left-center to put the Orioles ahead, 2-1.
"I missed my spot to Pearce," Feldman said. "It was a fastball in, and that happens. You're going to miss your spot sometimes. The one to Machado was just a dumb pitch, to me. That's the one that's going to bug me until my next start probably. That was a changeup that was meant to bounce and didn't bounce. I probably got a little greedy and shouldn't have thrown that pitch."
L.J. Hoes gave the Astros a 1-0 lead in the third inning on a sacrifice fly, and Carter's fifth home run of the season, a solo blast to left field to start the seventh inning, tied the game at 2. Carter came up in the ninth with two runners on, but Tommy Hunter coaxed him into a double play that pushed across a run. He struck out George Springer to end the game.
The Astros have lost eight of 10 games, with five of those losses coming by one run.
"We're holding up," Williams said. "It's real close losses, and when we're in Detroit you'd never think we'd be in a battle with them winning one-run ball games or a low-scoring game with them. They're a pretty good-hitting team. All we have to do is execute and play baseball."
Brian McTaggart is a reporter for MLB.com and writes an MLBlog, Tag's Lines. Follow @brianmctaggart on Twitter. This story was not subject to the approval of Major League Baseball or its clubs.