Ortiz breaks up Darvish's no-hit bid in ninth
Buchholz surrenders six runs in rough outing at Texas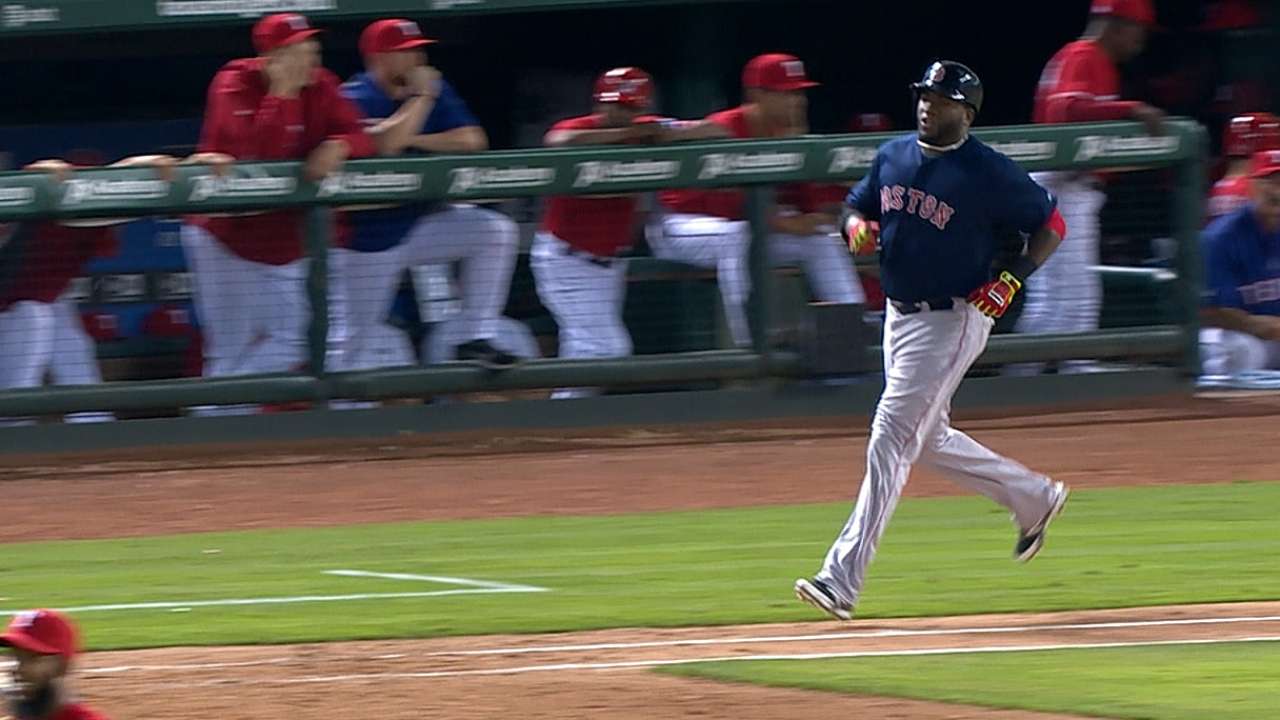 ARLINGTON -- The Red Sox had seen Rangers ace Yu Darvish a couple of times before their first meeting of 2014, but they hadn't seen anything like what they saw Friday night. He methodically mowed down the Boston hitters, flirted with a perfect game for 6 2/3 innings and got within one out of a no-hitter until David Ortiz snuck a single through a shifted infield near second base.

One after another, Boston's batters were fooled and frustrated by a dialed-in Darvish, who earned the win in an 8-0 victory with 8 2/3 innings of work. The Red Sox struck out 12 times against Darvish, including a stretch beginning in the second inning when six consecutive batters went down on strikes.

"He was masterful," Ortiz said. "He was focused against everybody during the whole game. It doesn't matter if you were hitting third, ninth, eighth, he was executing."

Darvish was seven outs away from a perfect game when Ortiz broke it up on a bizarre play involving Rangers rookie second baseman Rougned Odor and right fielder Alex Rios. Facing a shift, Ortiz lifted a shallow fly ball into right and neither Odor nor Rios got close enough to catch it. Odor made a vain, backward effort at the last second, and Rios, standing just behind where the ball landed, was charged with an unusual error.

Odor was playing in his second Major League game after being promoted from Double-A Frisco on Thursday.

Ortiz disagreed with the decision after the game, nothing that plays where the ball drops between the infield and outfield like that are virtually always considered hits. Ortiz did add one caveat, though.

"I wouldn't mind, to be honest, if the guy had thrown a no-hitter," Ortiz said. "I would have been OK with it. But now I'm getting greedy. He did a hell of a job."

After Ortiz reached to break up the perfect game in the seventh, the next hitter, Mike Napoli, drew a walk. But Grady Sizemore flied out to Rios to keep the no-hitter intact for the time being.

Xander Bogaerts walked to start the eighth and reached second on a groundout, making him one of two Red Sox runners who reached scoring position. Darvish then got three consecutive outs, including the third strikeout of Jackie Bradley Jr. to end the eighth.

In the ninth, Darvish got two quick outs and looked to have the no-hitter in his grasp. But Ortiz hit a hard grounder between shortstop Elvis Andrus and Odor, despite the infield being shifted to right against the pull-hitting Ortiz.

"It was kind of a laser, that ball," Andrus said. "He hit that ball pretty good. I didn't believe right away when he hit that ball, but after I saw the video ... I kind of doubted myself a little bit."

Darvish entered the game 0-1 with a 5.93 ERA in two starts against Boston, having pitched 6 2/3 and 7 innings, respectively, in outings in 2012 and 2013.

"He was on his game early," Boston manager John Farrell said. "The one thing that we were pretty well aware of was how quick would he get the feel for his slider, the ability to throw it for a strike, the ability to expand the strike zone with it. He was able to rack up a number of strikeouts with not only the slider, but then you get guys looking for it and he's able to locate a fastball away from a couple of guys as well. That combination of being powerful and the secondary pitches and the assortment of them, ends up being a night like tonight."

Darvish threw 126 pitches, including 82 strikes, and was clearly tiring when he allowed Ortiz's hit. That prompted Rangers manager Ron Washington to end Darvish's outing; Darvish walked off to a rousing ovation from 45,392 at Globe Life Park.

"If I keep pitching like this I'll get it," Darvish said. "But if I keep doing this, I'll have the record for almost no-hitters."

The night belonged to Darvish from the beginning, as Red Sox starter Clay Buchholz allowed the second runner he faced to score. It never got much better for Buchholz, who exited after yielding six earned runs in 4 1/3 innings. He walked two and struck out three.

"There were pitches up in the strike zone that they did a good job of staying through the middle of the field," Farrell said of Buchholz. "A number of base hits up the middle, they were able to bunch them and then in the five-run fifth, things got away from us."

By the ninth, the Red Sox were just happy to avoid being on the wrong end of a highlight reel.

"You know if you don't break up the no-hitter you'll be showing up on MLB and ESPN for about a month," Ortiz said.
Dave Sessions is a contributor to MLB.com. This story was not subject to the approval of Major League Baseball or its clubs.