Back in Milwaukee, Jeter recalls first big hit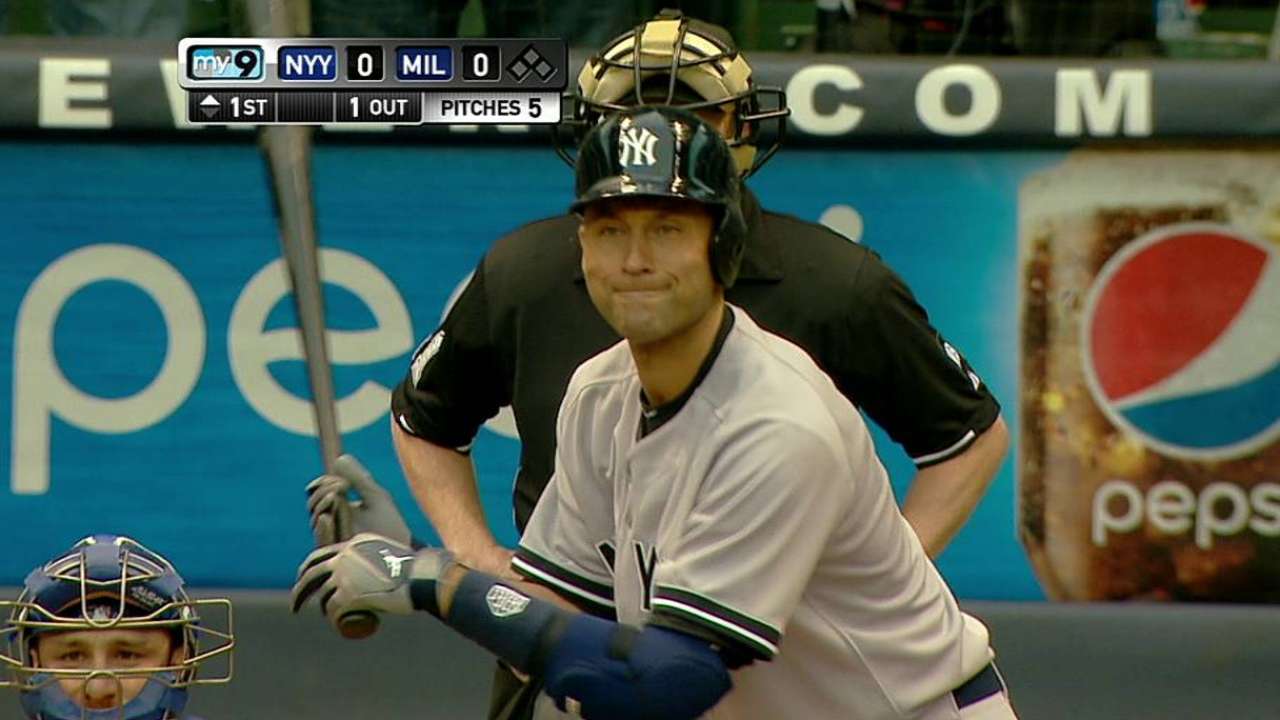 MILWAUKEE -- Derek Jeter's best memory of playing baseball in the Brew City was forged over what is now part parking lot, part Little League field. At Milwaukee County Stadium on Sept. 26, 1995, a 21-year-old Jeter made an unexpected start and delivered a double that helped his Yankees stay atop the American League Wild Card standings.
Nineteen years later, Jeter was at Miller Park on Friday, beginning his final series in Milwaukee. The Yankees' captain is retiring at season's end, and he will be honored by the Brewers in a pregame ceremony on Sunday.
"I haven't played too many games here," Jeter said. "I remember coming in '95. It was my first time, and I really hadn't played in September, and Bernie [Williams] missed a flight from Puerto Rico. Imagine that."
Williams had traveled home to be with his wife and newborn baby. He was supposed to make it to Milwaukee in time for a series opener against the Brewers, with the Yankees leading the Angels by a half-game with five to play in the race for the AL Wild Card.
Manager Buck Showalter shuffled his starting lineup, creating an opening for the rookie Jeter to make his 14th Major League start. His second-inning double off Milwaukee's Scott Karl gave the Yankees a lead in what would become a 5-4 victory.
Jeter watched most of it from the bench. When Williams arrived, Jeter was removed from the game in the third inning.
Still, it was widely considered his first big hit.
"It was, because we didn't clinch the Wild Card until the last day of the season that year," Jeter said. "I wasn't supposed to play. I think I was just up so I could sort of watch and soak in the environment. It was a big hit for us at the time."
The Brewers say Sunday's ceremony will begin at 12:45 p.m. CT. As is customary, they will present a gift, though its nature remains top secret. When the team held a similar ceremony for the Braves' Chipper Jones in 2012, he received a gas grill and a year's supply of Klement's Sausages.
Ryan Braun helped present Jones with that gift, and he planned to similarly express his appreciation for Jeter.
"The way his career has gone is what all players aspire to accomplish," Braun said.
Jeter said he was much more focused on playing winning baseball than gathering gifts.
"We've only had two stops where it's our last time there," he said. "One was Houston at the beginning of the year, and then Anaheim right before this. The way the fans have treated me, it's been pretty special. Those are the things that I'll remember, but it's still early in the season so I try not to focus on that."
Adam McCalvy is a reporter for MLB.com. Read his blog, Brew Beat, and follow him on Twitter at @AdamMcCalvy. This story was not subject to the approval of Major League Baseball or its clubs.