Gomez talks to MLB about fracas with Pirates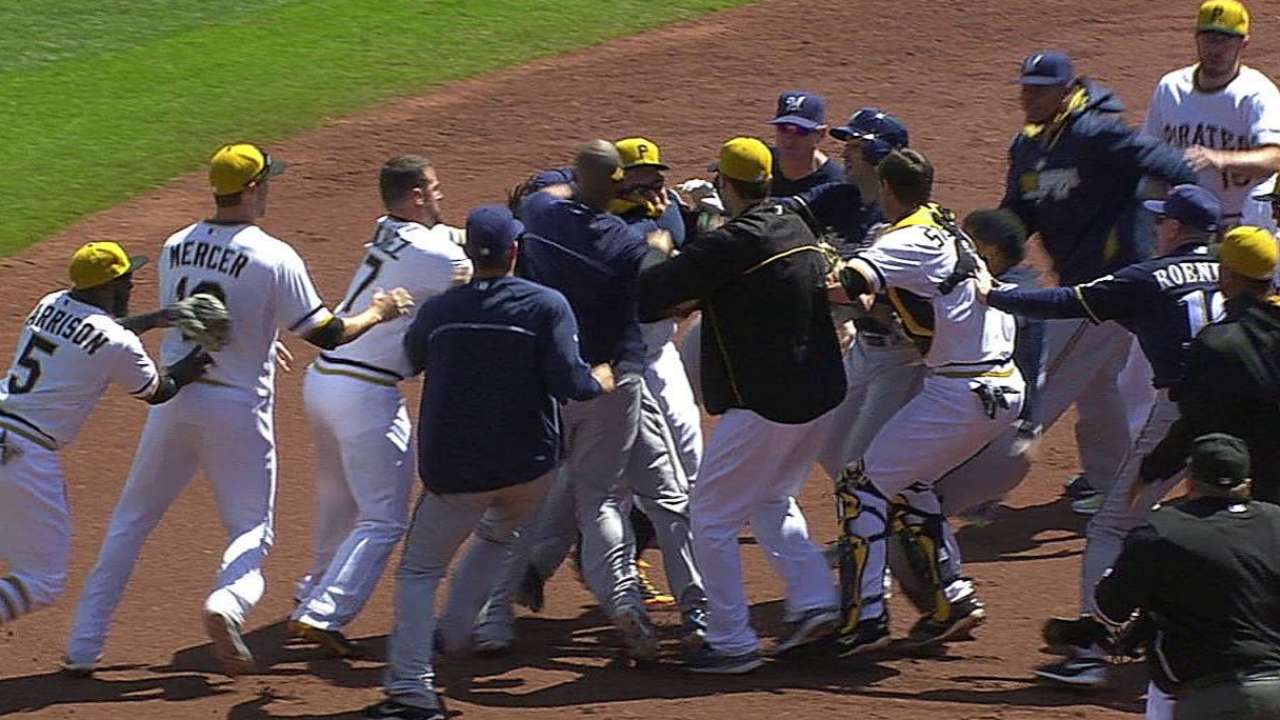 MILWAUKEE -- With a three-game suspension still looming over him, Brewers center fielder Carlos Gomez told Major League Baseball his side of the story in a formal appeals hearing on Friday morning.
During a 90-minute video conference, Gomez went frame-by-frame through video of his involvement in an April 20 altercation between the Brewers and Pirates at PNC Park. He continues to maintain that the blame lies with Pirates outfielder Travis Snider, another of the four players who were suspended in the wake of the fight, and believes he did well enough to get "at least a couple games" knocked off the suspension.
Brewers assistant general manager Gord Ash sat in on the proceedings, as did a representative of the MLB Players Association and someone from agent Scott Boras' office. Gomez and the Brewers did not anticipate getting a ruling until next week.
"They heard [the umpires' part]. Now they hear my part," Gomez said. "We rolled the video over and over and explained what's happening. I told them what it is. We all make mistakes, and that weekend was a little tough for me. I should have controlled it, but when someone is coming and screaming at you in language [like that], that's how everything started."
It started in the top of the third inning with a Gomez triple that smacked off the center-field wall. When Gomez reached third base, Pirates pitcher Gerrit Cole scolded him for not running hard out of the batter's box, and Gomez popped up to respond.
Pirates players quickly spilled out of the dugout to come to Cole's defense, and it was on.
In the ensuing melee, Snider tackled Gomez on the infield dirt. When Snider was pulled to his feet and spun around, Brewers catcher Martin Maldonado landed a punch to Snider's face. Maldonado accepted a five-game suspension from the incident and has already served it.
Gomez (three games), Snider (two games) and Pirates catcher Russell Martin (one game) all appealed, and MLB on Friday upheld the suspensions for both Pirates players. Snider began serving his ban on Friday night. Martin will serve his when he comes off the disabled list.
Gomez said he told MLB, "I respect Cole. He's emotional and competitive. I don't feel anything about him coming after me and telling me something, because I'm the same way. But Snider is the one who took me to another level.
"I feel sorry about a thing like that because we're all baseball players, and we don't want to hurt nobody. This happened. In the moment, he deserved it."
Gomez said he expected to hear a result of his appeal "for sure [by] Monday." The Brewers are off that day before opening a series at Miller Park against -- guess who? -- the Pirates.
Because Snider will be active again Sunday, the Pirates will be at full strength for that series, while the Brewers, assuming Gomez is suspended at least a game, will potentially be short.
Adam McCalvy is a reporter for MLB.com. Read his blog, Brew Beat, and follow him on Twitter at @AdamMcCalvy. This story was not subject to the approval of Major League Baseball or its clubs.