Votto answers blown save with walk-off homer
Cueto denied win after foible in ninth, but slumping slugger finds form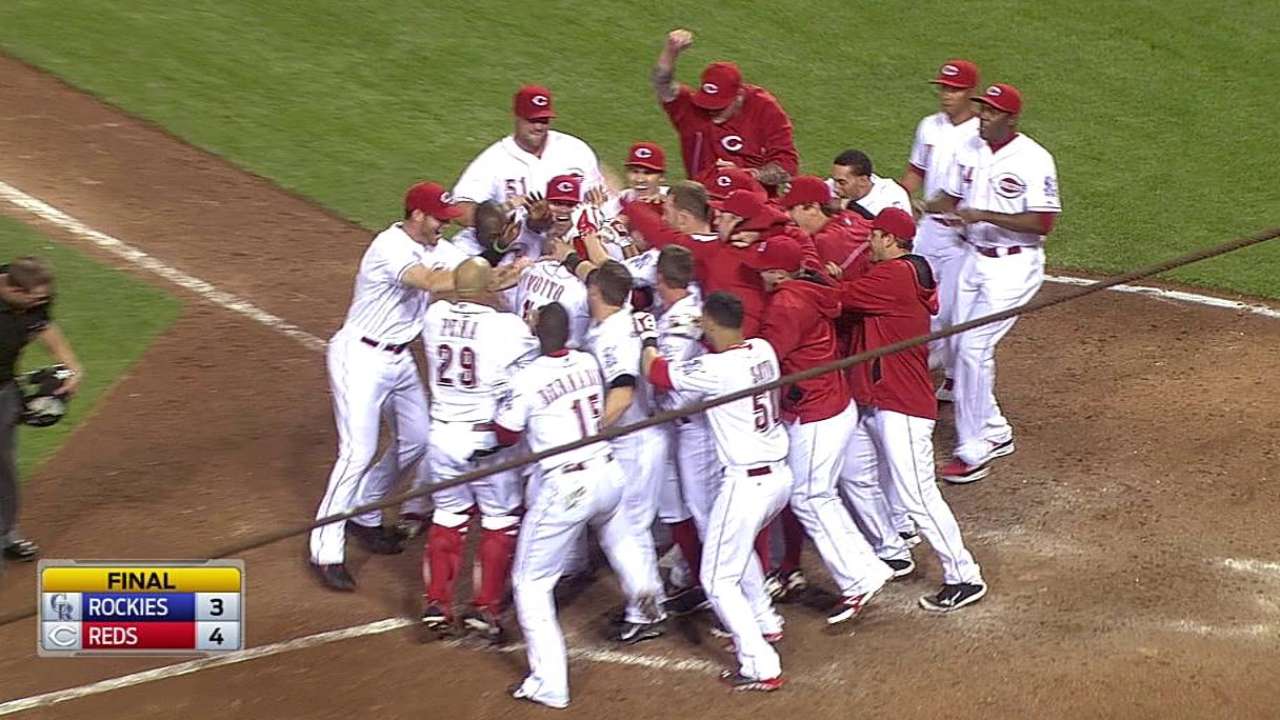 CINCINNATI -- Friday began as a night in which an unstoppable force (the Rockies' offense) met an immovable object (Johnny Cueto). It ended with a different force (Joey Votto) overcoming something that usually moves out of the way eventually (a hitting slump).
Cueto turned in his latest magnificent performance only to be denied another win he deserved. That instead went to Jonathan Broxton, who blew a save in the top of the ninth but got the victory because of Votto. It was his booming leadoff home run in the bottom of that inning that gave the Reds a 4-3 walk-off victory over the Rockies.
"With all the respect to all the other teams out there, the Rockies are hot," Reds catcher Brayan Pena said. "They're very hot, and for [Cueto] to shut them down the way he did, that was impressive. If that's not the toughest task for him, I don't know what it is -- maybe the American League All-Star team. This team has been hitting the baseball. Wow."
Colorado, which lost back-to-back games for the first time since April 13-14, entered leading the league in batting average, hits, runs, home runs and RBIs, while Cueto led in ERA and opponent's batting average.
In his eight innings, Cueto allowed two runs and five hits with a walk and eight strikeouts. He is the first Reds pitcher to pitch at least eight innings in as many as five straight games since Tom Browning did it six games in a row in 1989. No big league pitcher has thrown at least seven innings in his first eight starts of a season since Fernando Valenzuela did it for the Dodgers in 1981.
"They have a really good team," Cueto said via translator Tomas Vera. "You see they all have a high batting average. I have to do my job, and I have to do what I'm doing. I don't want to change anything. I just want to do what I do."
Leading off the bottom of the second inning with the Reds up, 1-0, Todd Frazier attacked Jhoulys Chacin's first pitch and tattooed a homer that carried up to the riverboat deck in center field. The estimated distance of Frazier's long ball was 485 feet, the sixth longest in the history of Great American Ball Park.
But after a two-out double by Brandon Phillips in the third, the hitting dried up against Chacin. He did not give another hit and retired 10 of his last 11 batters before exiting after the sixth.
Cueto retired nine of his first 11 to keep Colorado in check, not bad considering his manager did not think he began as sharp as usual.
"I thought early he wasn't as sharp, and he just found it -- he found that ability to do the sinker-cutter combination again," Reds manager Bryan Price said.
Troy Tulowitzki's red-hot season burned brighter with a leadoff homer in the fourth inning -- his 10th of the season. In the fifth inning, Charlie Blackmon's one-out RBI single into center field made it a 2-2 game.
"We gave Cueto some good at-bats and kept it a close game," Tulowitzki said. "He made some pitches; sometimes we got him. So it was a good battle."
Cueto went on to retired his final 11 in a row and had 102 pitches before being lifted for Billy Hamilton to pinch-hit in the eighth.
Still with only a 3-2 record, Cueto has a Major League-best 1.43 ERA and 63 innings pitched. His 68 strikeouts are a franchise record for a pitcher in his first eight starts, topping Mario Soto's 64 K's in 1980.
"It's scary to say, but each start he's getting better," Pena said. "The last pitch he threw to Tulowitzki was 97 mph. He's progressed -- a couple of weeks ago he was 93, and then tonight it's 97. After that he told me he felt fresh. I'm telling you, I'm impressed."
After a week out of the lineup with two sprained knuckles in his left hand, Hamilton lined a leadoff double to the right-field corner in the eighth. Skip Schumaker sacrifice bunted Hamilton to third base, and the go-ahead run scored easily when Pena skied a sacrifice fly to shallow right field.
In the top of the ninth, Broxton blew his first save in six tries and gave up his first run. He had two strikes on Nolan Arenado when a check-swing appeal was upheld by first-base umpire Brian O'Nora to keep the at-bat alive. Arenado, whose hit streak ended at 28 games, worked a walk with one out and scored the tying run when the next batter, Justin Morneau, lined a tying double to the wall in left-center field.
The Reds bailed out Broxton immediately. Votto came into the game's final at-bat in a 6-for-40 funk over his previous 10 games. But he turned a 3-0 pitch from lefty Boone Logan and hit it into the batter's eye in center field for his fifth homer of the season.
"Johnny has been very consistent all year. He's been our best player year all year -- probably Todd and him are duking it out for best player," Votto said. "Another strong outing by him. I ended up being the one to come through in the last inning. It was good for the ballclub. I think it was going to happen for the next guy up and the next guy after that."
Like Cueto, Votto viewed the win as the No. 1 priority, not how it was obtained.
"The more I play, and the more I become one with the organization, the only thing I care about is winning, bottom line," Votto said. "If I hit that home run early in the game and we ended up losing, I would have been sour today. I think that's something we have going on in this clubhouse -- a team of typically unselfish players that just care about winning."
Mark Sheldon is a reporter for MLB.com. Read his blog, Mark My Word, and follow him on Twitter @m_sheldon. This story was not subject to the approval of Major League Baseball or its clubs.