Maurer struggles from the start, gives up six runs
Offense unable to score until eighth inning in lopsided loss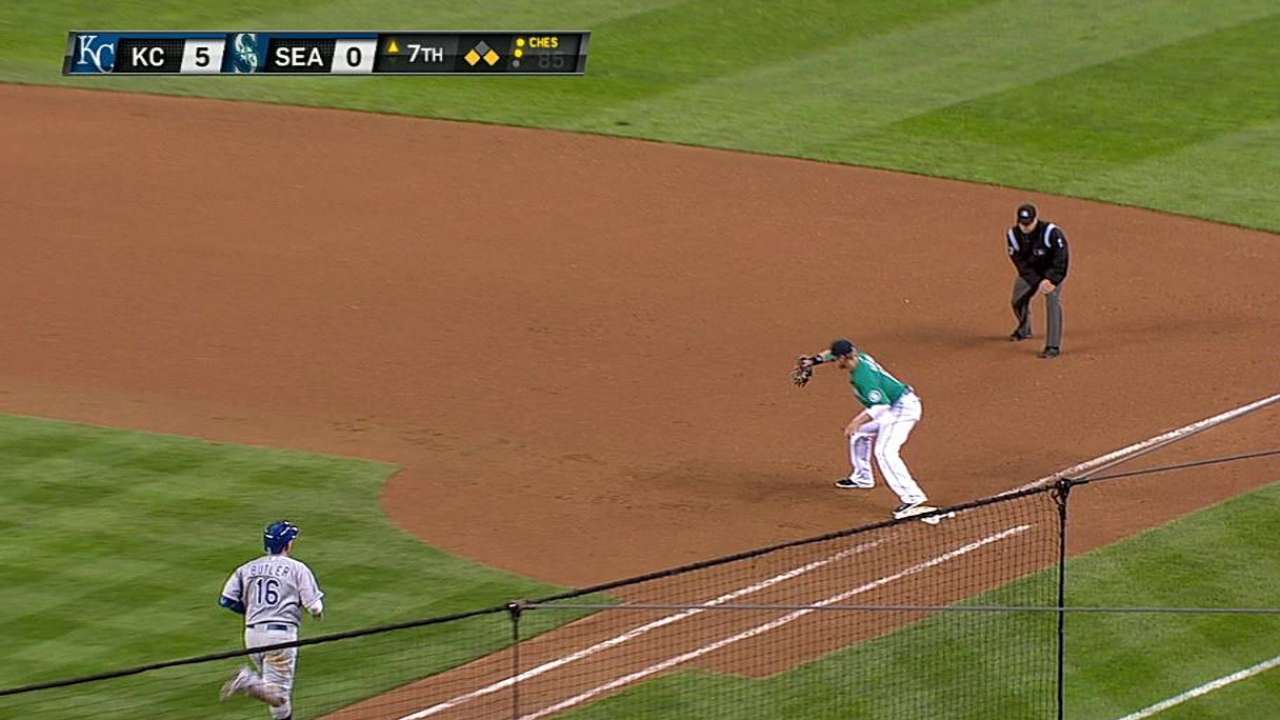 SEATTLE -- What was billed as a "Girls Night Out" promotion Friday at Safeco Field should more appropriately have been labeled "Singles Night" after the Royals dinked and dunked their way to a 6-1 victory over the Mariners.
The Royals had 16 hits, all singles, including 14 off Mariners starter Brandon Maurer in a game where the young right-hander didn't walk a batter or record a strikeout over 7 1/3 innings.
"It was one of those nights," said Mariners manager Lloyd McClendon. "I didn't look up to see if it was a full moon or not, but it was weird."
How weird? Crazy enough that the 23-year-old Maurer came away feeling he'd actually thrown pretty well despite finishing just one shy of the club record for most hits allowed in a game by a pitcher, set by Greg Hibbard in 1994.
Maurer said he was trying to pitch to contact more after failing to go beyond five innings in his first three starts of the year. He succeeded in that regard -- and mitigated the damage with three double-play grounders in the first four frames -- but didn't get a lot of help from his defense in one of Seattle's few poorly played games over the past two weeks.
"It's not like I went out and gave up 10 hard-hit balls and the rest found holes," Maurer said. "Most of them were either bleeders or just hit perfect in the right spot. So I can definitely build off that and make the same pitches next time."
His manager was in full agreement after Maurer went a season-best 7 1/3 innings on 97 pitches.
"I thought Maurer threw the ball exceptionally well. He gave up two hard hits," McClendon said. "The first at-bat of the game and I think [Billy] Butler hit a line drive to left [in the sixth]. Other than that I thought he threw exceptionally well. But you have to give them credit. They were persistent. They put the bat on the ball and they found some holes. But I was pleased with his outing, pleased with the way he went about it."
Maurer is now 1-1 with a 6.20 ERA in four starts after missing most of the spring with back problems. Two of his runs were unearned after shortstop Brad Miller threw away a potential double-play ball in the fourth and third baseman Willie Bloomquist had a bad throw on a first-inning grounder that got one out, but wasted another double-play opportunity that wound up costing a run.
"Maurer didn't throw the ball bad. I actually thought he threw really well," said Bloomquist, who filled in at third for Kyle Seager, who had flu-like symptoms. "They just had a lot of hits off the label and off the end that kind of fell in and found holes.
"Defensively we didn't pick him up very well either. He threw the ball just fine. As an offense and defense we've got to do a better job. At the end of the day, he threw well enough to keep us in the game and we have to do our part, too."
That part certainly didn't come on the offensive side, where Jason Vargas held his former Mariners squad to three hits with no walks and six strikeouts over seven scoreless innings as he improved to 3-1 with a 3.04 ERA for his new Royals squad.
Seattle finally scored an unearned run on a double by rookie James Jones and a throwing error on Royals right fielder Nori Aoki in the eighth after Vargas was replaced by Aaron Crow.
"He changed speeds and threw strikes," said Bloomquist. "That's a recipe for good things to happen, for them. We have to do a better job of swinging the bats, but he mixed it up and threw strikes. I saw a couple changeups and they were Jamie Moyer-like where they were coming out of the back of his hand and really falling off pretty good. He threw the ball well."
The Mariners are still 11-4 since ending an eight-game losing streak on April 23, putting their record at 18-17. But they've combined for just 10 hits and two runs (one earned) over their last three games, including two hits in a 1-0 win over the Royals in the series opener Thursday.
"We have to clean it up," Bloomquist said. "If we're going to be a winning team, we have to play better than that."
Vargas pitched four seasons for the Mariners from 2009-12 and is now 23-21 with a 3.27 ERA in 62 career outings at Safeco Field. He said he felt comfortable at his old park, but he's been good everywhere this year and has a 1.67 ERA in four road starts for the Royals.
"I don't know if it made a difference in the outcome or the way the game went," Vargas said of his Safeco familiarity. "I felt good about the warmup pregame and the ability to stay down. And when I'm able to do that, it keeps the fly balls from going deeper than they should and it definitely helps as the game goes on."
The veteran lefty is now 3-1 with a 1.59 ERA in four starts against Seattle, including three last year with the Angels.
Greg Johns is a reporter for MLB.com. Follow him on Twitter @GregJohnsMLB as well as his Mariners Musings blog. This story was not subject to the approval of Major League Baseball or its clubs.