Straily sent down, Pomeranz moved into rotation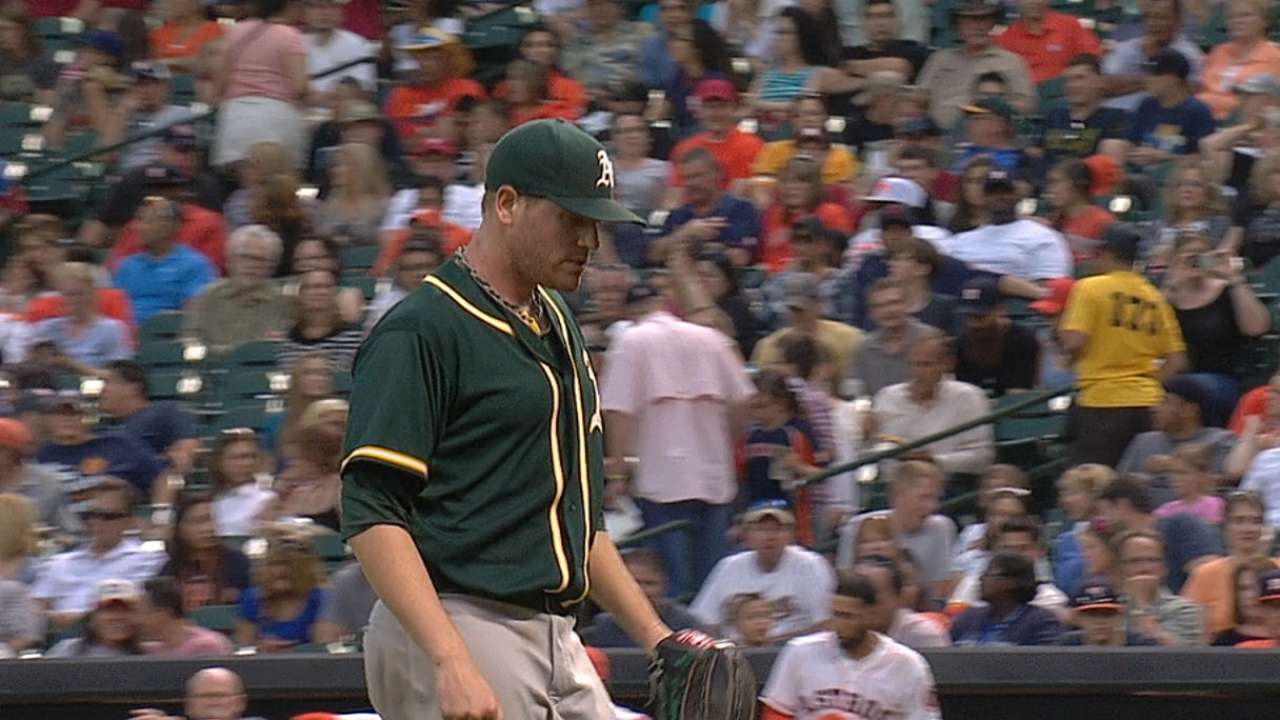 OAKLAND -- Struggling righty Dan Straily was optioned to Triple-A Sacramento on Friday, leading the A's to name Drew Pomeranz an official member of their rotation following his impressive spot start Wednesday.
Straily had a 2.77 ERA over his first two starts, but a 6.04 mark over his last five while battling decreased velocity and command woes. He issued 15 walks over 38 1/3 innings, and also surrendered nine home runs in that span, tied for the Major League lead.
"He just needs to work on refining his fastball command, getting ahead of guys," said manager Bob Melvin. "We've seen him have success here before, and he just hasn't been as consistent. So we feel like the best avenue for him is to go down and work on things with less pressure than you get at the big league level. Still a guy we expect big things out of."
Straily was consistently reaching 92 mph when called up in 2012. But his fastball velocity has steadily decreased, and he's been averaging 88-89 mph with the pitch. Commanding the pitch, however, has been the bigger issue.
Last week in Boston, Straily threw first-pitch strikes to just three of 20 batters, making his breaking ball ineffective.
"The performance we've seen has gone a little bit backwards," said Melvin.
In contrast, Pomeranz has a history with command issues, but the A's have seen less of that since acquiring him from the Rockies in exchange for Brett Anderson this past winter. The southpaw allowed just three earned runs in 13 2/3 innings for a 1.98 ERA out of Oakland's bullpen before firing five scoreless innings of two-hit ball in the nightcap of Wednesday's doubleheader against the Mariners.
Overall, opponents are hitting .191 against Pomeranz.
"He has pitched his way into this role," said Melvin. "It's difficult to be that long guy, too, when you're not getting regular work. But each and every time we've called on him, he's done a good job for us, and certainly in a starting role, as we saw the day before yesterday."
With Pomeranz removed from the bullpen equation, the A's don't currently employ a true long man, though they have several options to give them at least two innings in Fernando Rodriguez and Joe Savery, called up Friday, as well as Dan Otero.
Jane Lee is a reporter for MLB.com. This story was not subject to the approval of Major League Baseball or its clubs.