LaRoche uses DH spot to give quad break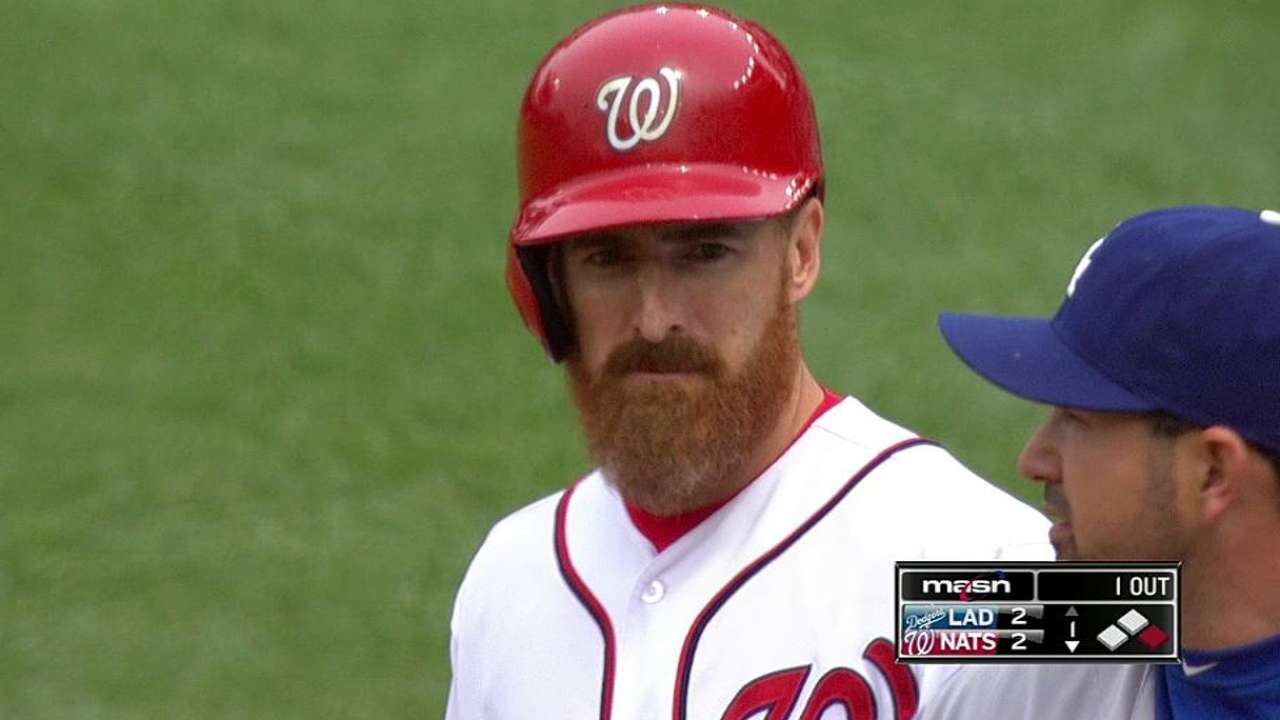 OAKLAND -- Adam LaRoche might have started as the Nationals' designated hitter during Friday night's contest against the A's, but he had plenty to do in between at-bats.
The slugging first baseman, who ranked 10th in Major League OPS (.941) entering the series, has been battling a quadriceps injury the past couple of weeks. So when he wasn't in the batter's box or in the on-deck circle Friday night, chances are LaRoche was up in the visitor's clubhouse getting in-game treatment.
"It's a little cooler over here, so that may be the best thing to come up [to the clubhouse] and keep a hot pad on it, maybe jump on the bike and keep it moving in between at-bats," LaRoche said. "Could actually be good if it's cool outside."
LaRoche said initial, quick-twitch movements on the field -- whether it be out of the box as a hitter or trying to track down a ball on defense -- have been giving him problems lately. After speaking with manager Matt Williams before Friday's lineup was posted, they decided to take advantage of the designated hitter while playing in an American League park.
"It's hard in cool weather if you have to sit out here on the bench," Williams said. "If you don't have that opportunity, it's a different story, but we've got all those things available tonight, so we'd like to take as much stress off him as possible."
Going forward, Williams said LaRoche will likely be back at first base on Saturday while catcher Wilson Ramos or outfielder Jayson Werth could occupy the designated-hitter spot. As much as LaRoche wants to stay in the lineup, he also concedes that playing virtually every day isn't giving his quad much of a break.
"It doesn't surprise me that it's lingering, and that it'll probably be around longer," LaRoche said.
Still, he said it feels better than in days past, so he'll just stay the course for now.
"If it wasn't," LaRoche said, "I'd probably try something different."
LaRoche was eventually pulled from Friday night's game in the seventh inning, with the Nationals trailing, 7-0. He went 0-for-2 with a groundout and a strikeout before being replaced by Zach Walters.
Alex Espinoza is a contributor to MLB.com. This story was not subject to the approval of Major League Baseball or its clubs.