Milone cruises, A's bruise Fister in win over Nats
Three HRs back lefty, who allows two hits over eight shutout innings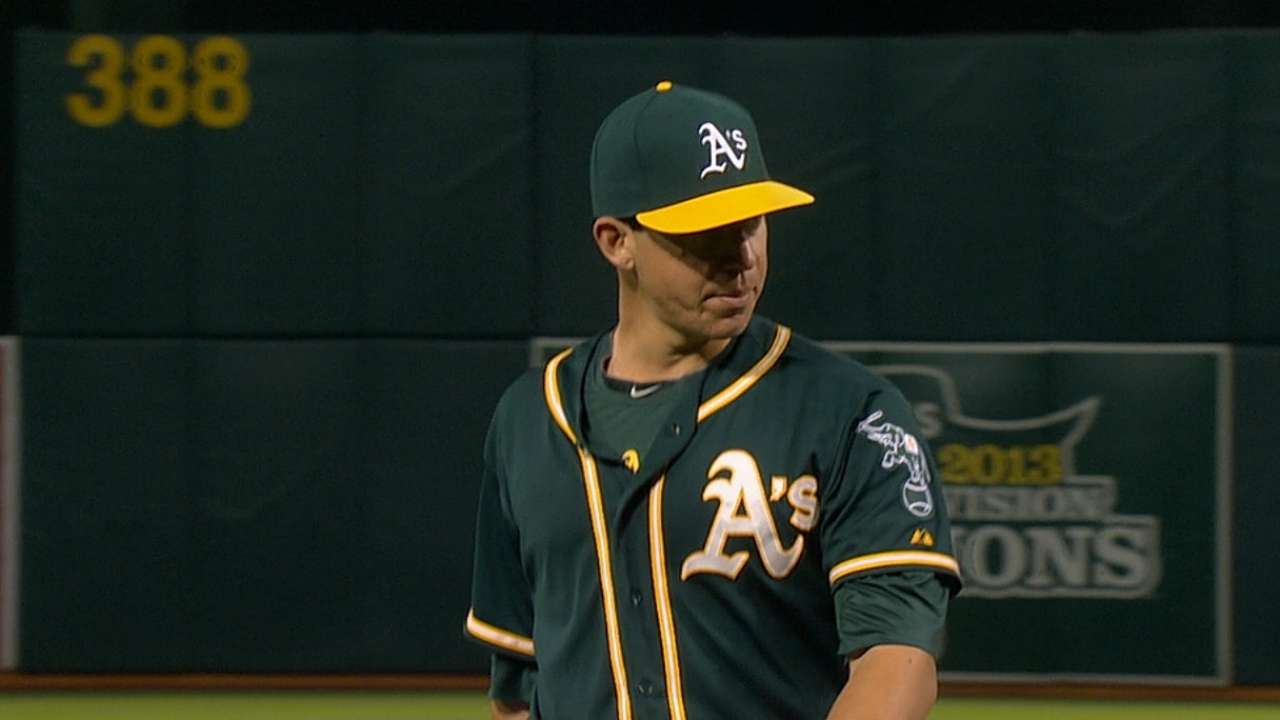 OAKLAND -- Facing his former team for the first time since being shipped to Oakland three years ago, Tommy Milone looked his best yet in this young season.
As a team, the A's looked better than they have in a while.
Fresh off a much-needed off-day following Wednesday's doubleheader with the Mariners, the A's welcomed the Nationals to the Coliseum for the first time on Friday night and beat up on a familiar face, tagging Doug Fister for seven runs in an 8-0 victory in the three-game-series opener.
It was the first win in six tries this season for Milone, who permitted just two hits and struck out seven in eight scoreless innings against the team that selected him in the 10th round of the 2008 First-Year Player Draft.
"I think you can make the argument that's the best I've seen him throw," said catcher Derek Norris. "He was very, very good.
"I don't think he missed a location all night. He was fantastic. You can't really say enough about the great job he did. He mixed speeds well, he worked quick, he got ahead, he stayed ahead. That was the biggest part about his success tonight."
"He was awesome," said Brandon Moss. "That's pretty much all I got."
The Nationals sacrificed Milone and Norris, along with two other players, in a 2011 trade for Gio Gonzalez, who will pitch in Sunday's finale. Milone has since given the A's a combined 27 wins in four seasons, though consistency hasn't always been on his side.
The lefty entered the day having allowed 10 earned runs in his last 10 2/3 innings, and exited it with eight completed innings for the first time since July 5, 2013, using a season-high 108 pitches Friday. It was just the third time in his career he made it at least eight innings without giving up any runs.
But it hadn't happened since 2012, and the timing of this one couldn't have been better, with the A's demoting a struggling Dan Straily just hours before the game. Milone was seemingly next in line for a trip to Triple-A, sporting a 5.86 ERA. Friday's performance lowered it to 4.54.
"Maybe a little bit of a vote of confidence that it wasn't him today," suggested manager Bob Melvin.
"I didn't really think about it that way," responded Milone, "but in the back of my mind, maybe."
Often a victim of little or no run support, Milone got plenty of it this time, with the A's getting three home runs on the night, including back-to-back shots from Yoenis Cespedes and Moss for the first time this season. John Jaso also hit one out, in the third, off Fister, who was around for only 4 1/3 innings in his season debut.
Fister, formerly of a Tigers rotation that eliminated the A's in the first round of playoffs the last two seasons, made one of three Nationals errors in his Washington debut. That equaled the club's hit total against an Oakland staff guided by Norris, who also showed off in front of his former organization with a 2-for-4 night.
"Any time you can put together a good outing, especially with Tommy having been struggling a bit, for him to come back like that solidifies what he's capable of doing for our rotation," said Norris. "On my end, you want to show them what they're missing. Not in a drastic, blatant manner, but showing them this is what you could have had."
"I hate to say -- because we lost -- but it's good to see those two guys," said Washington's Ian Desmond. "I'm happy for them, those guys are making a career for themselves. Obviously, I wanted to beat both of them, but at the same time, a little hat tip."
Norris, who drove in a run in the seventh, raised his average to .384, which is the best mark in the American League among players with 60 or more plate appearances. He's batting .500 over his last 14 games.
Josh Donaldson, Moss, Cespedes and Josh Reddick also collected two hits apiece, and the A's finished with 12 total.
Right-hander Fernando Rodriguez, called up pregame Friday, pitched a scoreless ninth in his A's debut, 15 months after being traded to Oakland from Houston, and 14 since undergoing Tommy John surgery.
"I'm sure this was a happy day for him," said Melvin, "as it was for us."
Jane Lee is a reporter for MLB.com. This story was not subject to the approval of Major League Baseball or its clubs.