Saunders extends rehab with eye on starting
Veteran lefty ready to return from DL but Rangers only have bullpen spot available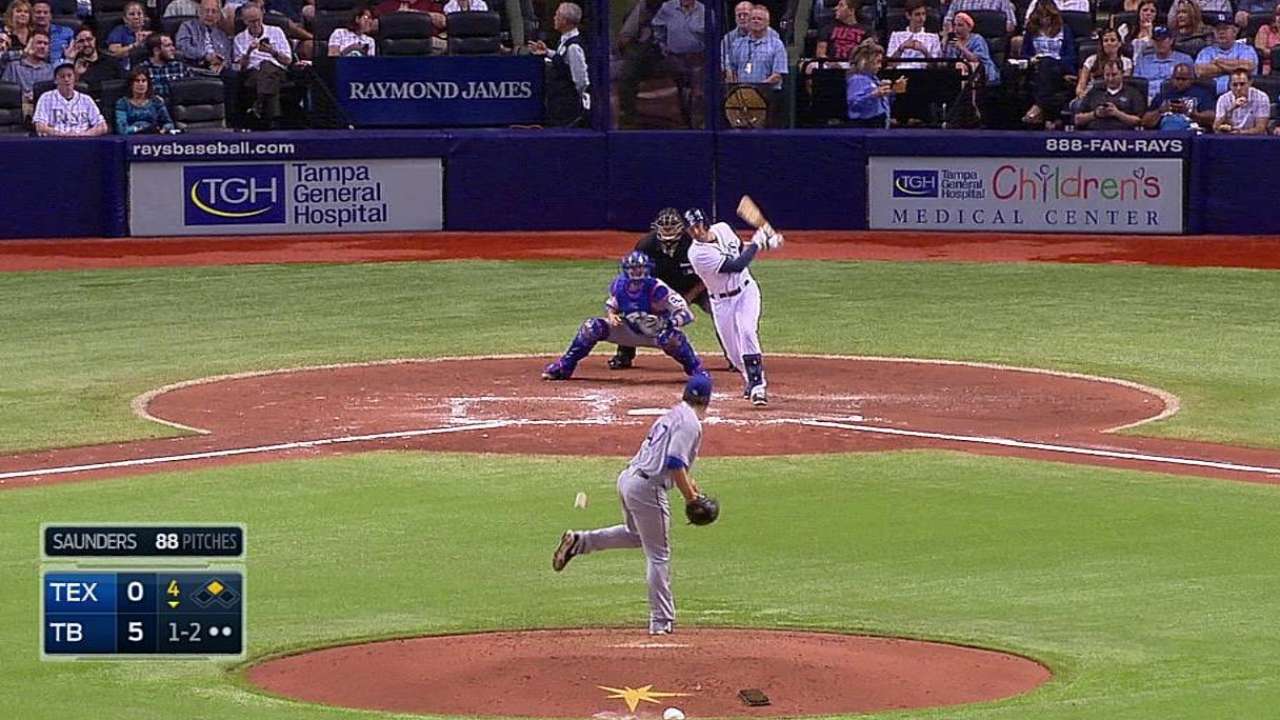 ARLINGTON -- Rangers left-hander Joe Saunders, who is on the disabled list with an injured left ankle, is scheduled to make two more rehab starts at his own request. That could be for the benefit of other clubs that need starting pitching and might send scouts to watch him pitch.
Saunders is scheduled to pitch Saturday for Double-A Frisco and Thursday for Triple-A Round Rock. After that, Saunders will assess his situation with the Rangers. He is still hoping to regain a spot in the rotation, even though it appears there is no room right now.
"I asked for those two more starts," Saunders said. "I told them they brought me here not to go to the bullpen but to start. That's still my expectation. I'm here to start and win games for the Texas Rangers. That's what I want to do, that's what they're paying me to do, that's what they brought me in here to do."
The two starts could also allow other clubs to see if Saunders is healthy and can pitch well enough to fit into their rotation if the Rangers don't need him.
Saunders opened the season in the Rangers' rotation but had to leave his first start against the Rays on April 4 in the fourth inning, when he was hit on the left ankle with a shot off the bat of Evan Longoria. The injury was first diagnosed as a bruised left foot but was later upgraded to a stress fracture.
Saunders made his first rehab start for Frisco on Tuesday, allowing three runs on four hits, with one walk and four strikeouts in four innings. On Thursday, the Rangers met with Saunders and told him the only spot they have for him is in the bullpen.
Saunders said he would prefer to make at least two more starts on rehab assignment instead and then see what the Rangers' pitching situation is.
"Not necessarily change minds but to show I'm totally healthy and the ankle is not a problem," Saunders said.
It also buys time. The Rangers keep Saunders stretched out, and there is always the possibility of a spot opening up in the rotation at some point in the next 10 days. If not, Saunders will have to make a decision about going to the bullpen or asking the Rangers for a chance to go to another team. Two good starts could also create some interest from other clubs.
"Obviously, once you go into the bullpen, it's hard to go back into the rotation," Saunders said. "That's where I feel the direction is headed, so I want to make sure we cross our t's and dot our i's. I am here to be a starter, I'm paid to be a starter, and they brought me in as a starter."
Saunders, who was signed two weeks into Spring Training, has made 222 career Major League starts without ever pitching in relief.
T.R. Sullivan is a reporter for MLB.com. Read his blog, Postcards from Elysian Fields, and follow him on Twitter @Sullivan_Ranger. This story was not subject to the approval of Major League Baseball or its clubs.