Flores out to prove he can play shortstop
Mets' No. 4 prospect called up to take over starting role from Tejada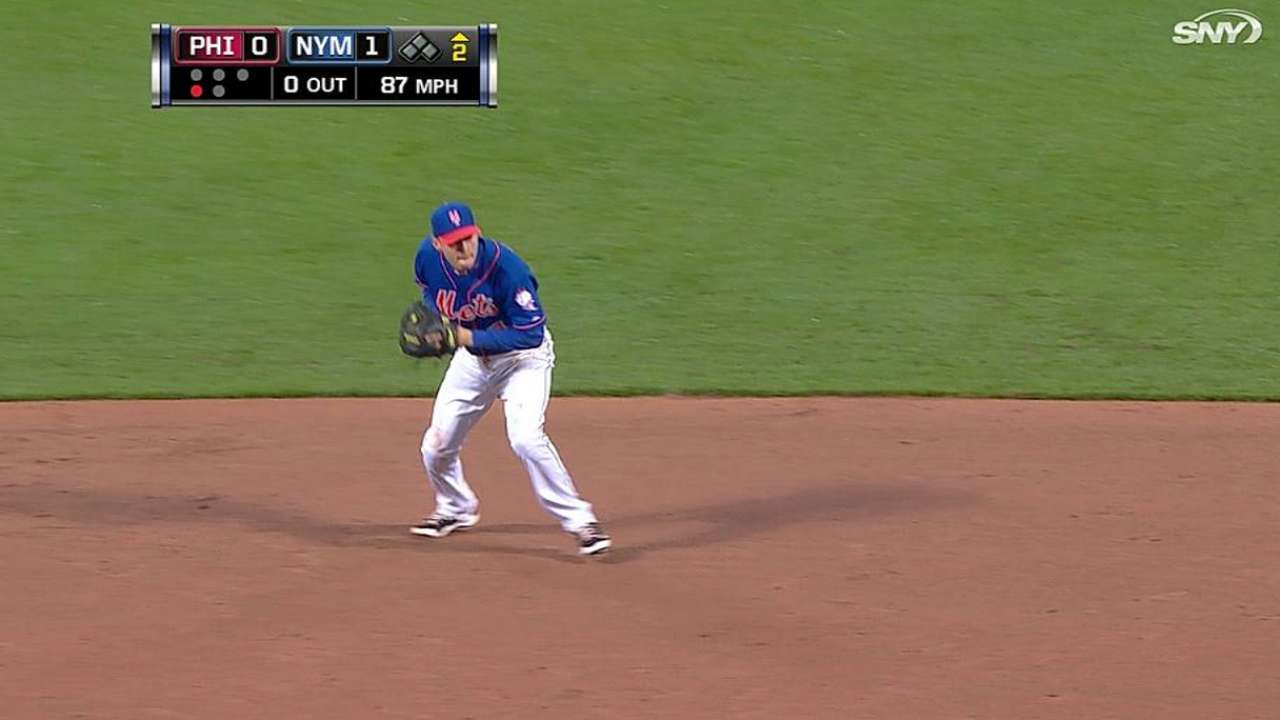 NEW YORK -- Wilmer Flores is well aware of the legions of scouts, executives and fans who do not believe he can play shortstop at an adequate level. He is also well aware that his future in the Mets' organization -- perhaps even in the big leagues -- may depend upon it.
With that as his backdrop, Flores -- the Mets' No. 4 overall prospect -- officially reported to Citi Field on Friday, starting over Ruben Tejada at short. Flores went 2-for-5 in a 3-2, 11-inning loss to the Phillies and handled all five defensive chances cleanly. For the next two weeks, the team plans to give him a more or less uninterrupted run at the position to prove whether or not he can handle it.
Said Flores: "I'm going to prove it."
That task will not be easy. A natural shortstop who converted to third and second base as a prospect in the Minors, Flores had not played short regularly for two years before this season. Mets manager Terry Collins admitted that many within the front office and coaching staff did not believe he could succeed at the position.
But Tejada's overall struggles, along with Flores' offensive hot streak at Triple-A Las Vegas, forced the Mets' hand. Batting .307 with an .860 OPS at Vegas, Flores hit .500 with four home runs over his final five games there. Compare that to Tejada, whose .189 average and .509 OPS typified the Mets' scuffling offense.
"Don't mistake it -- we're hoping Wilmer gives us some offense," Collins said. "But he's got to catch the baseball, too."
That, for Flores, was the primary issue at Vegas. Seven errors in 25 games at shortstop soured his experience, though Flores nonetheless insists he feels comfortable at the position. Often before games, he worked on his first-step quickness by fielding a ball thrown haphazardly off a wall.
If he can hold his own in the big leagues -- the Mets aren't asking much more than that -- he has the chance to wrest the position away from Tejada for good. Flores understands that, well aware of the challenge.
"I know I can handle it," Flores said. "I'm just going to show that I can."
Anthony DiComo is a reporter for MLB.com. Follow him on Twitter @AnthonyDicomo. This story was not subject to the approval of Major League Baseball or its clubs.