White Sox erupt with seven-run fourth, pound D-backs
Ramirez, Abreu, Flowers all go deep; Rienzo picks up third win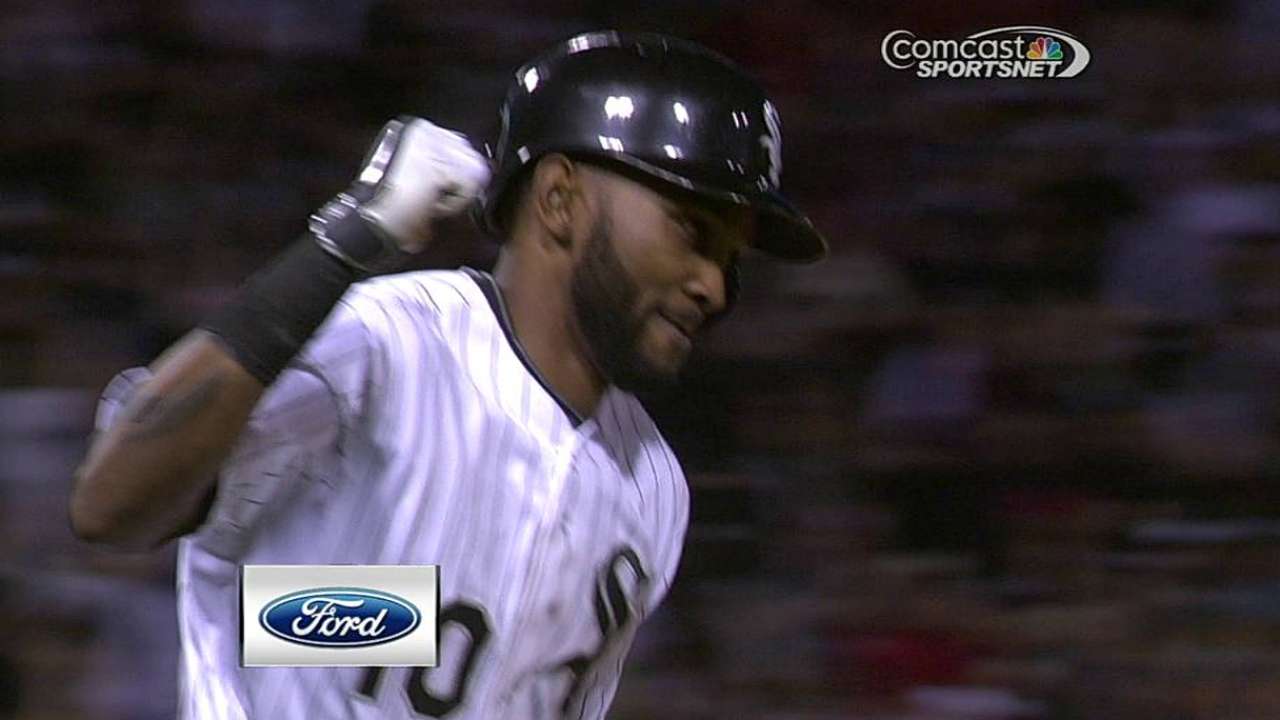 CHICAGO -- Through the first three innings of Friday's contest against Arizona and Brandon McCarthy, the White Sox did not have a baserunner.
That's nine up, nine down with the former White Sox hurler throwing 33 pitches and striking out four.
Fortunes changed in the fourth, and they changed in a big way. Or a cataclysmic way if you were the D-backs.
White Sox hitters went 9-for-10 against McCarthy during a seven-run frame and turned McCarthy's early bid for perfection into an early exit during their 9-3 victory at U.S. Cellular Field. McCarthy (1-6) threw 31 pitches alone in the fourth before being replaced by Trevor Cahill.
White Sox bench coach Mark Parent, who handled the postgame interview session with manager Robin Ventura gone to his daughter's college graduation from Oklahoma State, said that he was sitting next to assistant athletic trainer Brian Ball in the dugout during the massive rally. Ball didn't want to leave because the White Sox (19-18) were getting hits.
"He was lights out there for a while, and then I think the guys just made some adjustments," said Parent of McCarthy. "Second, third time around, they saw him better. Maybe he left some stuff over the middle and guys took advantage of it."
"It unraveled quick and it was an unusual game," Arizona manager Kirk Gibson said. "I don't know what to say."
Alejandro De Aza started the uprising with an eight-pitch at-bat, including four two-strike foul balls, which resulted in a double to center. Gordon Beckham singled home De Aza, Conor Gillaspie followed with another base hit and Jose Abreu singled to tie the game, 2-2.
Those three at-bats covered just four pitches.
After Adam Dunn struck out swinging, Dayan Viciedo singled to load the bases before Alexei Ramirez unloaded them with his sixth career grand slam. Ramirez connected on a 3-0 pitch, marking his first career hit in 68 situations where the at-bat was decided on the next pitch after a 3-0 count.
Ramirez became the seventh player in White Sox history to hit safely in 32 of the White Sox first 37 games and didn't miss on this 369-foot game-changer.
"I was looking for a good pitch that I can connect on. Something that was over the plate," said Ramirez through interpreter and White Sox manager of cultural development Lino Diaz. "And that's what I did and I was able to hit it."
Moises Sierra, Tyler Flowers and De Aza followed with singles, as De Aza brought home Sierra. McCarthy finished the night with seven runs allowed on nine hits over 3 1/3 innings, fanning five and not issuing a walk.
Having a few hours to think about the fourth-inning unraveling didn't make it any easier to explain for McCarthy.
"Even after four or five innings to sit down here and think about it, I really don't know," McCarthy said. "I don't know if they changed their approach and got super aggressive; I was throwing a lot of strikes. They just started jumping on everything. They're not terrible pitches. They're not anything different than what I was doing in the first three innings. I don't know how you can get nine hits out of 10 hitters when I felt like I was doing the things I needed to do.
"Mentally, physically, everything felt the exact same as the first three innings. It's just all of a sudden, every pitch I threw I was turning and watching it go somewhere else. I am baffled at this point."
Andre Rienzo (3-0) earned the victory by yielding three runs on four hits over 5 2/3 innings. The right-hander actually gave Arizona (13-25) an early lead when Gerardo Parra launched a two-run homer in the third. But it did not hold up thanks to the White Sox fourth.
Relievers Zach Putnam, who has limited opponents to seven hits in 49 at-bats this season, Ronald Belisario and Matt Lindstrom finished off the White Sox fifth win in six games. The bullpen has a 2.06 ERA and .175 opponents average against over the last 19 games.
"We just threw yesterday out. We got into a situation to win a ballgame and guys fell into their roles," said Parent, referring to the bullpen's struggles Thursday in a 12-5 loss to the Cubs. "Those guys have been lights out. Putnam has been just phenomenal."
Abreu added his 13th home run leading off the eighth, a titanic 442-foot shot to straightaway center on a 3-0 pitch.
"You don't see balls get hit like that very much," said Parent of Abreu becoming the first player in franchise history to hit at least 13 homers in his first 37 career games.
Playing on a sore left ankle, Abreu finished with three hits and two RBIs. Parent said postgame that the White Sox have dialed back Abreu's intense early work to help him heal. They will start him at designated hitter again on Saturday and then give Abreu a day or two off on the upcoming nine-game road trip.
Flowers smacked Chicago's third homer of the night in the eighth, a solo shot to left.
Scott Merkin is a reporter for MLB.com. Read his blog, Merk's Works, and follow him on Twitter @scottmerkin. This story was not subject to the approval of Major League Baseball or its clubs.