Mets strand 15 runners in 11-inning loss to Phils
Wright's RBI double ties it late, but missed chances early prove costly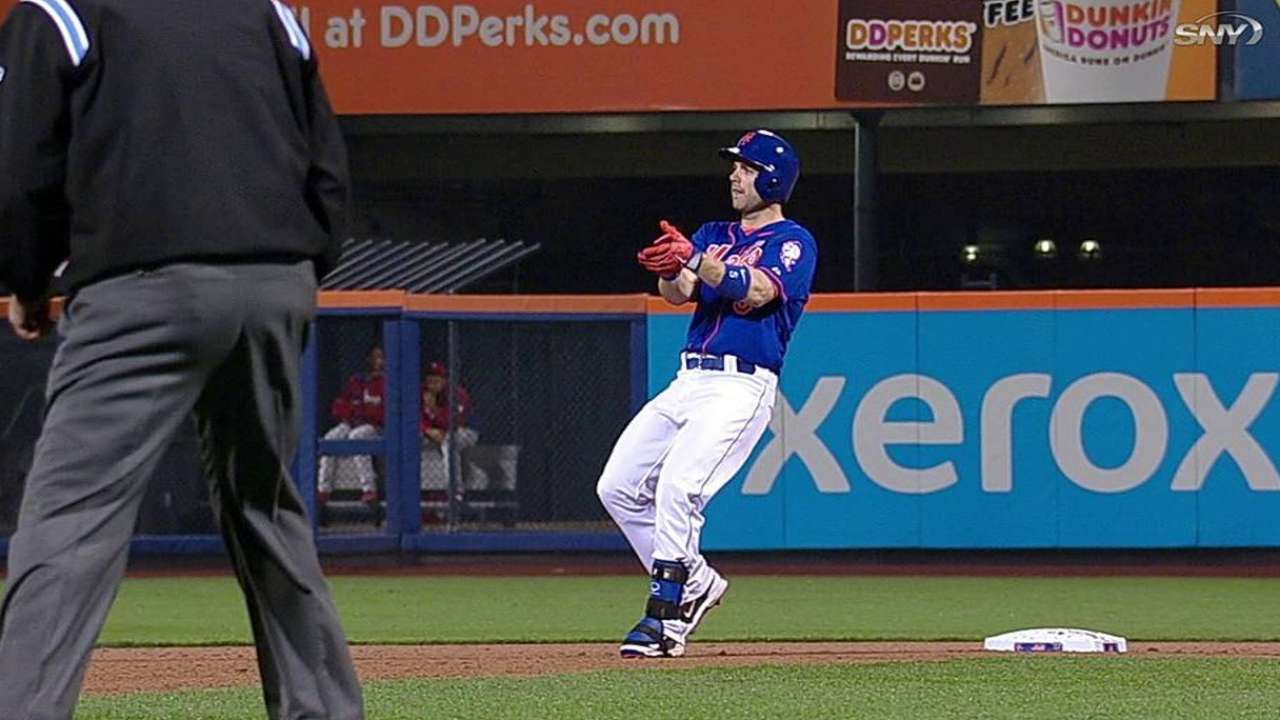 NEW YORK -- Some of them were just 90 feet from the plate, others two or three times that distance. It hardly mattered. When the Mets put men on base Friday evening -- and they did so early and often -- they struggled to send any of them home.
That was their undoing in a 3-2, 11-inning loss to the Phillies, who also stranded a small army on Citi Field's basepaths. But unlike the Mets, who have lost four straight and seven of eight, the Phillies came up with a critical hit when they needed one.
"It was just a matter of who was going to send that guy up there to get the big hit with runners in scoring position," Mets third baseman David Wright said. "They beat us to it."
Marlon Byrd finally delivered the knockout in the 11th, punching an RBI double into shallow right field. Though Carlos Torres opened the inning by striking out Jimmy Rollins, he gave up a double to Chase Utley and intentionally walked Ryan Howard to bring up Byrd.
Fittingly, the Phillies scored just once in the 11th despite two hits and two intentional walks, ending the rally by leaving the bases loaded. Before the game went to extra innings, the Mets and Phillies each stranded 14 men on base, falling two shy of the nine-inning record of 30. The Mets finished with 15 men left dangling on the basepaths.
What it meant was both clubs spent most of the evening filling up the box score with hits and walks. The Mets put four men on base in the first inning, for example, but scored just once on Curtis Granderson's RBI double. They left the bases loaded that inning and again in the second, allowing Phillies starter Roberto Hernandez to escape his five innings relatively unscathed.
It took the Mets until the eighth to tie the game, when Wright doubled home Daniel Murphy with two outs -- slapping his hands together animatedly as he rounded second base. Like so many of those who stuck around for all four hours, 39 minutes and 420 pitches of the game, Wright thought there was a chance his hit might spark the Mets to victory. It did not.
"We had a lot of momentum after that," Wright said. "Their bullpen came in and did a nice job."
Considering all the hits and walks that Mets starter Jenrry Mejia gave up, he also -- relatively speaking, at least -- managed to limit the damage. Yet the nine Phillies to reach base against him drove up his pitch count, forcing Mejia to throw 101 pitches in 4 2/3 innings.
On a night when blue-chip prospect Rafael Montero fired 5 1/3 no-hit innings for Triple-A Las Vegas, stating a forceful case for a big league promotion, Mejia labored.
Mejia, for his part, said he thought "it was a good start." But Mets manager Terry Collins was coy when asked if Mejia will receive another, redirecting the narrative to the offense.
"Right now, we've got to figure out how to score," Collins said. "He pitched well enough to win the game. We didn't score any runs for him."
Philadelphia's two runs off Mejia blossomed out of a leadoff double in the third inning and a leadoff walk in the fifth. On each occasion, Domonic Brown responded with an RBI single to ensure that, on this night, not every baserunner would remain stranded.
Just most. The evening began so promising for the Mets, who snapped their 23-inning scoreless streak in the first and watched anxiously as Wilmer Flores took his hacks as the team's new starting shortstop. Flores hit the ball hard more often than not, but even he was not immune from the crunch-time struggles that plagued his teammates. After Josh Satin struck out against Hernandez with two men in scoring position and no outs in the fifth inning, Flores -- in by far his highest-leverage at-bat of the game -- also whiffed to take the teeth out of the rally.
The Phillies actually stranded more runners than the Mets, leaving 17 men on base for a combined total of 32. But that was hardly solace for Collins' club.
"We had plenty of opportunities," Wright said. "It's a tough loss, a sloppy loss, but offensively, we're having our chances. It seemed like numerous innings we had an opportunity to break it open. We just couldn't get that big hit."
Anthony DiComo is a reporter for MLB.com. Follow him on Twitter @AnthonyDicomo. This story was not subject to the approval of Major League Baseball or its clubs.