Hinske back at Turner Field in familiar mentor role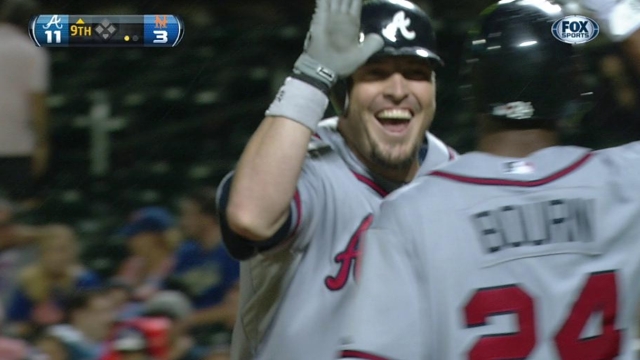 ATLANTA -- The last time Cubs first-base coach Eric Hinske took in a game at Turner Field, he was a veteran bench presence for the Braves as they hosted the Cardinals in the first-ever National League Wild Card game on Oct. 5, 2012.
Less than a year later, his playing career came to an end after 12 seasons in the Majors when the D-backs designated Hinske for assignment last June.
"It's tough when you get to the end," Hinske said. "You're humbled. You have to look at yourself in the mirror and say, 'Do I want to keep trying to do this?' or know that you can't. Your bat's slowing down a little bit, so that's kind of how I felt."
Hinske batted .249 with 137 career homers, but he made his mark in the Majors as an integral member of winning ball clubs. He won the World Series with the Red Sox in 2007, got there with the Rays in '08 and won it again with the Yankees in '09.
He also reached the postseason as a member of the Braves in 2010 and '12. In Game 3 of the 2010 National League Division Series against the Giants, Hinske hit a two-run homer to put the Braves ahead in the eighth inning of a 3-2 loss.
"He's been on winners and contenders for most of his career, and he's been a big part of all of that," Cubs manager Rick Renteria said. "He can share his experiences and his conversations to hopefully help them move forward in their own development."
Back in Atlanta, Hinske is happy to reconnect with former Braves teammates, including Freddie Freeman and Jason Heyward. When reflecting on his time in Atlanta, Hinske simply described it as "three of the best years of my career."
"That's kind of how I figured out that I wanted to coach, because I had success with that," Hinske said of his role as a mentor for those young Braves teams. "I helped a lot of players along the way from organization to organization."
After working as a Yankees scout late last year and reconnecting with former teammate Brian McCann, Hinske got a call from Cubs president of baseball operations Theo Epstein, who traded for Hinske as the Red Sox general manager in 2006.
Although coaching entails more work for Hinske, who is honing his ability to throw batting practice, he likes being on the field as a coach and staying in the game.
"I was very proud of that fact that I kind of felt like I did things the right way as a player, so that helped me when I was done," Hinske said. "I'm very proud of that."
Joe Morgan is an associate reporter for MLB.com. This story was not subject to the approval of Major League Baseball or its clubs.