Move to No. 4 spot sparks Votto vs. Rockies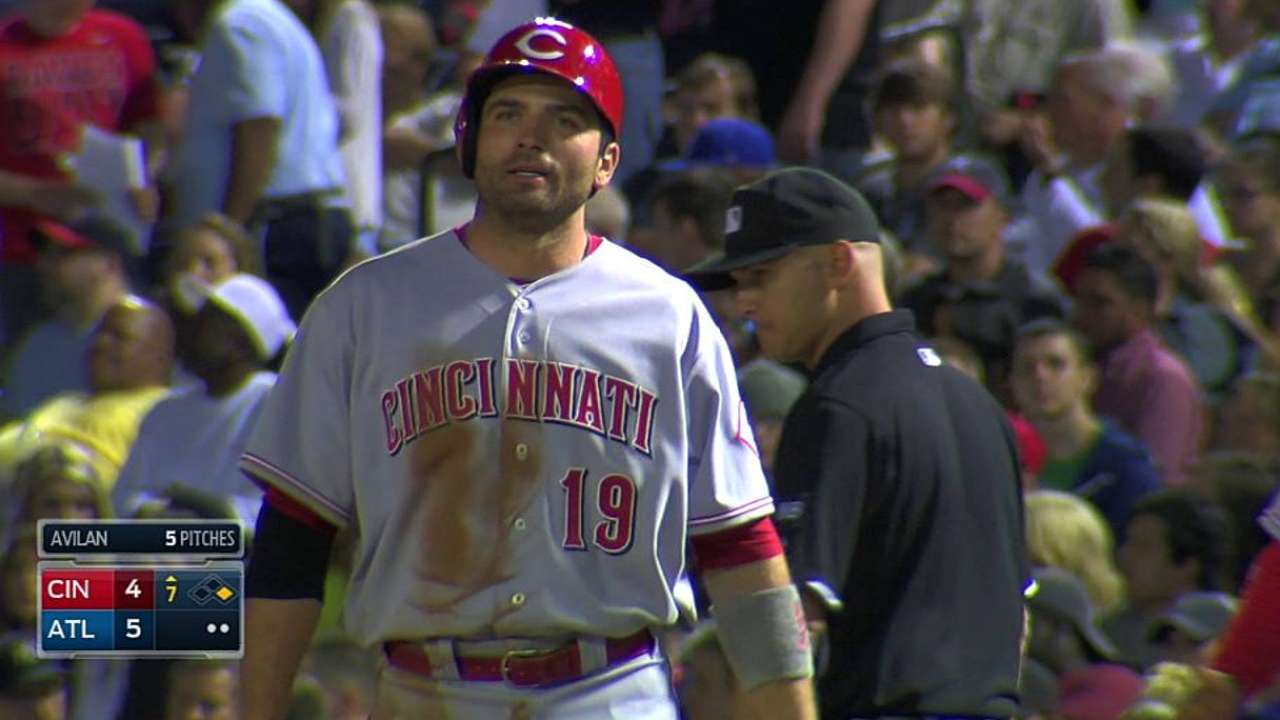 CINCINNATI -- Reds first baseman Joey Votto has not been hitting up to his normal standards of late, and he is not the slightest bit concerned.
Votto entered Friday batting .162 (6-for-37) over his previous 10 games since April 26. His overall .263 average entering the night was his lowest this late in a season since he was batting .261 through 50 games and 157 plate appearances on May 24, 2008.
"At the end of the year, you'll probably look up and I'll look about the same," said Votto, who has finished every full season except his first batting above .300. "I'll tell you what. During my career, baseball-reference has been a really good friend to me."
It should be noted that Votto's on-base percentage was still .326 during his recent slump.
After bring hitless his first three at-bats, Votto came through huge Friday night in a 4-3 Reds win. His leadoff homer -- on a 3-0 count vs. lefty Boone Logan -- came in the bottom of the ninth for the walk-off victory. Manager Bryan Price gave Votto the green light to swing.
"If we're down by two there, I don't think you do it," Price said. "Not just because it's a lefty-lefty matchup, but we need baserunners. But a tie ballgame, if there's a chance for him to get a pitch to hit that at-bat other than a mistake, it's going to be 3-0. He's the guy. We know what he can do offensively. He's in the position to do just that in those situations -- to be smart enough and be short enough with his swing to do something like he did tonight."
Price had juggled the lineup again on Friday, moving Votto from the second spot to fourth and catcher Brayan Pena up to No. 2 against the Rockies. The most recent time Price made a change with Votto, from third to second, it produced results for the team's offense.
Like the move to No. 2, Votto was ambivalent about switching to clean-up.
"I don't care, as long as I'm not protection for Johnny Cueto," Votto said, joking before Friday night's game.
Votto appeared optimistic that if he kept playing, his production would get better.
"The objective is to stay on the field and stay healthy and just continue to improve and be a part of some wins in the future," Votto said before the game. "At some point, it will come along. The disappointing part is that my struggles have been coming alongside some close losses, which is probably the most frustrating part. At some point, I will be hitting well during some winning. Hopefully that happens sooner than later."
Price felt that Pena in the second spot could provide Votto with more chances to do damage.
"We're missing a couple of big pieces, run producing pieces in Jay Bruce and Devin Mesoraco -- they were guys providing us with some RBIs," Price said before the game. "I think Brayan gives you a good at-bat, especially from the left side. He's hit a lot from the left side this year, in particular.
"It would be nice to get some guys on base and put Joey back there behind them. It would give Brandon [Phillips] and Joey an opportunity to drive in some runs. It's not like me to be stagnant, and I think there are some things we can do to get the offense back into gear."
Mark Sheldon is a reporter for MLB.com. Read his blog, Mark My Word, and follow him on Twitter @m_sheldon. This story was not subject to the approval of Major League Baseball or its clubs.