Cubs rally in ninth, but Braves walk off in 10th
Kalish's single sends game to extras after Hammel's solid outing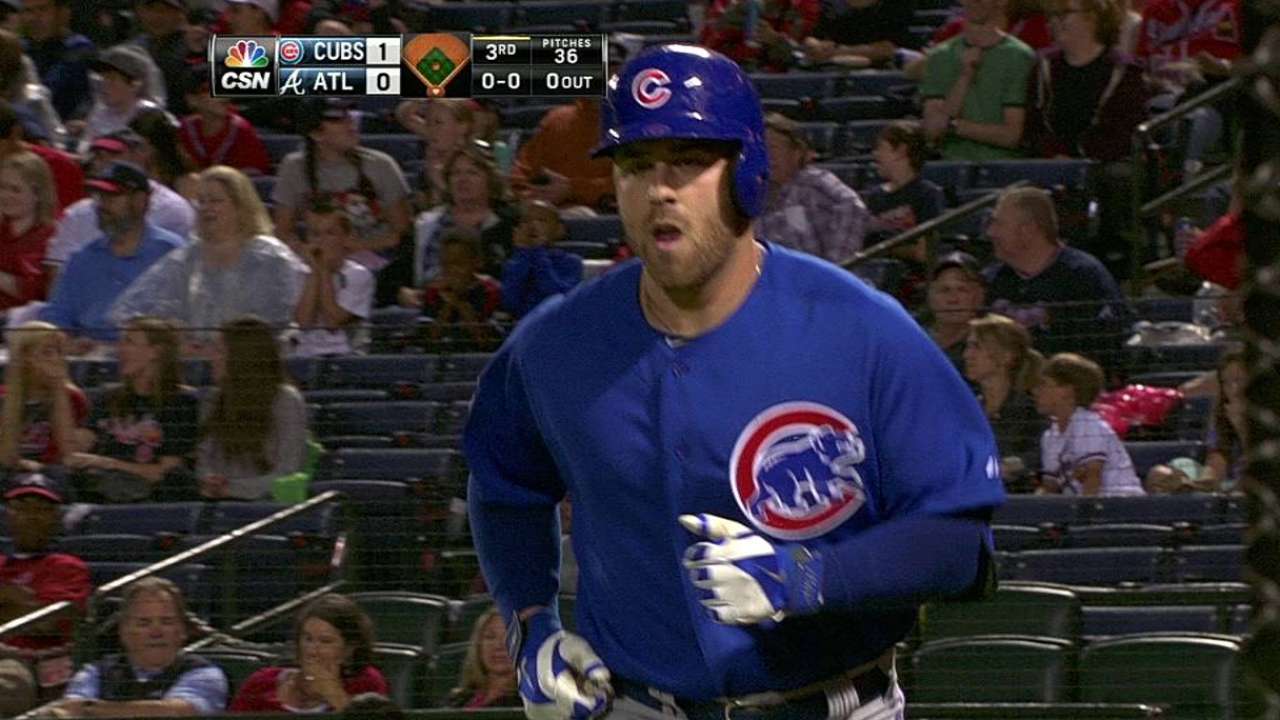 ATLANTA -- It's not every day that a club chooses to face Braves All-Star first baseman Freddie Freeman with the winning run on second base. But with lefty Wesley Wright on the mound, Cubs manager Rick Renteria felt confident.
Wright entered Friday night with a 1.59 ERA and 13 strikeouts in 13 appearances out of Chicago's bullpen this season. He finished the night with his first loss after giving up a walk-off RBI single in the 10th inning to Freeman in the Cubs' 3-2 loss to the Braves at Turner Field.
"Today just wasn't the day that it worked out for us," Renteria said. "Wesley has been fantastic for us, and I'd give him the ball again."
The impending matchup was not favorable when Wright intentionally walked Justin Upton to get to Freeman. After Freeman's single, left-handers are hitting .316 (6-for-19) against Wright in 2014, compared to right-handed hitters' .167 (4-for-24) clip.
"It's one of those things where sometimes you have to pick your poison," Braves manager Fredi Gonzalez said. "They felt they had a better matchup with Freeman than they did with Justin Upton. Every night, us managers make those kinds of decisions and they're not easy. Sometimes, the pitcher or the hitter bails you out and sometimes, they don't. Either way, he went there, it's a tough one. We got him this time."
Freeman is batting .387 (12-for-31) with runners in scoring position this season, after he ranked second in the Majors with a .443 (58-for-131) batting average with runners in scoring position in 2013.
"It puts a smile on my face," Freeman said. "I don't know if you saw it on TV, but after the second, third and fourth pitches outside, Justin and I were just kind of laughing at each other. It just kind of fires you up, if you're not fired up enough going into an inning to hit a walk-off. When they intentionally walk somebody to get to you, it definitely lights a fire under your butt."
The decision to face Freeman with the game on the line would not have been possible had the Cubs not battled back after a tough night against Braves ace Julio Teheran to tie the game in the ninth and force extra innings.
Atlanta closer Craig Kimbrel blew only his second save this season as Chicago put three men on base in the ninth inning alone, after putting only three men on base in all against Teheran in eight stellar innings from the right-hander.
Teheran struck out nine and retired 17 consecutive batters between the third and eighth innings. It was his eighth quality start in eight turns this season.
"Teheran was doing very well," Renteria said. "He was attacking the strike zone. He was using his fastball extremely well. It's got great life, and we weren't really able to do anything with it."
Mike Olt was the lone Cub to get a hit off Teheran, giving Chicago a short-lived 1-0 lead with a homer to left-center in the third. It was Olt's third home run in as many games, including a grand slam in Thursday's 12-5 win against the White Sox.
Olt now leads all National League rookies with seven home runs and 17 RBIs this season. The third baseman's current four-game hitting streak has raised his batting average from .162 to .192.
"I'm definitely a lot more comfortable, which has been the main thing," Olt said. "Two weeks before that, I just really couldn't find myself at the plate."
Renteria added: "When he makes contact, the ball jumps."
Olt's homer was Chicago's lone hit until Chris Coghlan led off the top of the ninth inning with pinch-hit single. Coghlan advanced to second on an Emilio Bonifacio groundout before coming home on a game-tying single by Ryan Kalish.
"We were able to battle through with [Kimbrel]," Renteria said. "Obviously, not enough, but at least we showed we can come back."
The Cubs can take solace in the fact that their ninth-inning rally spared right-hander Jason Hammel a hard-luck loss. Hammel recorded his seventh consecutive quality start, allowing two earned runs or fewer for the fourth time this season.
All seven Braves hits against Hammel were two-out singles, including a two-run single by Chris Johnson in the third. In Hammel's first six starts this season, opposing batters hit only .152 (7-for-46) against the right-hander with two outs.
Backed by an offense that failed to give Hammel his usual 4 1/2 runs of support, any mistake the right-hander made loomed large. Hammel, who said he was struggling with the feel on his two-seamer, left a four-seamer up in the zone against Johnson.
"I'm not going to make excuses, but every time I pitch in humidity, I have trouble with the grip," Hammel said. "So, I've got to find a way to adjust and usually that's a lot of rosin."
Despite their offensive struggles, the Cubs stayed in the game down to final run. Chicago even had a chance to take a lead in the 10th when Luis Valbuena led off with a single against Atlanta left-hander Alex Wood.
But the Cubs fell to 0-18 in games during which they trail entering the ninth inning and 1-4 in extra innings. Despite those numbers, Renteria feels encouraged.
"We fought a pretty good battle there, but we just fell a little short," Renteria said.
Joe Morgan is an associate reporter for MLB.com. This story was not subject to the approval of Major League Baseball or its clubs.