After Teheran dominates, Braves win in 10th
Freeman delivers walk-off single after righty allows one hit over eight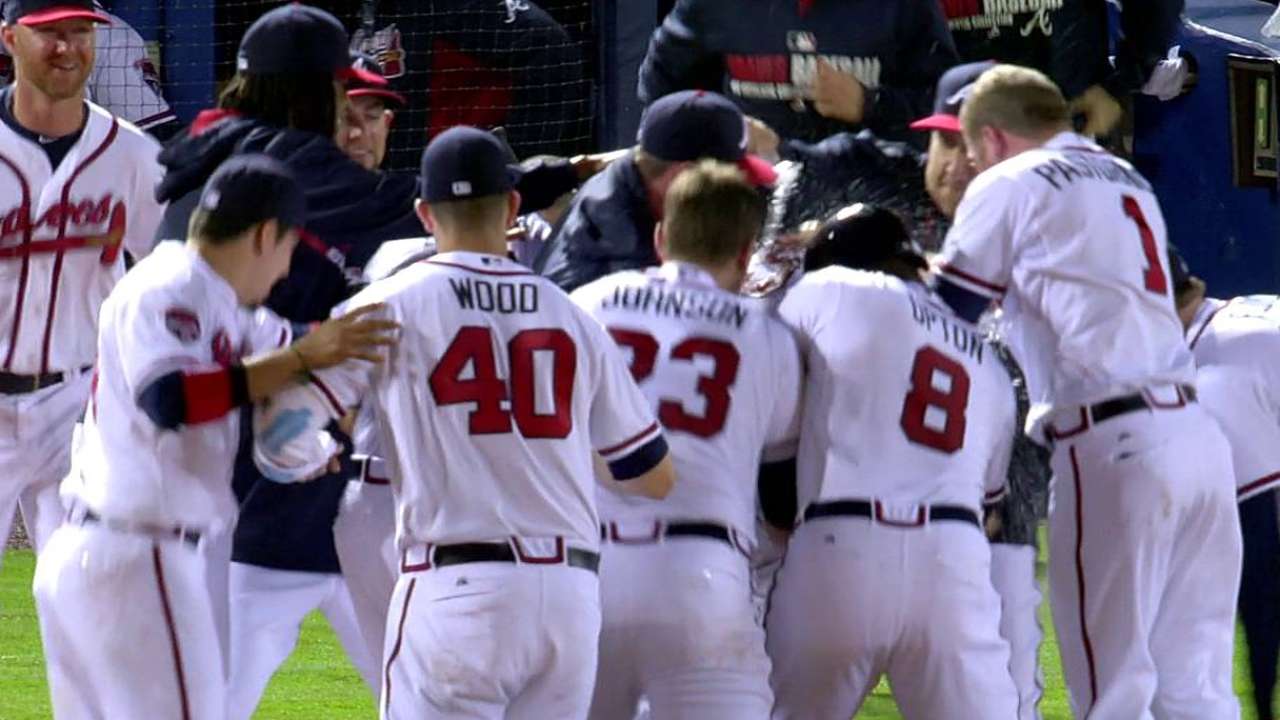 ATLANTA -- Braves manager Fredi Gonzalez believes his offense will eventually awaken with a fury. But for now, he will settle for those recently rare occasions when a couple of clutch hits prove to be enough to support a pitching staff that has continued to impress.
Instead of being able to enjoy his team's ability to erase a ninth-inning deficit against Craig Kimbrel on Friday night, Cubs manager Rick Renteria was forced to exit Turner Field dwelling on his decision to intentionally walk Justin Upton to set up a lefty-lefty matchup against Freddie Freeman.
Freeman stepped to the plate with a little extra motivation and sent the first pitch he saw from Wesley Wright to center field for a single that gave the Braves a chance to celebrate a 3-2, 10-inning win over the Cubs in walk-off fashion.
"It just kind of fires you up, if you're not fired up enough going into an inning to hit a walk-off," Freeman said. "When they intentionally walk somebody to get to you, it definitely lights a fire under your butt."
Freeman's game-ending single preserved the spectacular effort provided by Julio Teheran, who surrendered one hit -- Mike Olt's third-inning leadoff home run -- over eight innings. It also took some of the heat off Kimbrel, who suffered his second blown save when he surrendered a pair of ninth-inning singles.
"It was a good overall win," Freeman said. "We had a great pitching game and we actually scored more runs than they did."
There certainly was some room for levity as the Braves won for just the second time during a span of 10 games, in which they have tallied two runs or less six times. On the way to collecting three-hit performances, Freeman and Chris Johnson combined to produce the three hits the Braves had in six at-bats with runners in scoring position.
That might seem like a trivial stat, if you don't account for the fact that the Braves had batted .139 (10-for-72) with runners in scoring position in the 10 games they had played since last recording three such hits during an April 26 win over the Reds.
"We did a good job of taking advantage of those opportunities that we got tonight," Johnson said.
After Kimbrel allowed Ryan Kalish's game-tying single and then stranded two runners to escape the top of the ninth with the game tied, the only opportunity that truly mattered was the one created by Jason Heyward, who walked to begin the bottom of the 10th and then found great fortune when he successfully stole second base on a pickoff attempt. With first base open, Renteria called for Wright to intentionally walk Upton.
"They felt they had a better matchup with Freeman than they did with Justin Upton," Gonzalez said. "Every night, us managers make those kinds of decisions and they're not easy."
While the lefty-lefty matchup might have seemed like the way to go, Wright has been more successful against right-handed hitters (.236 batting average) than left-handed batters (.270 batting average) since the start of the 2013 season. Also factoring into the equation was the fact that Upton (.333) entered the game with a slightly better batting average than Freeman (.278) against southpaws.
"[The intentional walk] puts a smile on my face," Freeman said. "I don't know if you saw it on TV, but after the second, third and fourth pitches outside, Justin and I were just kind of laughing at each other."
The 10th inning developments certainly brought a smile to the face of Teheran, who retired 18 of the 19 batters he faced after the only hit he surrendered cleared the left-center field wall. The 23-year-old right-hander issued a pair of walks, including one with two outs in the eighth inning.
Solo home runs have accounted for each of the five runs Teheran has allowed over the 39 innings he has completed in his past five starts. The 23-year-old right-hander has become the ace of an Atlanta rotation that has allowed two earned runs or less in 27 of 34 games.
"I felt great," Teheran said. "I was mixing my pitches a little better today. Everything was working pretty well today. There was one mistake I made. After that, I got run support and then I started focusing a little more on the game."
Olt's solo homer gave the Cubs a short-lived lead. Freeman singled with two outs in the bottom half and raced to third when Evan Gattis executed a hit-and run by hitting his second single of the night to left field. After Gattis took second base on a wild pitch, Johnson foiled Cubs starting pitcher Jason Hammel with a two-run single to left field.
Johnson was 2-for-19 with runners in scoring position before he delivered a game-winning eighth inning single in Tuesday's win over the Cardinals. The 29-year-old third baseman has since recorded a hit in each of the four at-bats he has had with a runner on second or third base.
"I feel like I'm getting a little more comfortable and it's coming back," said Johnson, who hit .336 with runners in scoring position last year.
After Hammel limited his damage to those two third-inning runs, the Braves had some fun in the 10th inning, which conjured up memories of April 19, when Mets manager Terry Collins intentionally walked Freeman and then saw Upton follow with what proved to be a decisive three-run home run.
"I don't think you should intentionally walk someone to get to somebody on our team," Freeman said with a smile. "They seem to do well in those situations."
Mark Bowman is a reporter for MLB.com. This story was not subject to the approval of Major League Baseball or its clubs.