Cobb progressing well with simulated games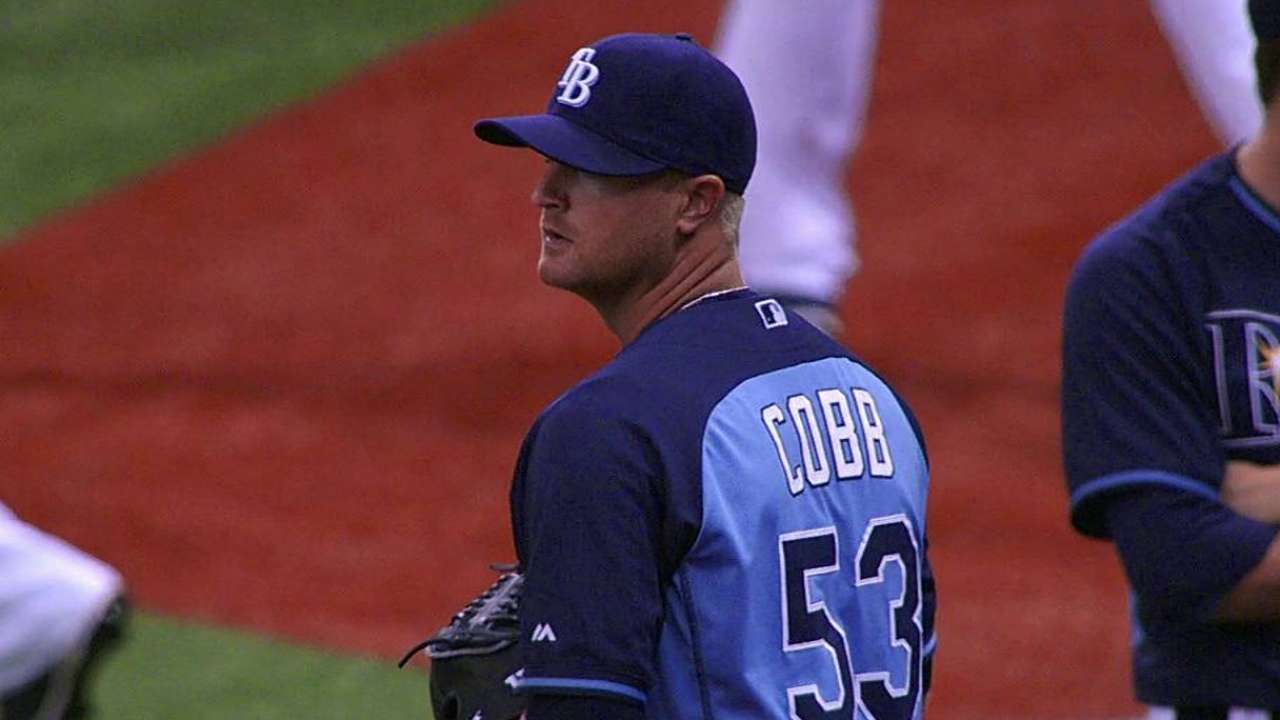 ST. PETERSBURG -- Alex Cobb (left oblique strain) threw a simulated game on Friday afternoon, and everything went well for the Rays' right-hander.
Cobb threw 49 pitches in three innings, and is tentatively scheduled to throw four innings and 60 pitches in another sim game on Monday.
Cobb stressed that Rays head athletic trainer Ron Porterfield has said his schedule is in pencil. In other words, it can fluxuate greatly from day to day.
"Tomorrow's going to be a huge factor in our next step. Assuming everything goes smoothly, we'll be able to go four innings, live BP sim game on Monday," Cobb said.
Cobb, who has not pitched for the Rays since he picked up the win at Cincinnati on April 12, said Friday's step will be his biggest until he makes a rehab start.
"But this is huge because I'm probably going to have one or two more of these [sim games], then a regular game and we'll go from there," Cobb said. "It's as telling a situation as we can put ourselves into to this point. ... Happy with it right now, hopefully tomorrow I'll be even happier that nothing has gone wrong."
When asked if his return could come as early as the end of May, Cobb replied: "Absolutely."
"Nothing is etched in stone," he said. "Everything is going to be determined by how I feel the next day. Right now, assuming that everything is going to go well, I think late May would be a realistic goal."
Cobb even speculated that he might be in line to pitch in a real game following Monday's sim game.
"I think that's a possibility," he said. "Would go probably four simulated innings next time, we went three today, and then a five-inning rehab start. I don't see why that's out of the question. But again, not sure."
Rays manager Joe Maddon watched Cobb's sim game Friday and left impressed.
"Alex has been really good," Maddon said. "Watched his workout the other day. That was impressive. This was impressive today. He's probably ready to get out and get into more of a simulated game and then an actual game. See how he feels tomorrow and then we'll come up with the next part of the plan.
"... He's doing really well right now. It's not late in regards to the amount of time he's been down until now. It's not late. ... I don't think it's going to be a whole longer period for him from now to when you're going to see him in a game for us."
Bill Chastain is a reporter for MLB.com. This story was not subject to the approval of Major League Baseball or its clubs.