Rotation stays hot as Kluber, bats power Tribe
Indians win series opener behind strong pitching, timely offense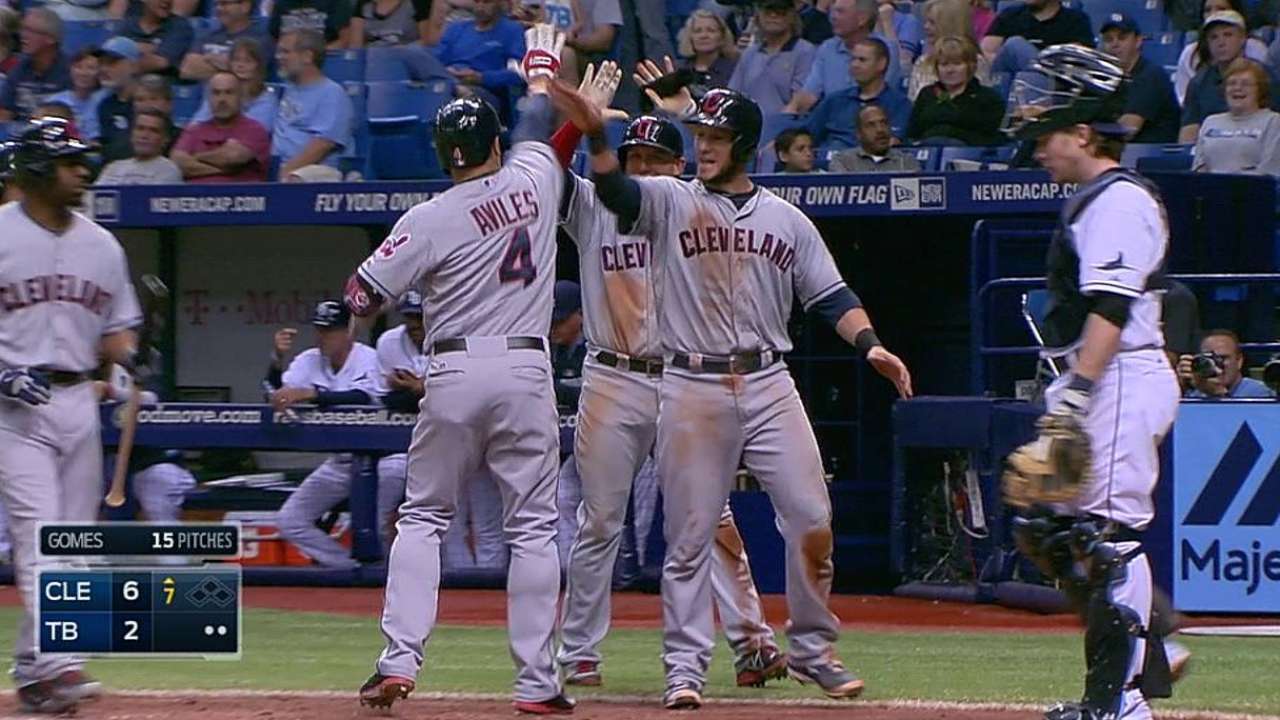 ST. PETERSBURG -- The ghosts of road trips past appeared to be haunting Cleveland once again on Friday night. Corey Kluber was spinning a gem for the Indians, but the offense went missing against Rays right-hander Jake Odorizzi.
Once Odorizzi was out, Cleveland exorcised the road demons.
Led by Kluber's strong effort, and powered once again by the hot-hitting duo of Asdrubal Cabrera and Mike Aviles, the Indians claimed a 6-3 victory over the Rays at Tropicana Field to open this six-game venture away from home. The win was not void of some drama in the ninth, but Cleveland escaped a shaky performance from closer John Axford to pick up its sixth win in eight games.
"The first five innings didn't look like we were in a real good groove," Indians manager Terry Francona said. "I think the best thing we do is we play an entire game. When you keep grinding, you make some things happen. You give yourself a chance to win."
Kluber and Odorizzi were formidable foes for the first five frames, during which Tampa Bay's starter racked up a career-high 11 strikeouts while keeping Cleveland off the scoreboard. The lack of run support from the Tribe magnified Kluber's few early mistakes, which put the Indians in a 2-0 hole heading into the sixth inning.
To that point, the game was reminiscent of Cleveland's last road trip, which consisted of an 0-6 showing through San Francisco and Anaheim.
Tampa Bay had a chance to break things open in the sixth, when Kluber yielded consecutive singles to James Loney and Evan Longoria. The pitcher settled down, settled in and then struck out Wil Myers, Matt Joyce and Brandon Guyer to strand the runners.
"Kluber's good," Rays manager Joe Maddon said. "Sixth inning, punch, punch, punch. You've got Myers and Joyce up who are really good and you kind of like it. That moment went away."
In the first five innings, Cleveland's offense had gone 0-for-8 with runners in scoring position and 1-for-13 with runners on base against Odorizzi. With Tampa Bay's starter sitting at 101 pitches through five, though, Maddon turned to his bullpen in the sixth.
That is when the Indians made their move.
"I think, honestly, us punching out as much as we did," Aviles said, "we were able to run up the pitcher's pitch count. We were able to get him out of there kind of quick."
Cabrera, who came up a triple shy of a cycle in a four-hit showing on Thursday, led off with a home run to right field against Brad Boxberger to slice Tampa Bay's lead to 2-1. In the seventh, Michael Brantley followed suit with a leadoff shot against reliever Joel Peralta, giving the left fielder a team-high seven homers and 30 RBIs on the season.
Later in the inning, Maddon handed the ball to Brandon Gomes with runners on the corners and one out. Indians catcher Yan Gomes promptly deposited a pitch from his surname counterpart into right field for a run-scoring single that gave the Tribe a 3-2 lead. Aviles, who has filled in admirably for injured second baseman Jason Kipnis, later launched a three-run home run to push Cleveland's lead to six runs.
"That was big," Kluber said. "Their starter did a good job. We had some traffic on the bases and he did a good job of kind of making pitches when he needed to and find a way to squeak out of it. Finally, in that seventh inning, we were able to continue to put guys on base, grind out some at-bats and they broke through for some runs."
Cabrera finished the evening with a 3-for-4 showing that gave him nine hits (five extra-base hits) in 11 at-bats. Aviles has hit .520 (13-for-25) since taking over for Kipnis (on the 15-day disabled list with a strained right oblique) on April 29 in Anaheim.
"Obviously, Cabby feels good about himself, and he should," Francona said. "He's swinging the bat and he's worked so hard to get there. He can relax a little bit. He's started to use his hands. Mikey, he always plays the game."
The six-run swing by the Indians allowed Kluber to walk away with a well-deserved victory, which included 6 2/3 innings, nine strikeouts and no walks issued. Over his past four turns, Kluber has posted a 1.91 ERA with 38 strikeouts against six walks in 28 1/3 innings.
"He's pretty much an ace," Aviles said. "You saw it all last year and you see it so far this year. He's one of those guys that, every time he takes the ball, as a player playing behind him and watching him, it's pretty fun. You know he's going to compete pitch to pitch."
In the bottom of the ninth inning, Axford took the mound armed with a four-run cushion and struck out the first two batters he faced. The closer then gave up a double to Logan Forsythe, issued a walk to Ryan Hanigan and allowed an RBI double to David DeJesus, helping Tampa Bay to a run. Axford then walked Ben Zobrist to load the bases.
"I don't want to make excuses," Axford said. "I did lose a little more command, so I don't know if it was maybe a little more fatigue. I've thrown a lot recently and, obviously, you can only throw 25-30 pitches so many times an inning before it starts catching up to you."
At that juncture, Francona turned to the hard-throwing Cody Allen, who slipped into a full count against Loney. Following a pair of hard-hit foul balls, Tampa Bay's first baseman flew out to right field for the game's final out.
No one was more relieved to depart with a victory than Axford.
"Getting out of that with a win is fantastic," he said. "That's what we wanted right there."
Jordan Bastian is a reporter for MLB.com. Read his blog, Major League Bastian, and follow him on Twitter @MLBastian. This story was not subject to the approval of Major League Baseball or its clubs.