Hughes outduels Verlander for fourth straight win
Righty fires seven shutout innings; Suzuki's two-run single snaps tie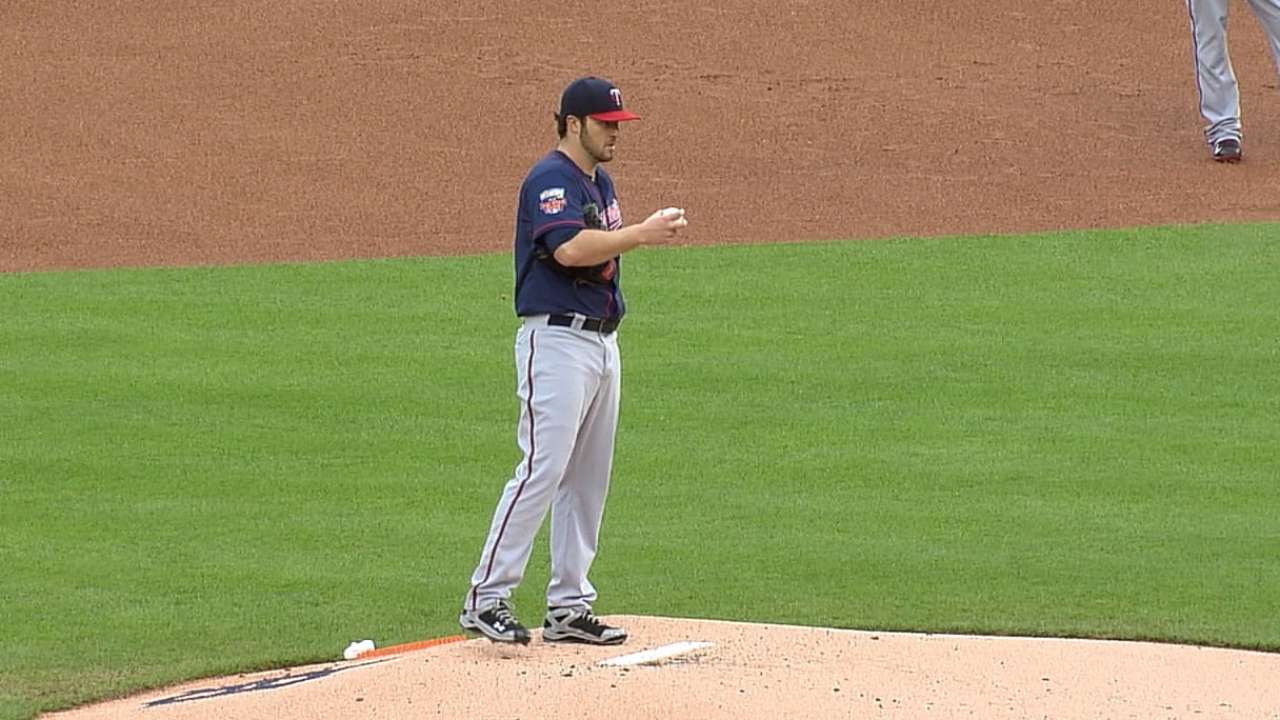 DETROIT -- It had been more than four years since the Twins last beat Justin Verlander.
But Phil Hughes registered his fourth straight quality start with seven scoreless innings, and Kurt Suzuki came through with a clutch two-run single off Verlander in the seventh to lead the Twins to a 2-1 win over the Tigers on Friday night at Comerica Park.
Verlander took his first loss against Minnesota since April 27, 2010. He entered 9-0 with three no-decisions buoyed by a 2.09 ERA over his previous 12 starts against the Twins dating to July 9, 2000.
"Coming into the series, you want to set the tone and you know you're facing a guy who is a dominant pitcher, so you want to throw up some zeros and give your team a chance," Hughes said. "I feel like I was able to do that tonight. And Suzuki came up with the big hit so there was no letdown tonight, especially with [Max] Scherzer going tomorrow. Hopefully this gets us on a little bit of a roll."
Verlander was solid -- giving up just two runs on seven hits over seven innings -- but was outdueled by Hughes, who tossed seven scoreless frames to pick up his fourth straight victory. Hughes had a 7.20 ERA through his first three starts, but after four consecutive quality starts with a 2.05 ERA over that span, it now stands at 3.92.
Hughes said the key has been being aggressive with his fastball and cutter, which was again the case against the Tigers, as he mixed in just two curveballs on the night.
"Phil had it all under control," Tigers right fielder Torii Hunter said. "He threw strikes early in the game and kept us off-balance with the cutter he has. He had an explosive fastball. We just couldn't really do anything with it today. I think he hit his spots, threw strikes. We couldn't find a rhythm."
Hughes was helped by a key hit from Suzuki, who laced a two-run single back up the middle with two outs and the bases loaded in the seventh against Verlander. Suzuki improved to .412 (7-for-17) with runners in scoring position and two outs this season, and has 24 RBIs to lead all Major League catchers.
"I was really just trying to get a good pitch to hit," Suzuki said. "I really wanted to cash in because we had some opportunities earlier, and especially against a guy like Verlander. I just wanted to get a pitch I could get the barrel on and hit hard somewhere."
The Twins had failed to cash in against Verlander in earlier opportunities, including in the second, when Jason Kubel and Eduardo Nunez singled with one out. But Chris Parmelee, in his first at-bat of the season, popped out to shortstop before Aaron Hicks struck out looking in his first at-bat since being activated from the seven-day concussion list.
Minnesota put two runners on again in the third after back-to-back singles from Brian Dozier and Suzuki, but Trevor Plouffe lined out to third on a nice play from Nick Castellanos before Chris Colabello grounded out to end the inning.
The Tigers also had trouble with runners in scoring position, going 1-for-9. But Hughes was mostly in control, as he scattered eight hits -- seven singles -- without a walk.
Hughes departed after seven innings despite throwing just 86 pitches, and was replaced by Casey Fien, who threw a perfect eighth inning in relief. Hughes said he told pitching coach Rick Anderson that he felt like he was running out of gas and catcher Suzuki agreed, so the Twins opted to go with Fien for the eighth.
"Every pitcher has a certain amount of pride, but in the seventh I felt like my stuff was deteriorating," Hughes said. "Up 2-0, with the meat of the order coming up and they've had some success against me in the past, you don't want to give the game away because you're being prideful."
Closer Glen Perkins picked up his ninth save despite giving up a run on a one-out double to Alex Avila off the glove of Kubel in left field in the ninth to preserve the victory for the Twins, who snapped a three-game losing streak. Perkins struck out Rajai Davis to end the game and leave the potential tying run at second base.
"It was a nice win for us," manager Ron Gardenhire said. "Casey had a nice inning and Perk had an interesting one. We shouldn't have let that ball over our heads. We were playing no doubles. But we hung on and Perk made the pitch when he had to."
Rhett Bollinger is a reporter for MLB.com. Read his blog, Bollinger Beat, and follow him on Twitter @RhettBollinger. This story was not subject to the approval of Major League Baseball or its clubs.