Tigers can't pick up Verlander in loss to Twins
Right-hander fires seven strong innings, yields two-run single in 7th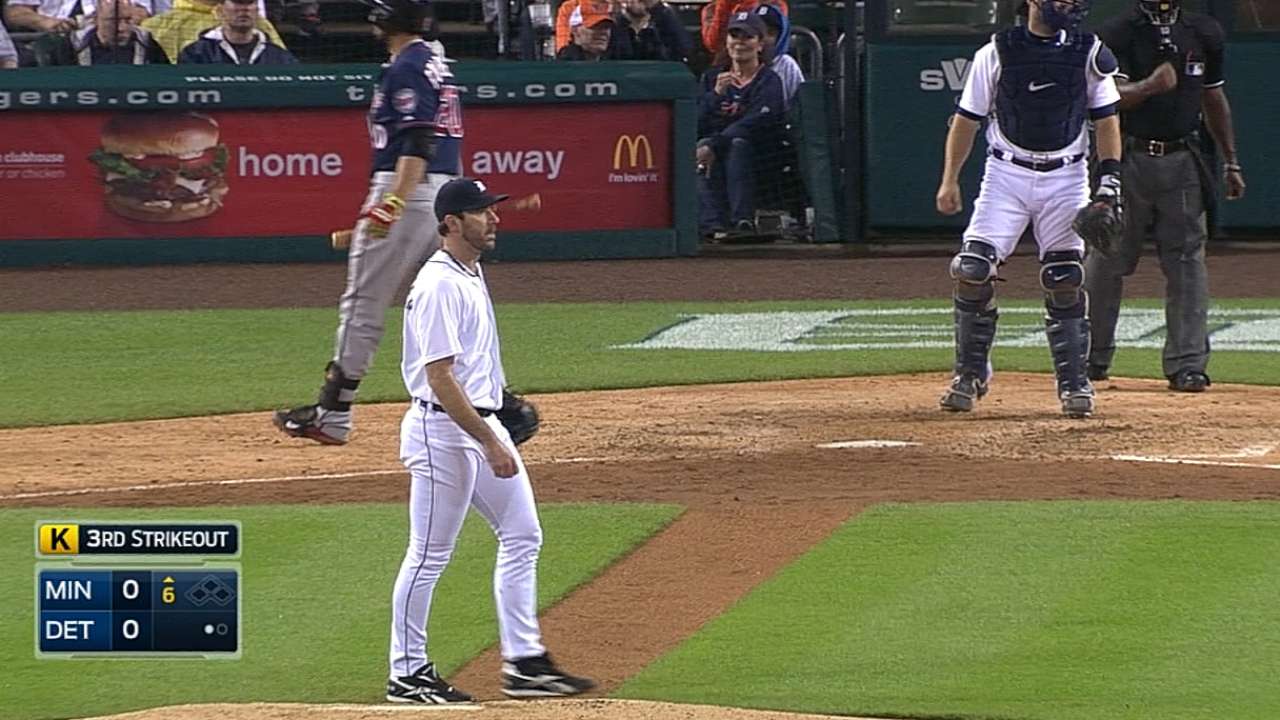 DETROIT -- Justin Verlander blinked first as Twins starter Phil Hughes brought the heat in Minnesota's 2-1 win over Detroit on Friday night in the series opener at Comerica Park.
"He was pounding the zone," catcher Alex Avila said of Hughes, who earned his fourth straight victory. "He had great stuff today as far as the command of his fastball. It was like invisible."
Tigers manager Brad Ausmus estimated that 95 percent of Hughes' 86 pitches were either four-seam fastballs or cutters with only "a handful" of curveballs sprinkled in. Hughes, a 2010 All-Star, lasted seven innings in his second win against Detroit in as many tries this season. He also beat the Tigers on April 26 at Target Field.
Even though the Tigers knew Hughes wouldn't throw much of anything offspeed, they still couldn't catch up. The eight hits Hughes surrendered were mostly harmless. In five innings, including the ninth, Detroit left a man in scoring position.
"Phil had it all under control," Torii Hunter said. "He threw strikes early in the game and kept us off-balance with the cutter he has. He had an explosive fastball. We just couldn't really do anything with it today. I think he hit his spots, threw strikes. We couldn't find a rhythm."
Avila said Hughes' cutter has overhauled his repertoire. Hughes is no stranger to the Tigers lineup, and his offspeed stuff that they had seen before wasn't there tonight.
"He just spotted up with both those pitches today," Avila said of the fastball and cutter. "That was the best command that I've ever seen him throw."
Hughes even managed to overshadow Verlander on a night when the Tigers' ace was his usual, dominant self. The right-hander was handed his first loss against the Twins since April 27, 2010, and entered 9-0 with three no-decisions and a 2.09 ERA over his previous 12 starts against them dating to July 9, 2000.
"Coming into the series, you want to set the tone, and you know you're facing a guy who is a dominant pitcher, so you want to throw up some zeros and give your team a chance," Hughes said. "I feel like I was able to do that tonight."
The game was scoreless heading into the seventh inning, when Verlander ran into the trouble that eventually snapped his five-game unbeaten streak.
Kurt Suzuki connected for a two-run single with two outs which turned out to be all the support Hughes needed to continue his personal win streak. Avila noted one of Verlander's few mistakes was the first-pitch changeup he threw to Danny Santana, who singled and scored on Suzuki's hit.
"He pitched well," Ausmus said. "It's tough to hold a team to zeros forever. He did more than give us a chance to win."
That chance finally came in the ninth.
Austin Jackson led off with a double down the third-base line for the Tigers' first extra-base hit of the night. Before Jackson's hit, Twins pitchers had retired eight consecutive batters.
Avila's double to left that bounced off the glove of a leaping Jason Kubel scored Jackson. But Avila, the potential tying run, was stranded at second as Twins closer Glen Perkins retired J.D. Martinez and Rajai Davis to end the game.
"Until the last inning, it didn't seem like we were able to string a few hits together," Ausmus said. "We'd get one or two, but we couldn't get a third."
A day after having their eight-game winning streak snapped by the Astros, the Tigers' offense was dormant for the second consecutive game.
A big reason why Verlander managed to keep Minnesota scoreless through six innings was the glove of third baseman Nick Castellanos. The 22-year-old kept busy all night as Verlander mostly kept the ball down, inducing grounders.
The Twins knocked back-to-back singles in the third, and Trevor Plouffe followed by smoking one that appeared to be headed for the left-field corner.
Castellanos had other ideas.
The third baseman leapt up and came down with the ball in the webbing of his glove, saving at least one run. Castellanos then fielded Chris Colabello's grounder and fired to first to end the inning.
"He's been very solid at third base for us," Ausmus said.
Later, in the fifth, it appeared that the Tigers were in business when Ian Kinsler and Hunter singled in consecutive at-bats. But Hughes got Miguel Cabrera to fly out to center on the first pitch, ending the threat.
Like the fire alarm that briefly disrupted play in the ninth inning, the back-to-back losses are nothing to worry about, according to Hunter. The small mechanical fire in a janitor's closet that triggered the interruption was taken care of. In Hunter's estimation, the Tigers' struggles at the plate will be, too.
"You think about it tonight, and come back with amnesia tomorrow," Hunter said.
Matt Slovin is an associate reporter for MLB.com. This story was not subject to the approval of Major League Baseball or its clubs.