Padres stung in 11th after Kennedy shines early
Right-hander retires first 14 faced, fans 12, belts first career HR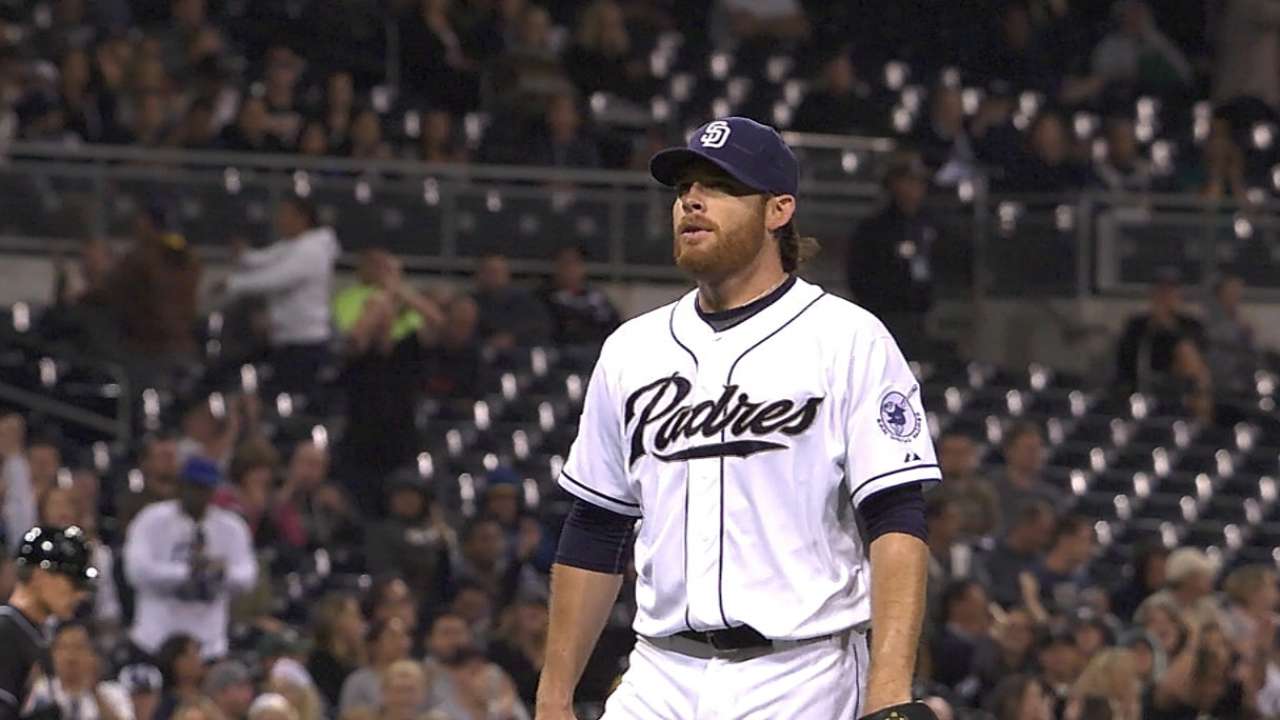 SAN DIEGO -- It wasn't just Giancarlo Stanton who sunk the Padres on Thursday night with his 412-foot missile of a home run in the 11th inning that kicked up sand out beyond the center-field fence at Petco Park.
"Not many guys can put the ball where he did with that pitch," Padres manager Bud Black said.
It wasn't just an error by second baseman Jedd Gyorko on the play before the Stanton home run, as he botched an easy ground ball that extended an inning that already had two outs.
And to be sure, you couldn't pin the Padres' 3-1 loss to the Marlins solely on a lack of offense, which on this night amounted to one run -- and that came on a home run from the pitcher.
When you're in a funk, and the Padres -- who have dropped seven of the last nine -- certainly are, it's often more than one thing that proves to be the culprit. That was certainly the case Thursday.
Despite a seven-inning gem from starting pitcher Ian Kennedy, who tied a career high with 12 strikeouts, the Padres (15-21) fell to the Marlins (20-15) in the first game of a four-game series -- with Marlins ace Jose Fernandez lurking in the wings Friday for Miami.
The Padres managed seven hits, including Kennedy's first professional home run, a 400-foot bomb hit beyond the wall in left field in the second inning. It was, Kennedy insisted, his first home run since high school.
It was also the extent of the Padres' offense, even though they had at least one hit in seven of the first eight innings.
They had runners on first and second with one out in the first inning and didn't score. In the third, Everth Cabrera had a leadoff double and made it to third base with one out but never advanced home. There was a single by Cameron Maybin to begin the fourth, though he was erased on a double play.
All told, the Padres were 0-for-8 with runners in scoring position.
The Marlins weren't much better, though Kennedy had a lot to do with that. He ran through the first 14 batters.
"All of his pitches were on point," Stanton said.
The first hit Kennedy allowed was a two-out double to Garrett Jones in the fifth inning. The lone run he allowed came in the sixth inning on a two-out RBI single by Derek Dietrich.
"What a game," Black said. "He set a great tone. A lot of fastballs, he turned it loose and hit his spots. He had a good hook [curveball], good change ... three good pitches."
Kennedy's fastball had late life and his curveball -- a knuckle-curve -- might have been the best it's been this season, as he accumulated strikeouts in bunches.
"I felt really good with my curveball," Kennedy said. "I threw it down [in the zone] for strikes and got swings and misses. I got ahead of guys. It was a fun night to pitch."
And a fun night to hit, though just for him and with just one swing.
"At least I finally got one," Kennedy said of the home run.
Stanton certainly got all of his, though he might not have had a chance had Gyorko fielded a ground ball hit by Dietrich cleanly in the 11th inning with two outs.
"I just dropped it," Gyorko said. "It's an easy play, one that has to be made every time. It's unacceptable. It's going to be tough to swallow."
San Diego relief pitcher Dale Thayer (2-1) got ahead of Stanton with two quick strikes. Catcher Yasmani Grandal set up just off the outside corner for the next offering, a two-seam fastball that looked like a ball, even if it inched its way to the outer third of the plate.
It made no difference, as Stanton extended his arms and sent it on a line -- the ball didn't appear to get more than 25 feet off the ground -- over the fence for the lead.
"It probably was the best pitch he threw. It was right on the spot. I guarantee you there's not another player in the league that could put that out there," Grandal said.
A.J. Ramos (3-0) got the victory in relief for the Marlins, as he tossed hitless ninth and 10th innings. Closer Steve Cishek got the save, his seventh, by setting the Padres down in order.
Corey Brock is a reporter for MLB.com. Keep track of @FollowThePadres on Twitter. This story was not subject to the approval of Major League Baseball or its clubs.