Iwakuma's stellar outing blanks Royals in opener
Righty gives Mariners first shutout of season with eight-inning gem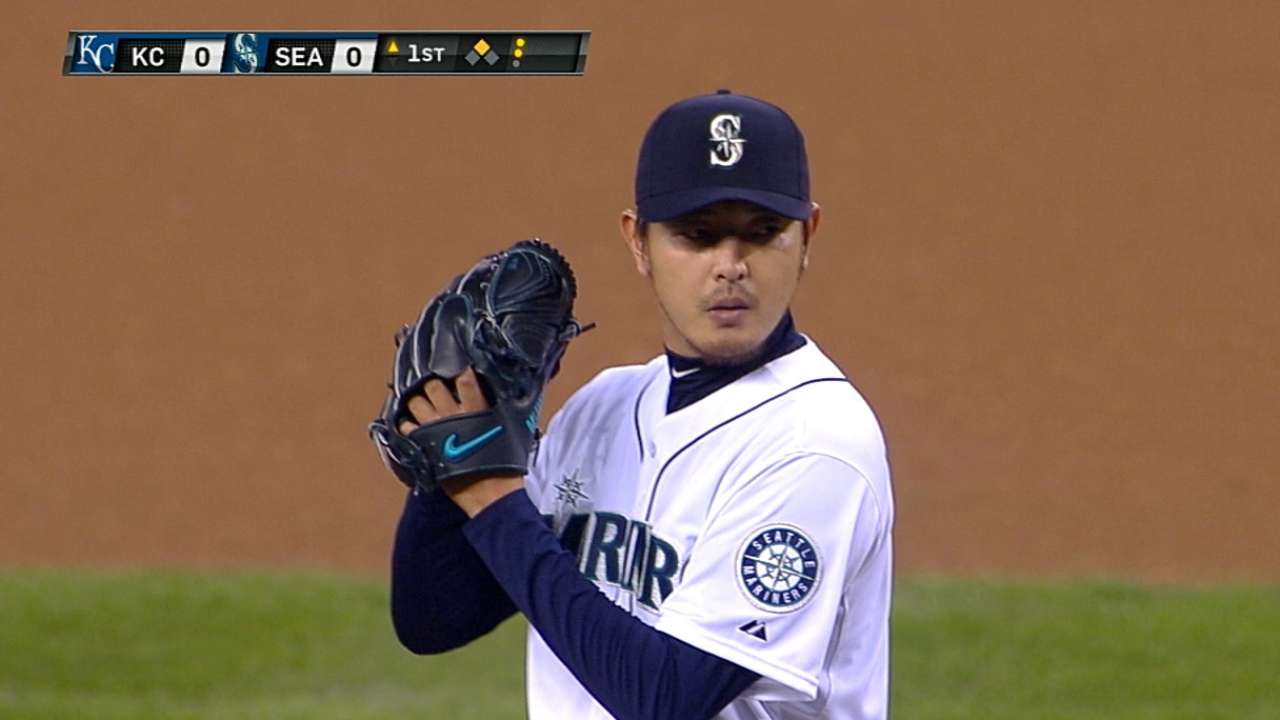 SEATTLE -- For the first month of the season, Mariners manager Lloyd McClendon waited patiently for the chance to slot All-Star right-hander Hisashi Iwakuma into his rotation behind ace Felix Hernandez.
Thus on Thursday, the new skipper was all smiles after the former Japanese standout threw eight scoreless innings in his second start of the season as the surging Mariners topped the Royals, 1-0, in the opener of a seven-game homestand at Safeco Field.
"When you have a legit No. 1 and a legit No. 2, it gives you a sense of who you are and slides everybody else back down to where they need to be," McClendon said. "It's like an electric warming blanket. You feel good when it's on and I feel good when they're out there."
The Mariners managed just two hits all night, but that proved to be enough on a night Iwakuma scattered four singles with no walks before telling McClendon he'd gone as far as he could at 93 pitches.
Designated hitter Corey Hart delivered the game's lone tally with his RBI single in the third, but acknowledged this win fell squarely on Iwakuma's shoulders as the right-hander improved to 2-0 with a 2.45 ERA after missing all spring and the first month of the season with a torn tendon in his right middle finger.
"I'll take any hit I get right now," said Hart, who is batting .220 in his first season with Seattle. "But the offense didn't win that game. Kuma was obviously dominant. Any time your pitcher throws like that, you try to scrap any run you can get across. And one was enough. A guy throws like that, you hate to lose."
Iwakuma didn't allow a runner past first base after stranding Eric Hosmer at second in the opening frame. He finished with seven strikeouts and no walks before Fernando Rodney closed things out with his 10th save despite walking two in the ninth.
"Today was very close to 100 percent," Iwakuma said through translator Antony Suzuki. "As the game got deeper I was able to command all of my pitches, and all of my pitches were working really well."
Catcher Mike Zunino said Iwakuma looked like the guy who went 14-6 with a 2.66 ERA in 33 starts for the Mariners last year and finished third in the American League Cy Young voting.
"I know he only had one [previous] start, but it's the closest thing I've seen him to last year as you can get," said Zunino. "The splitter was great today and so was his slider."
Iwakuma has started twice now against the Royals in his three years with the Mariners and is yet to allow a run in 16 innings. He's thrown 48 2/3 straight shutout innings against AL Central foes, the second-longest streak by any pitcher against one division since 1974, with Orel Hershiser having tossed 55 straight scoreless innings against the National League West in 1988.
The Mariners needed all of that to top Kansas City on a night when their only two hits came in the third. Hart's RBI single up the middle accounted for the game-winner after Royals lefty Danny Duffy had intentionally walked Robinson Cano.
Zunino led off the frame with a double off the base of the wall in left-center, then was sacrificed to third by Michael Saunders and scored on Hart's two-out base hit.
Hart took extra delight in delivering after the strategy of Royals skipper Ned Yost, who managed him with the Brewers in his first five years in the Majors from 2004-08.
Hart has had hitters intentionally walked in front of him before, but rarely when a left-handed pitcher like Duffy puts on a left-hander to face him from the right side.
"I've played with Prince [Fielder] and [Ryan] Braun and those guys and it happens," he said of the free pass in front of him. "I was kind of surprised with a lefty, but I gave him a little point into the dugout after I got the hit because I played with those guys, so that was fun. I liked the RBI, but I like doing it against old managers. I had a little extra motivation."
Of Hart's 14 RBIs on the season, five have given Seattle a lead, second most on the team behind Cano's six.
"Cano's hitting .340 over his last 16 games, he's got five game-winning RBIs and I think he's one of the top hitters in the American League," Yost said. "You take your chances with Corey Hart, even though he's a good hitter, too. It didn't work."
Cano has been walked intentionally six times, third in the AL behind Fielder (10) and Victor Martinez (seven).
The Mariners have gone 11-3 since snapping an eight-game losing streak on April 23, pulling themselves back into contention in the AL West with an 18-16 record, a game and a half back of first-place Oakland.
"Our guys are grinders," McClendon said. "I think they've proven they know how to get back up off the mat. This has been a tough month and a half for us in a lot of different ways. But I think when it's all said and done, maybe we're not as bad as people thought we were going to be."
The win was Seattle's first shutout of the year and their first 1-0 victory since 2012. It was just the eighth time in franchise history the Mariners have won a game with two hits or less.
Greg Johns is a reporter for MLB.com. Follow him on Twitter @GregJohnsMLB as well as his Mariners Musings blog. This story was not subject to the approval of Major League Baseball or its clubs.