Giants' LA run continues with extra-inning win
SF earns sixth victory in last seven games at Dodger Stadium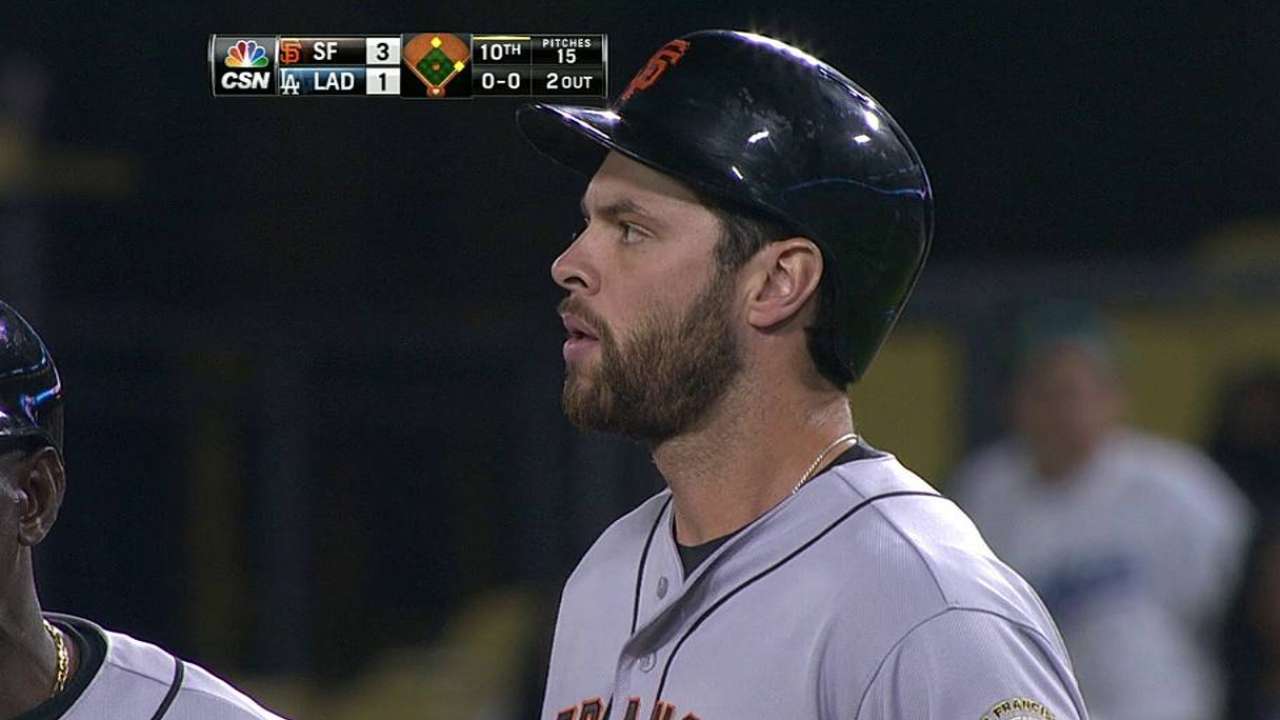 LOS ANGELES -- For a manager who had endured an extra-inning contest, Bruce Bochy seemed oddly calm. Then again, he had reason to feel content after his Giants responded to every challenge in Thursday night's 3-1, 10-inning decision over the Los Angeles Dodgers.
The Giants' offense was meager yet timely. They scored twice in the 10th, breaking a 1-1 tie on Hector Sanchez's bases-loaded sacrifice fly. Brandon Belt added an RBI single. Earlier, the Giants appeared destined for a shutout defeat until Brandon Hicks homered in the seventh inning.
Starter Ryan Vogelsong continued his recent resurgence by lasting a season-high 7 1/3 innings and allowing five hits, all singles. A trio of relievers held Los Angeles hitless for 2 2/3 innings, with Santiago Casilla (1-0) earning the decision and Sergio Romo recording his 11th save in as many chances. San Francisco's bullpen has held opponents scoreless in seven of its last eight games.
Shortstop Brandon Crawford provided a week's supply of fielding highlights in one evening. He supported Vogelsong by starting double plays in the sixth and seventh innings and made diving stops to rob Adrian Gonzalez and Hanley Ramirez of hits in the fourth and ninth innings, respectively.
No wonder Bochy said, "I enjoyed watching this game," as if he had viewed the three-hour, 47-minute exercise from a seat in the grandstand.
The Giants reminded the actual spectators that most extra-inning games end in the 10th.
Angel Pagan began the Giants' uprising by drawing a walk from reliever J.P. Howell. Dodgers manager Don Mattingly replaced the left-handed Howell with right-hander Jamey Wright, since right-handed batters Hunter Pence and Buster Posey were due up. But Wright walked them both, loading the bases.
Pinch-hitting for Casilla, Sanchez, whose 11th-inning grand slam won an April 23 game at Colorado, scored Pagan by hoisting Wright's second pitch to the right-field warning track. Brandon Belt's subsequent single sent home Pence.
Bochy credited Sanchez for remaining aggressive despite Wright's loss of control. "A lot of hitters would say, 'I'll take here,' because [Wright] was having trouble throwing strikes," Bochy said.
But Sanchez, having faced a similar situation a little more than two weeks ago, wanted a repeat.
"Uh, yeah," he replied when asked if memories of Colorado crossed his mind. "I had to be ready for that pitch in that situation. If he throws something close, I have to hit it."
The Giants wouldn't have reached the 10th without Hicks. Interrupting a 4-for-30 slump, which included strikeouts in his first two at-bats against Beckett, Hicks connected with Josh Beckett's 1-0 pitch and drove it a few feet beyond the 360-foot marker in left field for his sixth homer of the year. That figure doubled Hicks' career Major League home run total entering this season.
Hicks is batting .200 with 33 strikeouts in 85 at-bats. He also sports a .459 slugging percentage.
"I'm not all that big on batting average," Bochy said. "That's way overrated. It's on-base percentage and slugging. Sometimes you want to give up a little bit to do some damage. That's [Hicks'] style."
Had the Giants lost, Vogelsong's performance would have softened the blow. In his last three starts, he has surrendered two earned runs in 20 1/3 innings. That's a 0.89 ERA, compared to 7.71 before that span.
Management's decision to retain Vogelsong, who was allowed to slip into the free-agent market, is looking more and more shrewd. Though the right-hander couldn't be blamed for fueling his determination with a defiant attitude, he insisted that he's trying to channel positive energy.
"A lot of my focus right now is not proving people wrong, but proving the people right that believe in me," Vogelsong said. "I know that there's certain people that had a big say in me coming back this year, and I know it was up in the air for a while. There were some people who wanted me back here and some that didn't. So I'm just trying to reward the people that wanted me back and prove them right."
Crawford has had his share of doubters since he committed 12 errors in his first 59 games in 2012. He's currently silencing skeptics almost daily. Bochy called his effort "spectacular," adding, "It's amazing to see how quickly he gets up and throws the ball. And he's accurate."
The soft-spoken Crawford credited the pitching staff for inducing more grounders. "I've just been getting opportunities to make plays. I think that's what it comes down to," he said.
The Giants christened the four-game series against their archrivals with their sixth victory in their last seven games at Dodger Stadium. They also clinched no worse than a .500 record on their three-city, 10-game trip, improving to 5-2 on their sojourn.
Chris Haft is a reporter for MLB.com. Read his blog, Haft-Baked Ideas, and follow him on Twitter at @sfgiantsbeat. This story was not subject to the approval of Major League Baseball or its clubs.