Dodgers miss chance to get right behind Beckett
Bullpen walks three Giants in 10th for fourth loss in five games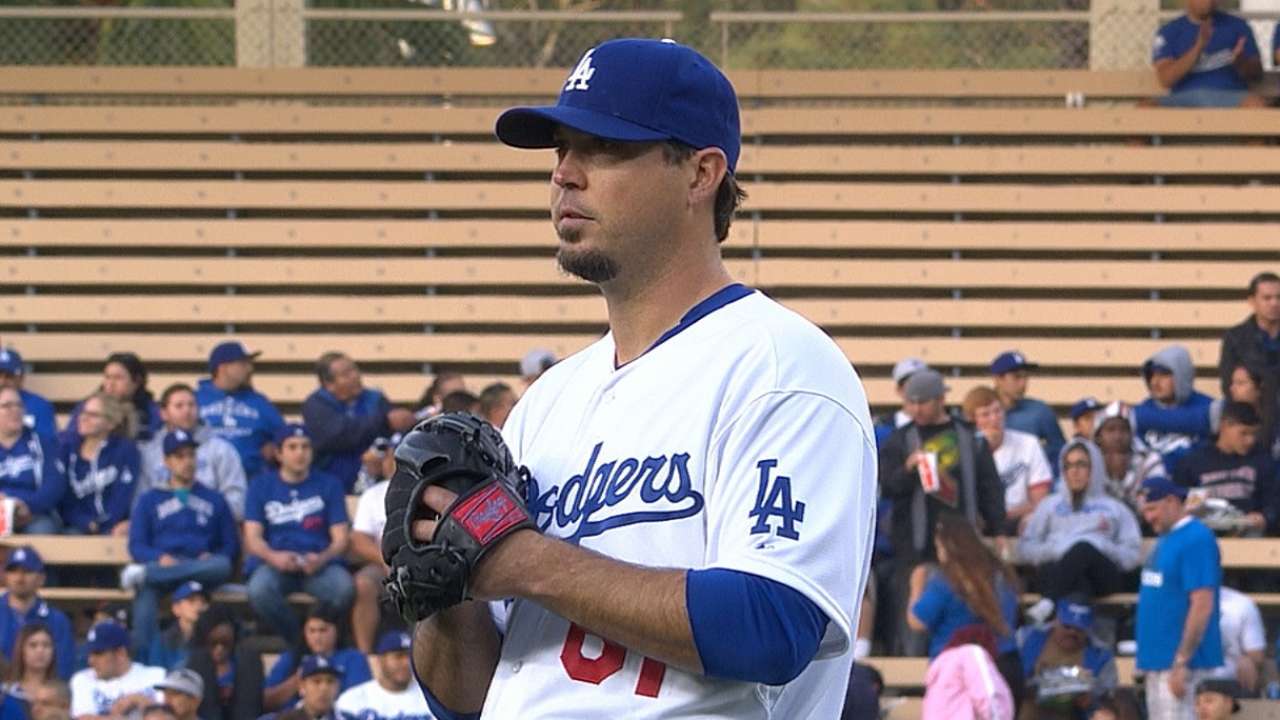 LOS ANGELES -- What little Don Mattingly would reveal about his pregame team meeting Thursday implied that the Dodgers needed to improve their game to "establish that we can play with" the first-place Giants, who arrived for a four-game series.
They did for nine innings in the opener, only to lose in the 10th, 3-1, after veteran relievers J.P. Howell and Jamey Wright walked three consecutive batters. Hector Sanchez's sacrifice fly broke the tie and Brandon Belt's broken-bat single provided the National League West leaders with an insurance run.
"Felt like we had the right guys," said Mattingly. "You walk three guys in an inning, it's hard to keep them from scoring."
The Dodgers also lost third baseman Juan Uribe, at least for the crucial final innings of this game, with mild right hamstring soreness sustained while grounding into a double play in the seventh inning. Uribe has played in 35 of the Dodgers' 36 games and is hitting .306 with four homers and 17 RBIs.
"Not sure," Mattingly said when asked the severity of Uribe's injury. "Obviously, enough to get him out of there. We'll know a lot more tomorrow."
This was the Dodgers' Major League-leading ninth extra-inning game of the year and third in the last eight games. They are 3-6 in overtime. And Dodgers relievers have been charged with 10 of the team's 17 losses. The Dodgers are 2-5 against San Francisco this year and 6-10 overall at home on the season.
The Dodgers played error-free ball behind starter Josh Beckett, scoring off Ryan Vogelsong on Drew Butera's sacrifice fly in the fifth inning. The Giants got their run off Beckett on Brandon Hicks' one-out homer in the seventh.
Once again, Beckett pitched well, allowing one run on five hits in 6 2/3 innings, and once again he came away without a win, running his string of consecutive winless starts to 14, dating back nearly 20 months.
"It's encouraging for us that, [except for] one pitch, he was just about flawless," Mattingly said. "He's shown he's still got enough fastball to keep hitters honest. He kept a good-hitting ballclub at bay. It's disappointing we can't get him a win. He's pitched well pretty much every time out. He can only do so much."
The Dodgers' first hit off Vogelsong came with one out in the bottom of the fourth and was credited to Puig. He sent a sharp two-hopper that Brandon Crawford played from the side. The ball bounced off his glove and into left-center field but was ruled a hit. But that was about the only ball that eluded the Giants' shortstop.
Running on a 3-2 pitch, Puig was safe at second when Hanley Ramirez grounded to Crawford. Adrian Gonzalez then sent a grounder up the middle, but that's where the Giants had shifted Crawford, and he threw out Gonzalez to end the inning.
Vogelson led off the fifth with a double far over the head of a shallow left fielder Carl Crawford. But the maligned Dodgers' defense came to Beckett's aid. Gonzalez robbed Pagan of a hit, Uribe did the same to Pence and Posey ended the inning grounding out to Uribe.
The Dodgers got a clean hit off Vogelsong in the fifth, and it led to a run. Matt Kemp opened the inning with a line single to right and Crawford walked. Uribe flied out to right, Kemp tagging to third. He scored on Butera's sacrifice fly to center.
The Dodgers had a shot to tack on runs in the sixth inning when Dee Gordon lined a single to left, took second with his 21st steal and Puig walked. But after Ramirez flied to right, Gordon tagging to third, Gonzalez hit another sharp one-hopper, this time the Giants' Crawford turning it into a double play.
"Crawford's play at shortstop was spectacular," said Giants manager Bruce Bochy. "He put on a show."
An added run would have come in handy, as Beckett hung a curveball to Hicks with one out in the seventh and Hicks cleared the left-field fence for his sixth home run.
"If I don't make that pitch," said Beckett, "maybe the outcome is different."
With two out, Pagan flared a double over third base and Mattingly brought on Chris Withrow, who got Pence on a sinking liner that Puig ran down to end the inning.
The Giants ran out of an opportunity in the eighth when Posey, after walking leading off against Chris Withrow, tried to steal second base with two outs and was gunned down by Butera as Ramirez tagged the trail foot. Withrow has allowed only three hits while striking out 24 in 17 innings this year.
Ken Gurnick is a reporter for MLB.com. This story was not subject to the approval of Major League Baseball or its clubs.