Renteria telling offense to remain patient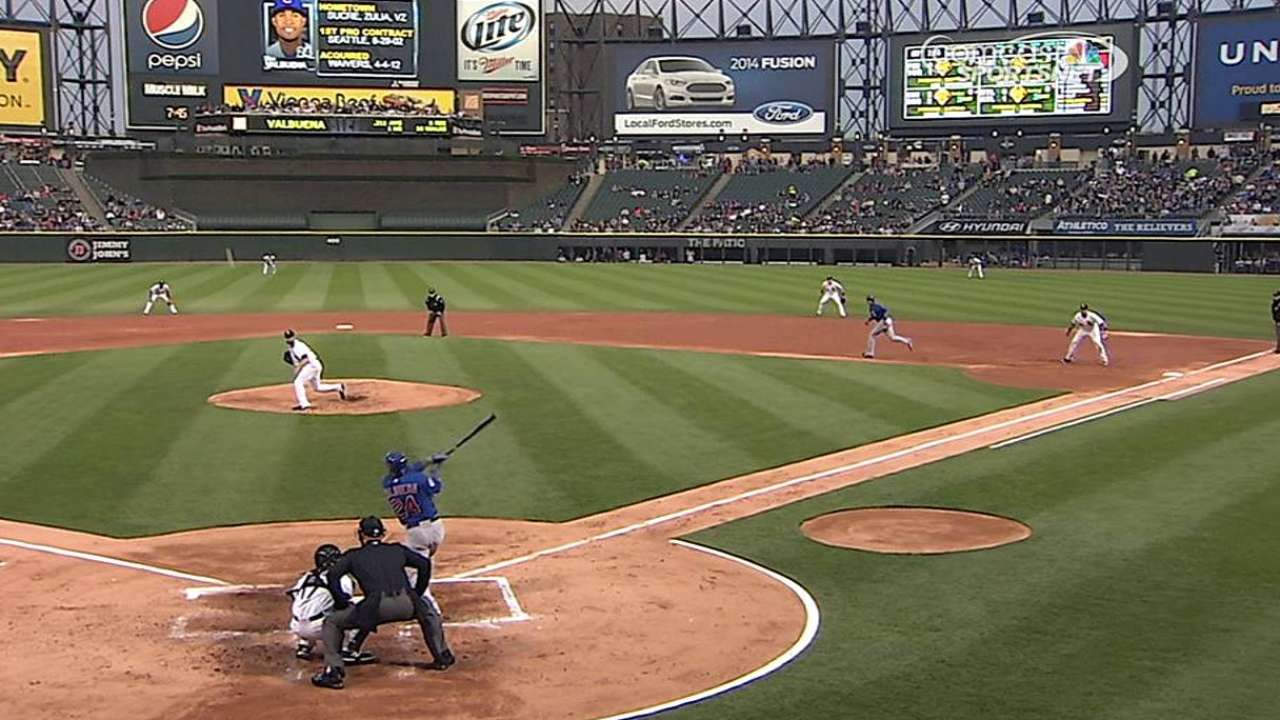 CHICAGO -- The Cubs' offense scuffled in the first three games against the White Sox, totaling four hits in each of the games, all losses. In the series finale on Thursday, Ryan Kalish and Luis Valbuena were inserted at the top of the lineup to try to get things going.
"Those are obviously important pieces," manager Rick Renteria said of his Nos. 1-2 hitters. "The reality is we have to keep the line moving. One of the things we're trying to do is make sure guys don't put too much pressure on themselves. If one guy is not getting a pitch to hit, then let the next guy get it done."
The Cubs entered Thursday's game ranked 13th in batting average in the National League, and hitting just .195 with runners in scoring position. Renteria said he's hoping players don't try to do too much to turn things around.
"Right now, they've hit a little valley -- 'Don't panic,'" Renteria said of his message to the players. "Do what you can, grind out at-bats, and put a nice line together and see what we can do with that.'"
Some of the players are still developing, he said.
"The biggest thing I can bring to this picture, quite frankly, is patience," Renteria said. "They need to know that we know they have a skill set that will work. We believe that, we believe that there's a process in which they're adjusting and learning maybe new concepts or reaffirming concepts they've heard in the past.
"We're trying to see if we can see some consistency with all the work they're doing with [the hitting coaches]," he said. "The other thing is let them know we're confident in them and hopefully that confidence translates into them being comfortable and going out and playing the game the way they want to."
Renteria's patience paid off Thursday with a 12-5 victory, in which the Cubs banged out 15 hits, including a double, two triples and three home runs.
Carrie Muskat is a reporter for MLB.com. She writes a blog, Muskat Ramblings, and you can follow her on Twitter @CarrieMuskat. Teddy Cahill is a reporter for MLB.com. Follow him on Twitter at @tedcahill. This story was not subject to the approval of Major League Baseball or its clubs.