Sale to throw Saturday; Eaton's progress uncertain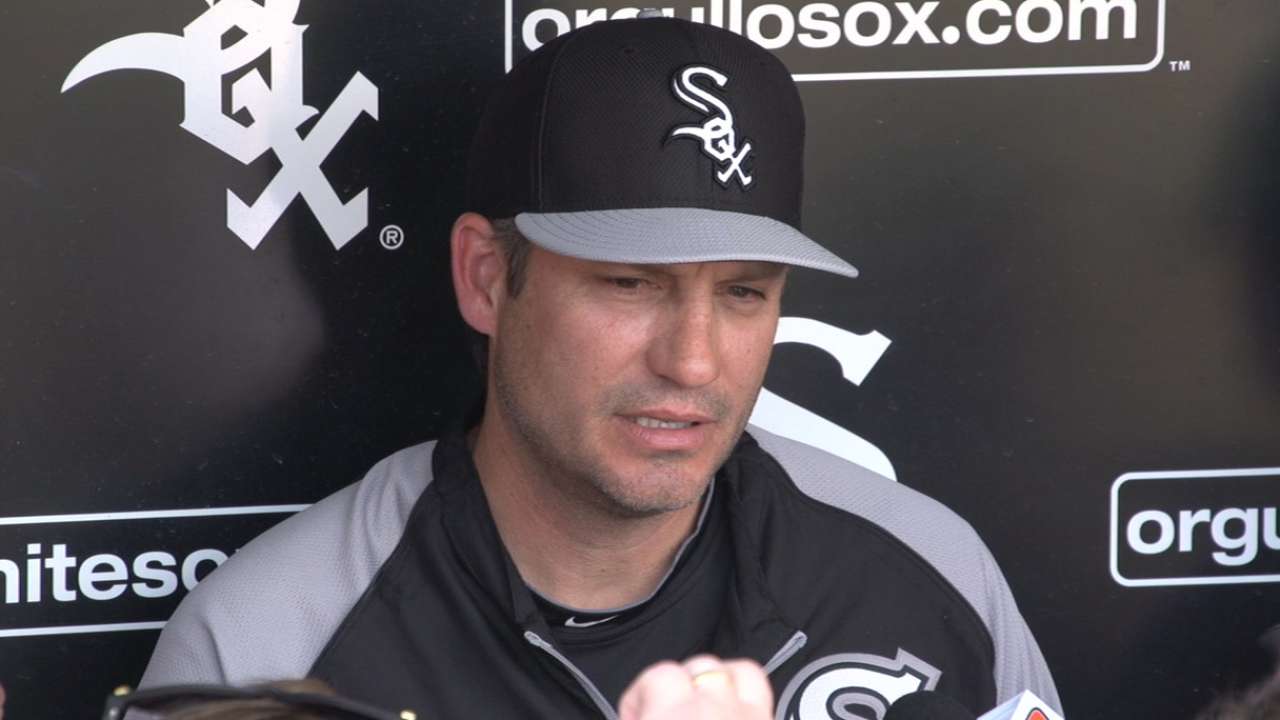 CHICAGO -- White Sox manager Robin Ventura said injured ace Chris Sale is likely to throw another bullpen session on Saturday, the latest update in a saga of uncertainty on Sale's true progress. Ventura added that things should be clearer following the weekend session.
"From there you figure out how he's feeling and then you make a plan," Ventura said. "He'll have to make a rehab start. Then you're not going to just start him and have him go 80 pitches, it will probably be a short one to start out, see how he's feeling and go from there."
Sale threw a bullpen session on Wednesday, which Ventura said went well. Sale hasn't reported any setbacks and has told Ventura he feels good and is progressing.
It's been more than 15 days since Sale landed on the disabled list, but the White Sox seem content to take their time with one of the cornerstones of their franchise. His flexor muscle strain is a tricky one to deal with, and they don't want to take any chances. It's similar to when the team gave him a 10-day break in 2012, when it experimented with making Sale the closer.
"The last time it wasn't as long, but you're erring on the side of caution to make sure when he goes back out there, he has everything in his toolbox to pitch and feel like he's normal when he's out there," Ventura said.
Ventura agreed Sale is in some ways taking a "second Spring Training."
"A smaller sample, but yeah, you do have to build him back up to where he feels like he can go back out," Ventura said. "It would be unfair to send him out there knowing he's only going to go four or five innings. You just don't do that with a guy like him."
Center fielder Adam Eaton's return from injury also seems uncertain. Ventura said Eaton is "progressing" but what exactly that means for his strained left hamstring is anyone's guess. Hamstrings are a sensitive muscle that require significant amounts of rest and treatment.
Eaton was placed on the disabled list Saturday and has been riding a stationary bike. His game is predicated on his legs, so the balllclub will likely be cautious with its leadoff man. He figures to go on a rehab assignment before joining the team after 15 days on the shelf.
"He'll probably go out and do something," Ventura said. "I think once you take that much time and you haven't seen pitches, live pitches, you at least want to go out and do something, to where you get your timing back. You don't want a guy coming back and not having his timing and then having to catch back up on the fly out here. It usually doesn't work out that well."
Joe Popely is an associate reporter. This story was not subject to the approval of Major League Baseball or its clubs.