Arenado, Beltre share mutual admiration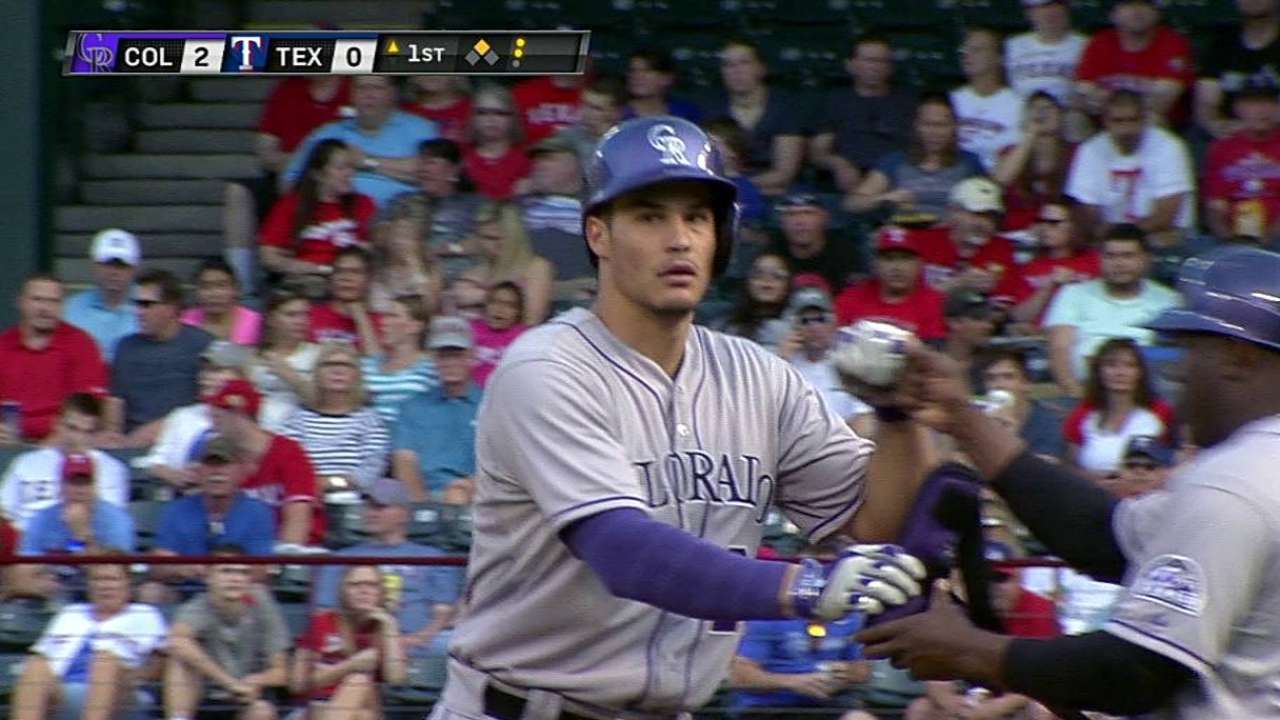 ARLINGTON -- The Rockies' Nolan Arenado grew up admiring Adrian Beltre's unique style playing third base, with the contortions that lead to bullet throws across the diamond.
During Tuesday night's game against the Rangers, Arenado ranged to his left to barehand a grounder that most would have gloved, then made a solid throw to first base to beat the runner.
That runner happened to be Adrian Beltre.
"He was at third base one time and he said, 'I like you, but don't be doing that. Come on,'" Arenado said. "It was pretty cool for him to say that."
The imitation and flattery have been going on all week. Arenado went into Thursday night's final game of four between the clubs, two at Coors Field and two at Globe Life Park in Arlington, hoping to extend his hit streak to a club-record 28 games. Arenado also has put on a defensive show, demonstrating a magnetic combination of joy and fearlessness -- one that Beltre has shown for years.
Beltre notices.
"It's humbling to hear that from a guy that is as good as he is," Beltre said. "It makes me appreciate what I've done in the game. But it's nice to see a guy like that come up and have the success he's had just two years into his career. He's learned so much and he's playing regularly in the big leagues."
Arenado said he first met Beltre in 2012, the first time Arenado was in the Rockies' big league camp. Beltre also sent Arenado one of his gloves, which is in safe-keeping at Arenado's parents' home in Lake Forest, Calif.
On Wednesday night, Beltre hit his 100th home run in a Rangers uniform. He joined Reggie Jackson, Darrell Evans, Alex Rodriguez and Jim Thome as the only players to hit 100 or more homers with three different teams.
It was Arenado's turn to wish Beltre had picked another day.
"I think he's a future Hall of Famer," Arenado said. "I'm a huge fan, obviously. I wish he wouldn't have hit that home run against us, but that's what good players do."
Thomas Harding is a reporter for MLB.com. Read his blog, Hardball in the Rockies, and follow him on Twitter @harding_at_mlb. This story was not subject to the approval of Major League Baseball or its clubs.