Price, bats fall short as Rays drop finale to Orioles
After Longoria's RBI in first inning, offense kept off the board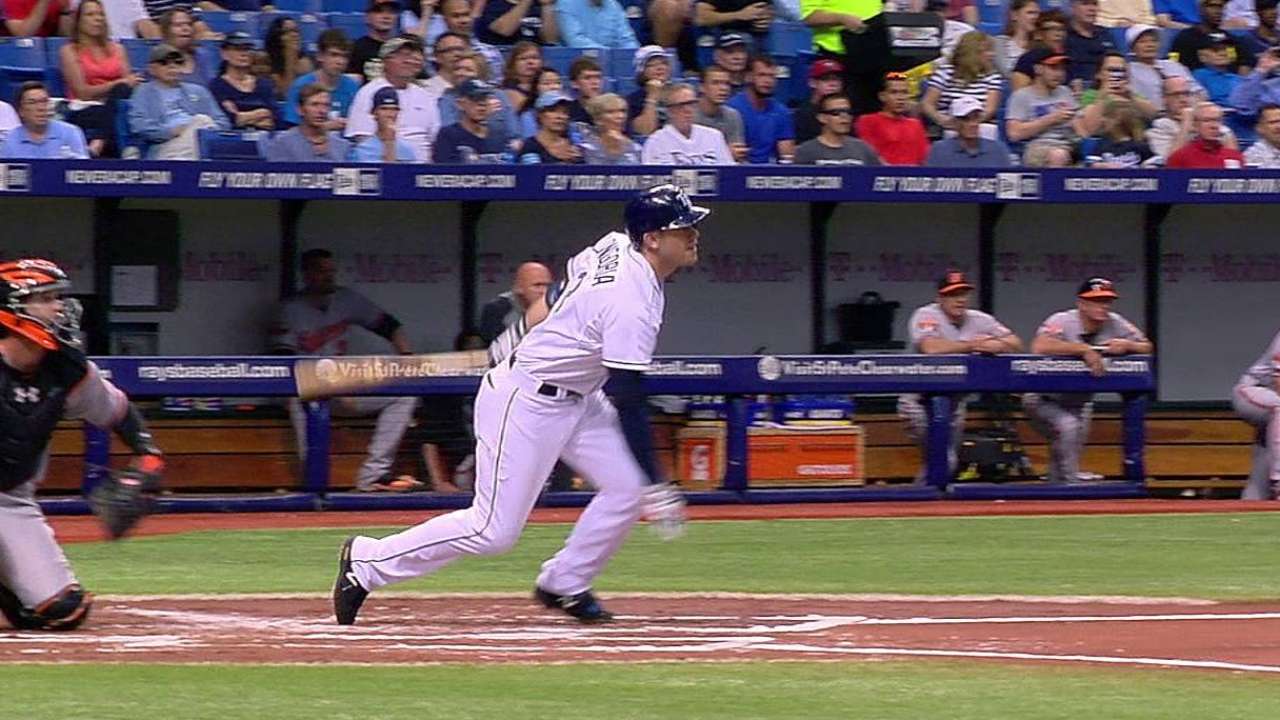 ST. PETERSBURG -- Missed opportunities haunted the Rays Thursday night as the Orioles took a 3-1 win at Tropicana Field to sweep the three-game series.
"Had opportunities all over the place tonight," Rays manager Joe Maddon said. "Had the right guys up. Things just did not want to play out for us."
The Rays' third consecutive loss keeps them in the basement of the American League East with a three-game weekend series against the Indians on the horizon. The Rays are 0-5 against the Orioles this season after finishing last year's season series by winning 11 of their final 13 meetings. The all-time series between the two teams is now tied at 141 games each.
"We all know where [the Rays are] going to be at the end of the year so you better do what you can while you can," Orioles manager Buck Showalter said.
The Rays got busy early when Evan Longoria's two-out single in the first off Orioles starter Ubaldo Jimenez drove home Desmond Jennings to give the Rays a 1-0 lead.
But that would be all the Rays could muster against Jimenez and three relievers in an effort that saw the Rays leave 11 on base. They stranded 28 in the three-game series.
The Rays' first failed opportunity came in the fifth when they loaded the bases with one out and Longoria batting. The Rays third baseman grounded into a 6-4-3 double play that Maddon challenged only to have the ruling on the field confirmed.
Next came the sixth when Wil Myers and David DeJesus cobbled together singles to put runners at the corners and chase Jimenez. Yunel Escobar grounded to Manny Machado against Ryan Webb and the Orioles' third baseman caught Myers in a rundown for the second out. Ryan Hanigan grounded out to end the threat.
In the seventh, the Rays had runners on first and second with one out, but Webb struck out Longoria swinging then Brian Matusz retired James Loney on a flyout to center to end the inning.
"Obviously, [Longoria's] struggling just a bit right now," Maddon said. "You want him up there, you always want him up there. And it just didn't play for us tonight. it just didn't."
Longoria left six runners on base Thursday night.
"Just not getting it done," Longoria said. "That's the bottom line. ... I definitely want to come to the plate in those situations and be able to come through, or at least have a good at-bat and put the ball in play with hard contact.
"I don't know what it is, but it's just one of those stretches where things really aren't going my way. You gotta figure out a way to turn it around."
Finally, the Rays fizzled in the ninth when a comeback appeared on the horizon. Hanigan singled off Darren O'Day to start the inning. Ben Zobrist followed with a single through the right side. Desmond Jennings, who was the American League's Player of the Week last week, grounded into a 6-4-3 double play, leaving a runner at third for Matt Joyce. He grounded to Steve Pearce at first, who flipped to O'Day to end the threat and the game.
Pearce homered off Rays starter David Price in the second with a man aboard to put the Orioles up, 2-1. They added to their lead in the fourth when Jonathan Schoop singled home Adam Jones for a 3-1 lead and all the runs they needed.
Price took his third loss of the season after allowing three runs on nine hits and a walk while striking out three in five-plus innings.
"They put together good at-bats, one through nine," Price said. "They've got a good lineup, like everyone else in the East. I just didn't put up enough good pitches."
If there was bright spot for the Rays Thursday night it came from the bullpen, which notched four scoreless innings. Brad Boxberger threw 1 1/3 scoreless frames, an effort that saw him relieve Price with no outs in the sixth and the bases loaded.
Boxberger proceeded to strike out the side on nine pitches.
"If ever I leave the game with runners on, Box is the guy I want to come in," Price said. "That was incredible. I don't know if that's ever been done in baseball, coming in with the bases loaded, nobody out, and throwing nine strikes and getting three punch-outs. That could be a part of history and I really appreciate it."
Though Elias Sports Bureau's pitch count records are incomplete, they have no record of any other Major League pitcher entering with the bases loaded and striking out the side on nine pitches.
Orioles pitchers held the Rays to seven runs in the three game series.
"They're throwing some decent arms against us," Hanigan said. "But this is a team we're going to have to face quite a bit, so we're going to have to make adjustments and figure it out.
"I felt like we had a lot of good at-bats where we got guys on base. It's just right now the double play is killing us. So we just have to try and keep working and getting those big hits when guys are on base."
Bill Chastain is a reporter for MLB.com. This story was not subject to the approval of Major League Baseball or its clubs.