Tigers' win streak falls at eight despite fast start
Offense stifled; first deficit since last week too much to overcome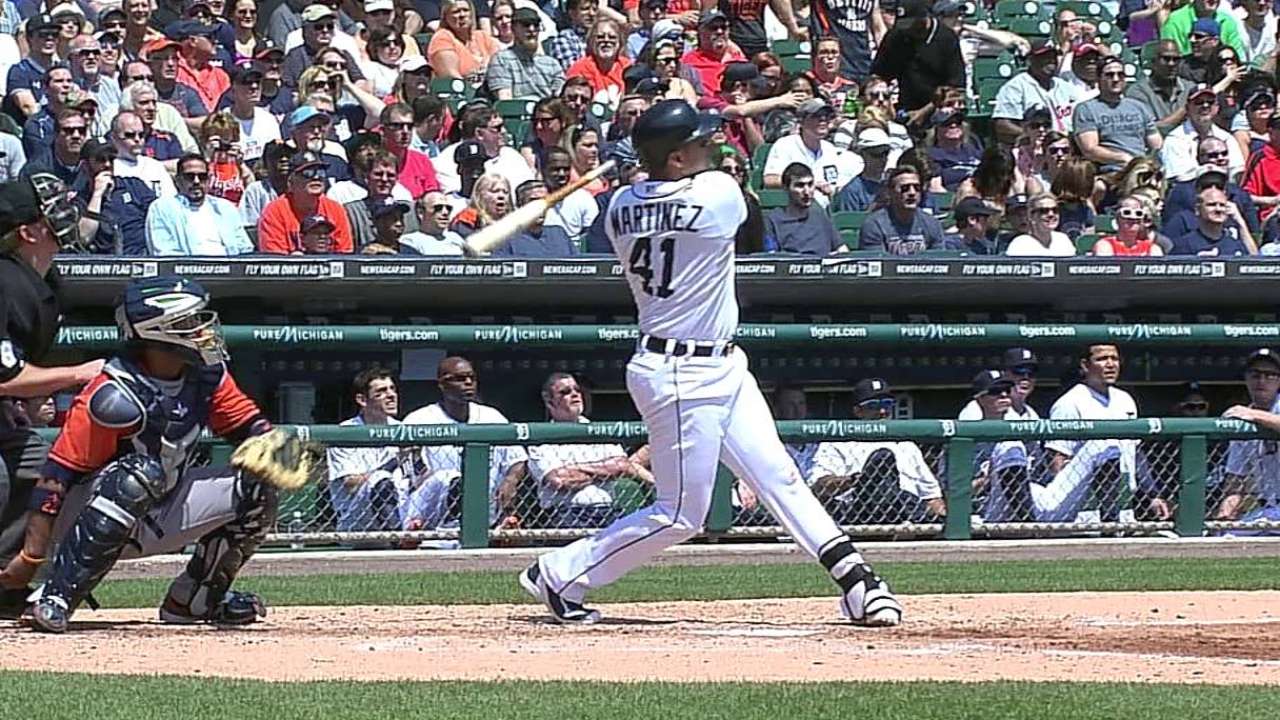 DETROIT -- One big inning for the Astros and 7 2/3 strong innings from Dallas Keuchel cost the Tigers on Thursday. That says a lot about the 56 innings before that.
Not only had the Tigers won eight consecutive games before Thursday's 6-2 loss to Houston at Comerica Park, they hadn't trailed in a game since last Friday at Kansas City. They played 56 consecutive innings without a deficit, including the first 31 innings of their four-game series with the Astros, until Houston's three-run, fifth-inning rally.
"We won the series," Nick Castellanos said. "Obviously, we want to win every game we play, but it's not like we lost confidence now."
It was the longest winning streak the Tigers had posted this early in a season since 1984 and as dominant of an early stretch as they've had in years. It seemed set to continue against a reeling Astros lineup. In the end, the demise might well have come down to a nine-pitch battle between Drew Smyly and Jose Altuve that culminated with a breaking ball that hung up in the strike zone, resulting in a two-out, two-run double that put Houston ahead for good.
"Games like this, it hurts big-time," Smyly said. "These are the ones that stick with you, because I feel like the result should be a lot better than what it was. I was grooving through four."
It likely will hurt a little more when Smyly hears from Keuchel, his old college teammate from the University of Arkansas.
"I'll definitely talk some trash to him," Keuchel said. "He's a great pitcher, and it just kind of worked out in my favor today."
The Tigers had been drilling left-handed pitching this season, building a 9-1 record against lefty starters while pounding southpaws overall for a .305 average and an .841 on-base plus slugging percentage. With so many right-handed hitters in the lineup, lefties were the Tigers' high-leverage matchup. Among their victims during the winning streak were Royals southpaws Danny Duffy and Jason Vargas, and White Sox lefty Jose Quintana.
Right-handed hitters, however, were batting just .232 (23-for-99) off Keuchel for the season, a stark reversal from his previous seasons. With a sharp breaking ball, he had a pitch to throw hitters off from the right side, and he threw a lot of them.
The only game the Astros won against Detroit last year was a game Keuchel started, even though he ended up with a no-decision. Just as in that game, Keuchel gave up his damage early on Thursday, yielding a Castellanos RBI double in the second inning before Victor Martinez turned on an 0-2 pitch for the second time in as many games for a fourth-inning solo homer.
From there, however, Keuchel settled in, retiring eight batters in a row without allowing a ball out of the infield. He induced 13 ground-ball outs, including five during that definitive stretch.
"I really don't want to hang everything on Drew Smyly; really, the credit goes to Keuchel, the way he pitched," Tigers manager Brad Ausmus said. "He kept guys off balance. He threw fastballs for strikes on both sides, mixed four pitches with a cutter, curve and change in there as well. And he really just pitched an outstanding game, kept the ball down. We did not make very much hard contact off him, so it's more about him than it is about what Smyly was doing."
Said Keuchel: "I was getting those guys up. They were giving me a bunch of first-pitch strikes, and I was trying to take advantage of that, and judging by some of those swings, it was pretty good today."
It was during that stretch that the Astros made their move against Smyly, who had allowed a lone walk and an infield single over his first 4 1/3 innings. He threw a first-pitch fastball to George Springer, who jumped it. The result was an opposite-field line drive that looked like something off Miguel Cabrera's bat, easily clearing the right-field wall near the 365-foot marker, the same area where Springer nearly took a home run away from Cabrera on Wednesday night.
Springer's first career homer was a sign of life from an Astros lineup that barely scored at all in the early innings of the series. It was not a big deal for Smyly. The baserunners after that were.
Smyly retired Matt Dominguez, but a two-out walk to No. 8 hitter Carlos Corporan extended the inning. Up came L.J. Hoes, who had hit an 0-2 pitch to shortstop and legged out a single in his first at-bat. He saw two sliders, both up in the strike zone, and lined the second to left field to put the go-ahead run on base.
Up came Altuve, arguably the one proven hitter in Houston's lineup. Smyly put him in an 0-2 count; he just couldn't finish him off.
Altuve didn't chase the fastball up, fouled off the fastball in and didn't chase the fastball just off the plate as much of the crowd of 35,643 howled for a strike call.
"He's making the calls back there," Smyly said of home-plate umpire Mike Muchlinski. "He thought it was a ball. End of story."
Altuve fouled off the high fastball and the slider off the plate to stay alive. Smyly went back to the slider, tried to get it inside and paid for it when he didn't.
"It just wasn't as sharp as it has been," Smyly (2-2) said. "I just couldn't really bury it. I was throwing it for strikes for the most part, but when I needed that good two-strike breaking ball, it wasn't really there. It kind of just stayed up.
"The only pitch that beat me was that Altuve at-bat. Those happen. You have to be the one to win that, especially with two outs and two runners on base. That's the difference in the game."
It was the Astros' first lead since Saturday against Seattle, and the Tigers' first deficit since Omar Infante tripled and scored against Rick Porcello last Friday at Kansas City. This time, it stuck, thanks in large part to Keuchel's strong work and a huge groundout from Detroit-area native Anthony Bass against Cabrera with two outs and the tying run at the plate in the eighth.
Jason Beck is a reporter for MLB.com. Read Beck's Blog and follow him on Twitter @beckjason. This story was not subject to the approval of Major League Baseball or its clubs.