Keuchel helps Springer's first homer stand up
Lefty works into eighth; Astros snap Tigers' eight-game win streak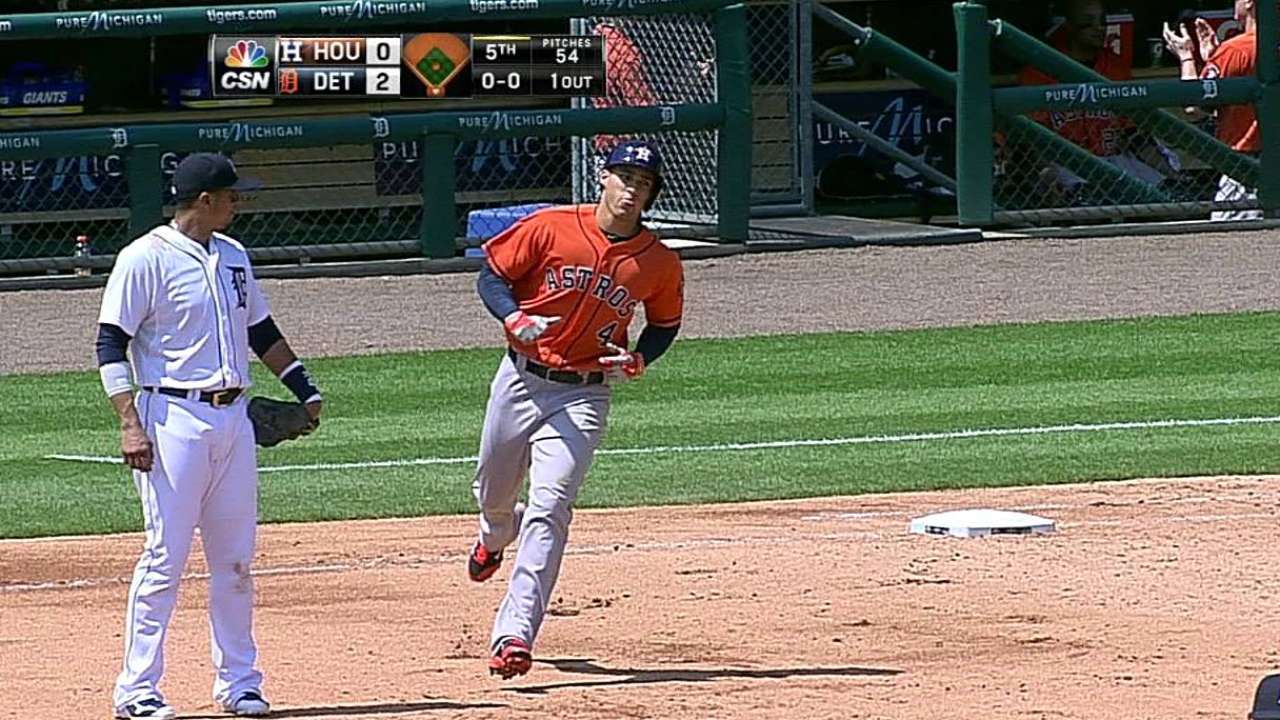 DETROIT -- This was one of those rare days when the Astros made winning look pretty easy, even against the hottest team in baseball.
That tends to happen when your starting pitcher is able to command the strike zone and your offense comes alive with three home runs. Such was the case in Thursday afternoon's series finale at Comerica Park, enabling the Astros to snap a five-game losing streak with a 6-2 win over the Tigers.
Lefty Dallas Keuchel (3-2) pitched a season-high 7 2/3 innings and allowed two runs, six hits and zero walks while striking out seven batters for his fifth quality start of the season, and George Springer, Carlos Corporan and Matt Dominguez added homers to help snap Detroit's eight-game winning streak.
"He went through a stretch like this last year when he was arguably our best pitcher," manager Bo Porter said of Keuchel. "We've seen him pitch the way he's pitching now. I think it's now more consistent. It's start after start after start. He's understanding himself more. He is taking a lot of pride in his pregame preparation, and he does a good job pitching to the scouting report."
Astros starting pitchers posted a 2.96 ERA in 27 1/3 innings over the four-game series, earning a tip of the hat from Detroit manager Brad Ausmus.
"You know, they threw really well, even the blowout game, [Detroit's 11-4 win on Tuesday]," Ausmus said. "Their starters actually did a pretty good job against us. We were able to come away with three out of four, but they were quality starts, really, for the most part."
Springer, the hot-shot rookie Astros fans have been clamoring to see for the past year, has been gradually heating up with the bat, and he finally displayed the kind of power he had shown in the Minor Leagues by hitting his first career homer -- a solo drive to right-center -- in the fifth.
Springer was able to retrieve the ball from a fan in exchange for a signed bat, and he plans to give it to his father when he sees him on Friday in Baltimore.
"I was just trying to hit something hard, trying to get something up in the zone," said Springer, whose homer came in his 78th Major League at-bat. "It sounded good off the bat. I was able to get it out."
Perhaps an even more important development for the Astros was the fact that they didn't stop there. Houston rallied for two more runs in the fifth when Corporan walked with two outs, L.J. Hoes (3-for-3 to break an 0-for-20 slump) singled and Jose Altuve lined a two-run double to left to put the Astros ahead, 3-2.
"Just that two-out walk was the dagger," Tigers starter Drew Smyly said. "That was the difference in the ballgame, the two-out walk and the base hit. I thought I got Altuve and didn't get the call, [but three pitches later]: double. That was the difference."
Corporan's homer gave the Astros a 4-2 lead in the seventh, and Dominguez hit a mammoth two-run shot to left in the ninth for a 6-2 lead. The Astros have hit at least three home runs four times this season.
"It was nice to see George finally hit one," Porter said. "I thought the biggest hit of the game was the Altuve two-out double that put us ahead. That's the big hit that had been eluding us during this stretch. That put us ahead, and it was a hit that was very much needed for our offense. It was good to get the tack-on runs we were able to get -- Corporan with the home run and Dominguez the big home run in the ninth inning that gave us a little bit more of a cushion."
Smyly, who shared a house with Keuchel when they both played at the University of Arkansas, took the loss after giving up three runs on five hits in 5 1/3 innings.
"I really don't want to hang everything on Drew Smyly," Ausmus said. "Really, the credit goes to Keuchel, the way he pitched. He kept guys off balance. He threw fastballs for strikes on both sides, mixed four pitches with a cutter, curve and change in there as well. And he really just pitched an outstanding game, kept the ball down. We did not make very much hard contact off him, so it's more about him than it is about what Smyly was doing."
Keuchel allowed a run in the second when Austin Jackson beat out a potential inning-ending double-play ball before Nick Castellanos hit an RBI double. Victor Martinez put the Tigers ahead, 2-0, with a solo homer on an 0-2 pitch, like the long ball he hit the previous night.
"He's just a good hitter," Corporan said of Martinez. "If you're going to make a mistake, you're going to pay for it. We leave the ball a little bit in the middle, and he hit it. That's what big league hitters do, hit mistakes out of ballparks. We paid for that."
Keuchel began the day leading the Majors in ground-ball-to-fly-ball ratio (2.72) since the start of 2013. On Thursday, he recorded 13 groundouts and one fly-ball out.
"I'm just trying to pitch," Keuchel said. "I'm taking the Mark Buehrle approach in that the less pitches [the hitter sees], the better. You get into an eight-, nine-pitch at-bat, it gives the hitter a favor because he sees more pitches and knows what they do. I was fortunate enough to go 7 2/3 today, and I'll try to do it next time as well."
Brian McTaggart is a reporter for MLB.com and writes an MLBlog, Tag's Lines. Follow @brianmctaggart on Twitter. This story was not subject to the approval of Major League Baseball or its clubs.