Cubs flex muscles in farewell to White Sox
Rizzo, Castro hit pair of two-run homers; Olt launches grand slam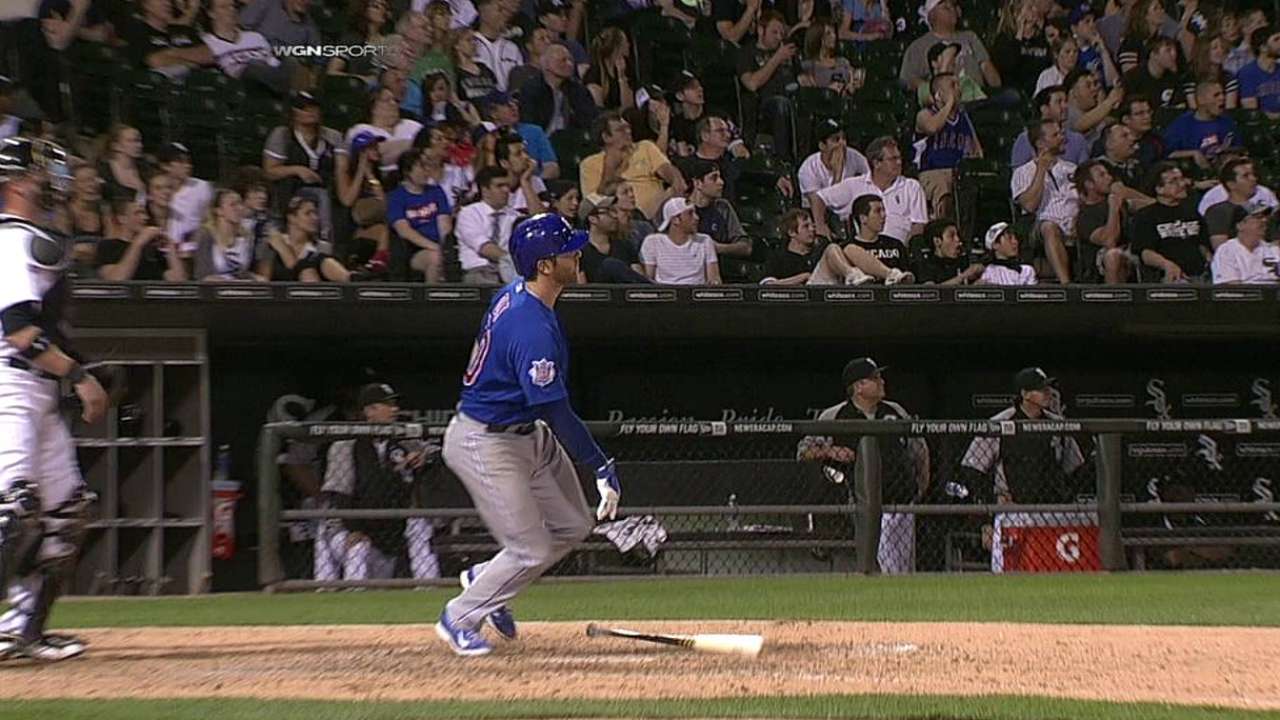 CHICAGO -- The Cubs may not be able to claim bragging rights in the city, but they did avoid being swept, and came through with big hits when needed.
Rookie Mike Olt belted his first career grand slam and Anthony Rizzo and Starlin Castro each hit two-run homers to power the Cubs to a 12-5 victory over the White Sox on Thursday night in their intracity Interleague series finale in front of 26,332.
"We had a pretty good day today, obviously," Cubs manager Rick Renteria said. "We had some thump and balls hit well. Good day to hit."
With the win, the Cubs snapped a four-game losing streak. This was only their fifth win in 15 games away from Wrigley Field this season. The White Sox, who were swept in the four-game crosstown series last year, still lead, 52-46, overall.
Renteria has preached patience to his players to try to limit frustrations. They had four hits in each of the first three games in this series; on Thursday, they matched a season high with 15.
"For us, it's a matter of staying focused, not trying to do too much," Renteria said. "We're trying to find a level run -- don't want to get too high, don't want to get too low. We're still working on that."
Rizzo could relate.
"That sounds exactly like what I say all the time," Rizzo said about being patient and not pressing. "It's not easy to do, especially when you're in a little scuffle as a team. Guys are going to try to do a little more. You just have to stay within yourself, stay within your team and trust everyone."
Jake Arrieta, making his second start after being slowed this spring with tightness in his right shoulder, did not last long enough to get the decision, scattering nine hits over four innings.
The right-hander admitted that he wasn't as sharp and had a tough time keeping the ball down in the zone.
"My sinker was moving all over the place, which is a good thing, but I was having a hard time finding certain spots that I could go to to command it," Arrieta said.
Alexei Ramirez and Alejandro De Aza both singled to open the White Sox second, and Moises Sierra followed with a RBI single. De Aza reached third on a throwing error by left fielder Junior Lake and scored on Tyler Flowers' groundout to take a 2-0 lead.
The Cubs answered in the third, sending 10 batters to the plate. Ryan Kalish tripled to lead off and scored on Luis Valbuena's single. Rizzo then launched the first pitch from Scott Carroll over the center-field wall for his seventh home run and a 3-2 lead. The Cubs loaded the bases, and Carroll walked Lake to force in a run. The four runs in the third matched the Cubs' total runs scored in their previous 16 innings.
Castro made it 6-2 with one out and a runner at first in the fourth, hitting the first pitch from Carroll into the left-field seats for his fifth homer and first since April 27.
After the White Sox added two more runs in the fourth, the Cubs loaded the bases with one out in the eighth and Welington Castillo was hit by a pitch to drive in a run. One out later, Olt connected on his sixth homer of the season for an 11-4 lead. Castillo singled in a run in the ninth.
"They swung it -- it just wasn't our night," White Sox manager Robin Ventura said. "It just seemed like every inning they had a lot of guys on and they were knocking them in. I mean they were swinging the bats tonight."
Olt was happy for the second chance in the eighth. He had come up with one out and the bases loaded in the third, and popped up.
"I was upset with myself," Olt said. "Less than two outs, I've got to at least get someone in, move someone over do my job. To get a chance late in the game definitely helps."
He does have some strange stats. Olt now has 14 hits, including six home runs. He's batting .184.
"I still have a lot to work on," Olt said. "I'm starting to understand myself as a hitter and what I need to do and what I need to work on. I take a lot of positives out of it."
Before, Olt said he was swinging at bad pitches and getting himself out.
"I have a new approach and I'm going to go with that," he said.
He'd also like to improve his batting average.
"It's tough when they put it up on the scoreboard," he said. "I've had way worse slumps or stints like that. I'm not worried about that. It all evens out."
The White Sox didn't go quietly. Dayan Viciedo added an RBI single in the ninth before Wesley Wright recorded the final out.
"The White Sox had a lot of hits as well and we limited their damage -- we did more damage than they did today," Rizzo said.
Carrie Muskat is a reporter for MLB.com. She writes a blog, Muskat Ramblings, and you can follow her on Twitter @CarrieMuskat. This story was not subject to the approval of Major League Baseball or its clubs.