Santana shows huge improvement at third base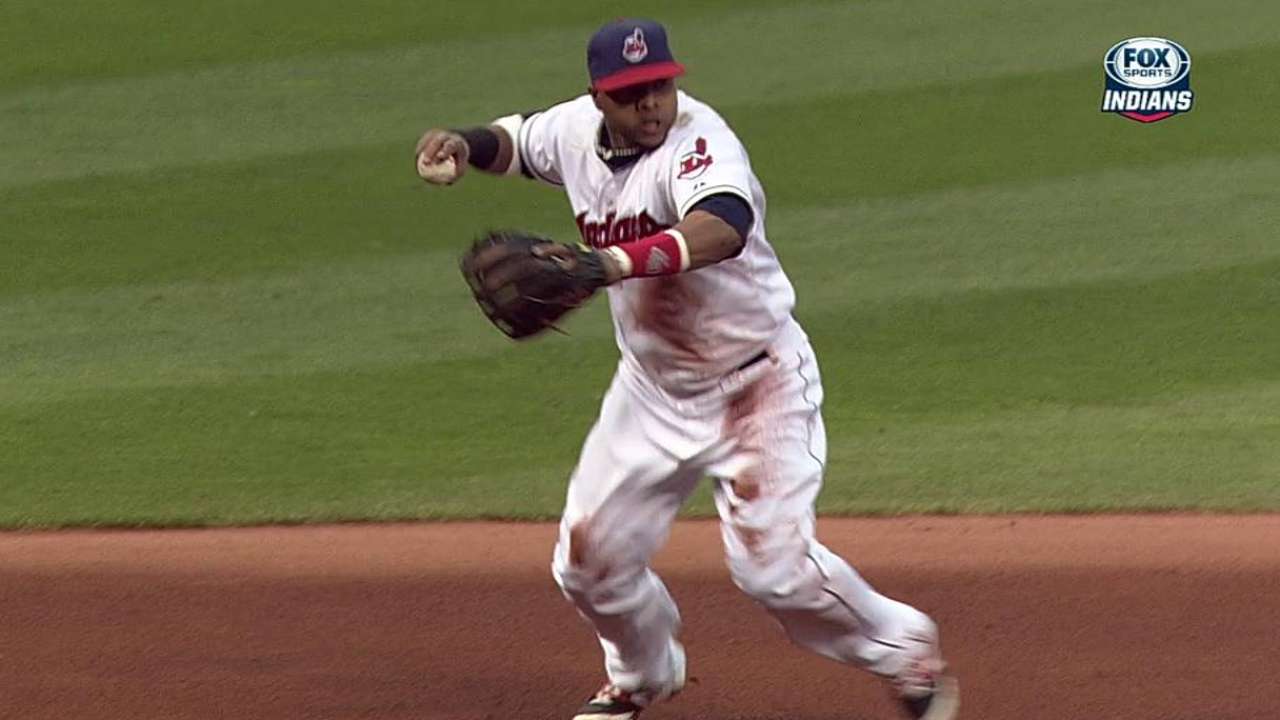 CLEVELAND -- Within the confines of one game, Carlos Santana provided a perfect look into the progress he has made at third base this season for the Indians.
During Wednesday's 4-3 walk-off victory over the Twins, Santana made a handful of stellar plays that played a key role in helping Cleveland to the win column. Santana made a barehanded grab, dove for a ball and made a tough catch in foul ground while avoiding a fan reaching over the wall down the third-base line.
"He made some unbelievable plays," Indians manager Terry Francona said. "He left his feet. He came in on the slow roller. The best play he made all night was right after he made an out to end the inning. He wasn't hanging his head. He went out and made a play, so that's good."
Francona was referring to Santana's strikeout that ended the third inning. In the top of the fourth, Minnesota's Chris Colabello sent a sharply hit ball to the third baseman's left. Santana -- a converted catcher -- dove, snared the baseball and then recovered quickly to fire a bullet to first baseman Nick Swisher for the out.
Swisher has been impressed with Santana's progress since Spring Training.
"It's not a surprise to me to see that," Swisher said. "The amazing thing is, now that I've been at first base a lot, being able to read throws and things like that, it's crazy. When he goes down for a ball, you're like, 'All right, you've got to get up, man.' But when he gets up and lets that thing loose, it's like a rocket coming out of there."
In the first inning, Santana charged in when -- on the first pitch of the game from Cleveland's Danny Salazar -- Brian Dozier bunted the ball down the line. The third baseman grabbed the ball with his bare hand and got the out at first. In the top of the ninth, with the game locked in a 3-3 tie, Santana made an impressive catch at the wall in foul territory.
"I'm working hard," said Santana, who doubles as the Tribe's backup catcher. "I worked hard in Spring Training with [third-base coach and infield instructor Mike Sarbaugh] and during the season. I think I'm playing well. I feel so comfortable. When we play a game, I try to be perfect to help the team."
Sarbaugh has enjoyed watching Santana continue to look at home at the hot corner.
"He has a lot of athleticism," Sarbaugh said. "It doesn't surprise me that he was able to make those plays. But a lot of that too is all the pre-pitch he worked on in the spring, the reaction off the bat, all that time he put into it. You can see that it's paid off for him, especially [Wednesday] night."
Jordan Bastian is a reporter for MLB.com. Read his blog, Major League Bastian, and follow him on Twitter @MLBastian. This story was not subject to the approval of Major League Baseball or its clubs.