Late surge not enough to manage series split
Colabello drives in two; Correia, 'pen allow nine extra-base hits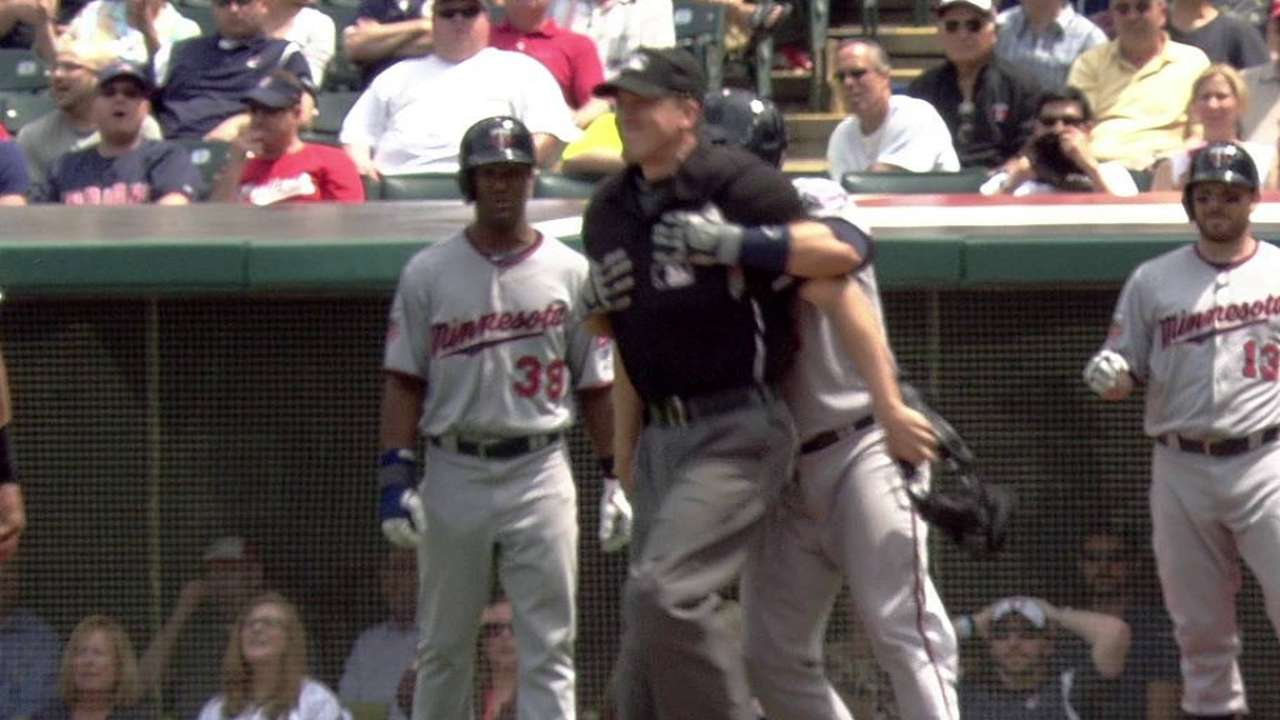 CLEVELAND -- Justin Masterson turned out to be a bigger problem for the Twins than their mounting injuries, although one fed the other.
Down to one bench player before the first pitch, Minnesota dropped its third straight game, 9-4, to Cleveland on Thursday afternoon at Progressive Field.
The Twins were without Joe Mauer for the series finale, and Sam Fuld was a late scratch before being placed on the seven-day disabled list. Minnesota had enough position players to fill a lineup card and one reserve spot before the game, and Masterson had the Twins scrambling early.
Through four innings, Masterson (2-1) faced the minimum number of Minnesota hitters, and the Twins didn't break through until the sixth. By then, Minnesota was playing from behind.
"Masterson dominated for five, and he started misfiring a little bit," Twins manager Ron Gardenhire said. "We got ourselves back into the ballgame, ended up going through our bullpen pretty good."
The Twins made Masterson pay for a couple of mistakes in the sixth when Chris Colabello's two-run single, a slow roller that shortstop Asdrubal Cabrera couldn't handle, drove in Danny Santana and Brian Dozier. Santana had reached base on Masterson's fielding error, and Dozier drew a walk.
In the seventh, Josmil Pinto led off the inning with a walk, followed by a Chris Herrmann single. Santana's RBI double brought home Pinto, and after Dozier grounded out to shortstop, Masterson's afternoon ended.
Cleveland had its most persistent offensive performance of the homestand, keeping Kevin Correia (1-4) and the Twins' bullpen from settling in. The Indians' nine extra-base hits were a season high.
"It was a battle," Gardenhire said. "Kevin got a few balls up, threw a pretty decent couple of innings out there, but they got a lot of slap hits and beat it around pretty good. They were swinging pretty decent today."
The Indians got to Correia right away, rallying for a run with two outs in the bottom of the first. Michael Brantley doubled and Correia then walked Carlos Santana.
David Murphy's RBI double to deep center field featured a little damage control courtesy of fill-in center fielder Eduardo Escobar, who got the ball to Danny Santana in time for the Twins shortstop to throw out Santana at the plate, ending the inning.
Even when Cabrera led off the second inning with a homer, Correia still felt that he had control.
"I think I made a few too many pitches the first few innings; just kind of caught up to me in the fifth," Correia said. "I don't feel like I really struggled until the last inning. I threw a few too many pitches early, the first warm day we've had, to get upwards of 90 pitches into the fifth inning, it will take its toll on you."
Correia faced a crossroads in the fifth, and after Brantley's two-run home run, Gardenhire left the starter in the game. Two more singles put runners at the corners, though, which ended Correia's afternoon.
"I think the fifth was just a turning point where I could have turned it into a good inning or a bad one, and it just turned the other way," Correia said.
In 4 1/3 innings, Correia allowed four runs on eight hits and four walks. He struck out five.
Correia didn't locate pitches like he wanted to, but some of his problem was merely facing a team swinging hot bats.
"I'd much rather put guys away when I can," Correia said. "They laid off a couple pitches in the dirt, and that's where I'm trying to throw them to get strikeouts. I wasn't able to make the pitch at 3-2, 3-1. Usually when I get behind, I'm pretty good at making that pitch to get out of it, but I just missed a couple."
The Twins' bullpen didn't fare much better. Anthony Swarzak, pitching for the first time this series, failed to retire any of the hitters he faced, coming on in the seventh inning after the Twins had closed Cleveland's lead to 5-4.
Swarzak gave up back-to-back doubles to lead off the inning, followed by Ryan Raburn's RBI single. Raburn was out at second when Lonnie Chisenhall hit into a fielder's choice, then Mike Aviles doubled.
"That's the first time in a while we've seen Swarzy have a rough time," Gardenhire said. "We did the best we could with our bullpen."
By the time Minnesota got out of the seventh, the game and a series split were out of reach.
Stephen Ellsesser is a contributor to MLB.com. This story was not subject to the approval of Major League Baseball or its clubs.