Asdrubal, Brantley team up to take down Twins
Indians put lackluster road trip in rearview with 5-2 homestand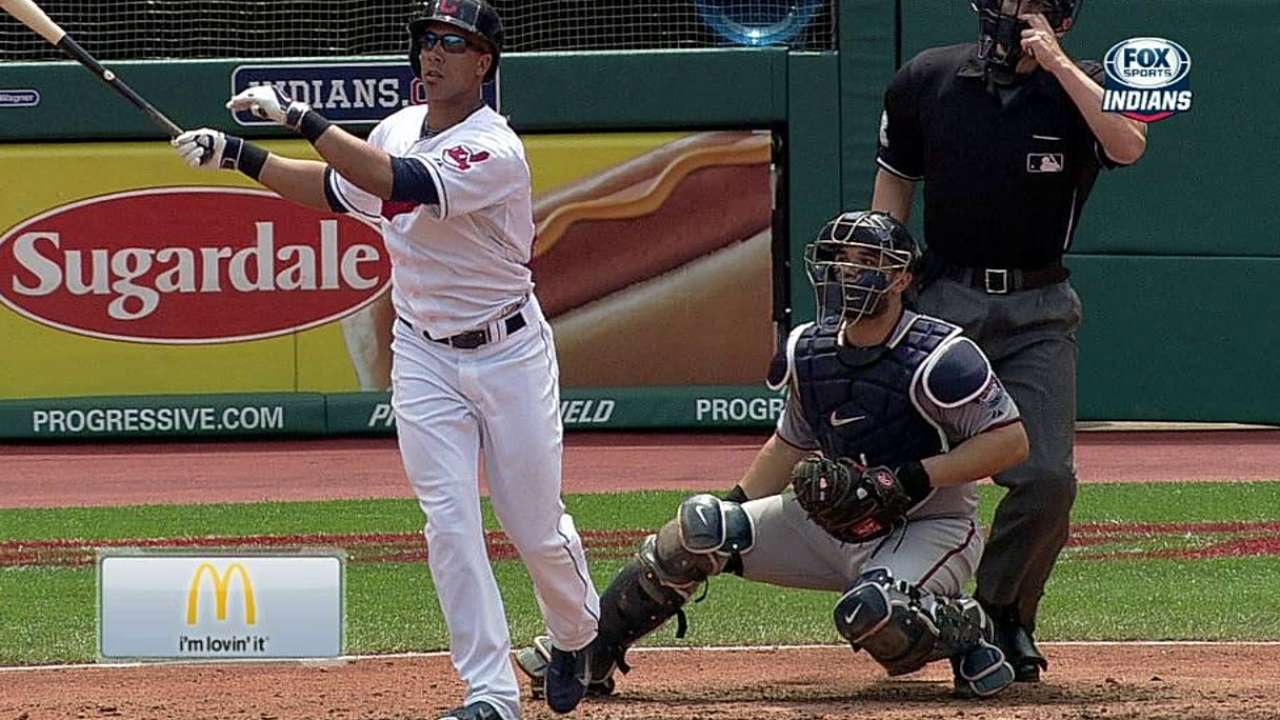 CLEVELAND -- The Indians returned to Cleveland last week and discovered that the sky was not falling. By Thursday afternoon, the sun was out, shining on a ballclub that was searching for a way to swiftly turn the page on a disappointing April.
The Tribe took a major step in that direction over the past seven games, a stretch that was punctuated by a 9-4 romp over the Twins at Progressive Field. That wrapped up a 5-2 homestand that was powered by starting pitching and bookended by a pair of offensive outpourings.
It was the perfect way to forget about the recent 0-6 road trip through San Francisco and Anaheim.
"What road trip?" Indians infielder Mike Aviles said with a grin. "I forgot about it already."
In the finale of the four-game series against Minnesota, sinkerballer Justin Masterson continued Cleveland's recent run of strong outings by working into the seventh inning. The Tribe's lineup matched a season high with 15 hits -- left fielder Michael Brantley (3-for-5) and shortstop Asdrubal Cabrera (4-for-5) each fell a triple shy of a cycle -- and set a season high with nine extra-base hits.
Over the past seven games against the White Sox and Twins, the Indians' rotation combined to go 4-0 with a 1.94 ERA and 51 strikeouts in 46 1/3 innings. The offense, which enjoyed a 12-run showing on Friday before the nine-run feast on Thursday, poured out 34 runs on 60 hits -- including 26 for extra bases -- during the stay at home.
On the winless six-game trip that preceded the trip back to Progressive Field, Cleveland's starters posted a 5.05 ERA and the lineup managed only 13 runs on 35 hits.
"We're still inconsistent in some things," Indians manager Terry Francona said. "But we're doing a lot of things better than we were. This whole homestand, we played with a lead [a lot]. The two games we lost, we lost late.
"I think we're playing with a little more confidence, a little more purpose."
That is a good way for the Indians to now head into a six-game trek through Tampa Bay and Toronto.
"We needed this homestand. That's exactly what we needed," Masterson said. "Hopefully, that will help carry into this next series, because there's a lot of momentum with the guys at the plate and guys are still pitching pretty good, too."
Masterson (2-1) needed only 36 pitches to breeze through the first four innings, and he sidestepped a two-on, one-out jam in the fifth. In the sixth inning, the Twins finally broke through against the Indians' rotation leader, who slipped in light of a couple missed chances on defense.
Minnesota's two-run sixth began with a chopper back to the mound off the bat of Danny Santana, who reached safely when the ball skipped through the pitcher's legs for an error.
"I thought it was going to hop up," Masterson said. "It didn't. It just trickled back behind me. That was a little disappointing."
Later in the frame, with two outs and runners on second and third, Chris Colabello grounded a pitch to the left of the mound in Cabrera's direction. The shortstop charged and attempted to grab the roller with his bare hand, but he lost his grip and the ball bounced behind him. Colabello was rewarded with an infield single, and the bobble created an opening for the Twins to score two runs to cut the Indians' lead to 4-2.
Masterson exited the game with runners on second and third base with one out in the seventh, when Cleveland was clinging to a 5-3 lead. Reliever Scott Atchison retired the next two hitters in order -- one run scored on a groundout from Eduardo Escobar -- to avoid a big inning for the Twins.
Masterson was charged with four runs (two earned) on four hits in 6 1/3 innings, in which he struck out seven and walked four. Over his past five starts, the big righty has posted a 2.70 ERA to go along with a 1.09 WHIP across 36 2/3 innings of work.
"He was so in control the first five," Francona said of Masterson. "He stayed in his delivery really well. He was really tough on right-handers. We saw some awkward swings. He never really got hit hard."
The same could not be said for Twins righty Kevin Correia, who was chased before the end of the fifth inning. David Murphy contributed an RBI double in the first inning, Cabrera launched a leadoff homer in the second and Brantley belted a two-run shot off Correia in the fifth. Brantley then chipped in a run-scoring fielder's choice off Caleb Thielbar in the sixth.
After the Twins pulled within one run in the seventh, Cleveland continued its push.
In the bottom of the seventh, Murphy and Cabrera connected for consecutive doubles, Ryan Raburn collected an RBI single and Michael Bourn added a sacrifice fly for a three-run showing. One frame later, Cabrera drove Murphy in again by pulling a pitch into the right-field corner. The shortstop sprinted all the way to third, but the official scorer deemed it a double, ruling that Cabrera advanced an extra base on the throw to the plate.
"He had a cycle. They took it away," Francona said. "I'm not really sure. I have to look at the rules, but he never broke stride. I'm not sure that really isn't a triple."
When approached by a group of reporters, Cabrera declined comment after the game.
One thing that was certain was Cleveland was happy with how things went at home.
"It's good to come home and get that home cooking," Aviles said. "Be back with the families and the home fans and just put those white uniforms back on. It's definitely a good thing. It's something we needed."
Jordan Bastian is a reporter for MLB.com. Read his blog, Major League Bastian, and follow him on Twitter @MLBastian. This story was not subject to the approval of Major League Baseball or its clubs.